Diving into the numbers behind Bad Bunny, Taylor Swift, Harry Styles, and more winners from this year's Spotify Wrapped data.
Spotify's end-of-year "Wrapped" feature has long been a fun, interactive way for music lovers to learn about themselves and share with others. In a lighthearted way, it's become a cultural phenomenon that many look forward to as the year comes to an end.
In 2022, the music streaming giant unveiled the top Spotify listeners' playlists — from top artists, songs, playlists, albums, podcasts, and trends. Spotify defined 2022 as a chance to redefine how people find joy, specifically after "a few years of uncertainty [which] has led each of us to create a new normal in our relationships to culture — and to each other."
Let's take a gander at Spotify's top artists of the year.
Sign up for our newsletter
Bad Bunny: Everything
For the third consecutive year, the Puerto Rican hip-hip artist was the year's most-streamed artist in the world on Spotify. It's the first-ever three-peat in the category.
Beyond Spotify, 2022 was Bad Bunny's year. The World's Hottest Tour U.S. leg reportedly grossed $232.5 million across 21 shows and sold a total of 944,000 tickets. These numbers average a whopping $11.1 million a night and 45,000 tickets per show.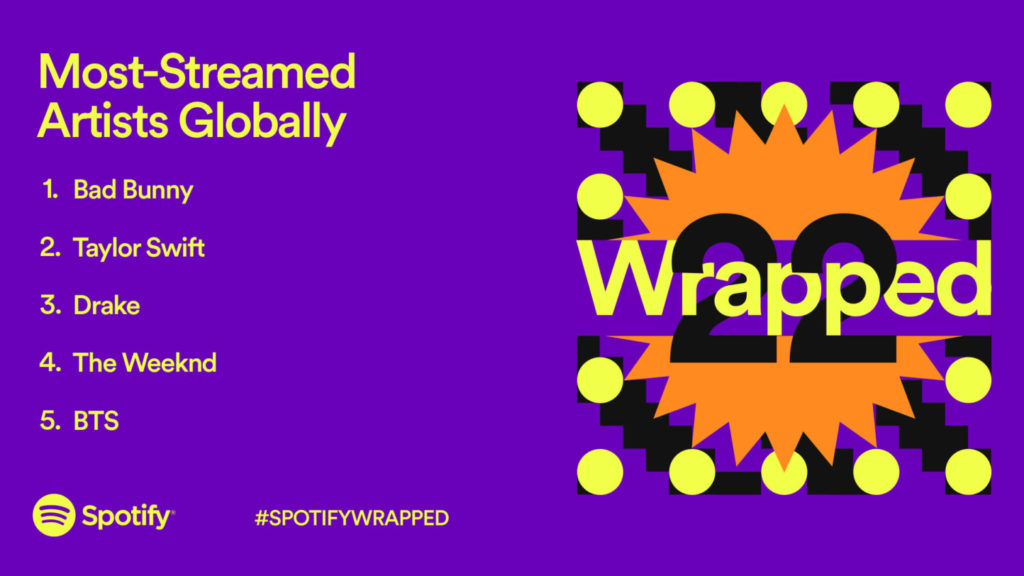 Taylor Swift: Midnights
Taylor Swift's "Midnights" album didn't disappoint in 2022. Despite releasing the album in late October, Swift was the second-most-streamed artist of the year globally.
In addition, the 32-year-old is set up to dominate 2023 — her "Eras" Tour sold-out so quickly that there might be a case for the Department of Justice to launch an antitrust probe into Ticketmaster.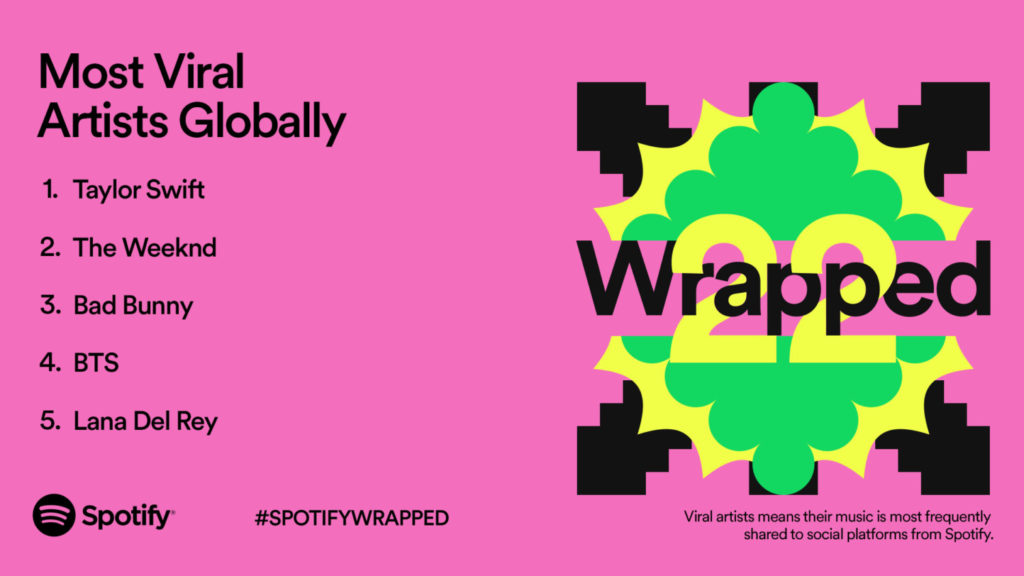 Harry Styles: As It Was
Harry Styles has the honor of owning the most-streamed song around the globe with his hit "As It Was." The song racked up 16,103,849 streams in its first 24 hours on Spotify, according to a press release from… Guinness World Records.
It's a good year to be Harry. He's been nominated for six Grammys for "Harry's House" and "As It Was," while his "Love on Tour" grossed $95 million in 2021 alone.
Throwbacks
Read More:
Sign up for our newsletter