As the Aztecs awaits a Power 5 invite, learn how Snapdragon Stadium and the university's own athletic success are keeping the wheels turning.
Eventually, we will know which conference the San Diego State Aztecs will call home for the 2024-25 season.
Eventually.
If you haven't followed the drama, SDSU sent a letter to the Mountain West Conference — its current league — last month, notifying the consortium that it intends to leave. The Mountain West took that as the Aztecs' official notice and said it would begin procedures to ensure a smooth departure.
That that wasn't SDSU's intention, however. The school's position is that it was merely hoping to start that dialogue in the event that an invitation from a Power 5 league, most probably the Pac-12, were to come in the weeks ahead. The university attempted to clarify this, but the Mountain West continues to insist as of this writing that it is owed a $16.5 million exit fee and intends to withhold a $6.6 million revenue distribution to San Diego State in the meantime.
Suffice it to say that things are getting messy.
One thing, however, remains clear: Like every non-Power 5 FBS school out there, the Aztecs just want a seat at the cool kids' table.
In a recent interview with Boardroom, athletic director JD Wicker was open about the university's intentions, and despite the recent turmoil, a Power 5 invite seems to be a matter of when, not if. In the interim, Wicker's job is to invest in his student-athletes, coaches, and facilities to make sure his school is prepared whenever that day comes.
"Showing this investment will hopefully allow us to elevate to a Power 5 conference at some point," he told Boardroom. "If you look at the success we've already had and then the investment we're making at this point, hopefully that helps us move sooner rather than later."
Sign up for our newsletter
Don't read the AD's words as a shot at the Mountain West; they simply reflect the economic reality. The conference is in the midst of a six-year media rights deal worth only $270 million, or $45 million annually, to be divvied among the conference's 11 members. In a Power 5 conference, the Aztecs could net more than 10 times that each year in TV revenue alone — and that's before you factor in bowl game payouts, NCAA Tournament units, and the increase in fan-driven revenue that would come with a conference upgrade.
While on the outside looking in, Group of 5 schools like San Diego State have had to get creative to try and bridge that revenue gap. While there's no true template to bringing in $40 million a year without a TV deal that does just that, Wicker and his administration have managed to not only stay afloat, but build an athletic department that is growing more attractive to Power 5 suitors.
The Aztec Ascent
San Diego State football has been to 12 bowl games since 2010 after not appearing in one for 12 straight years before that. In men's basketball, the Aztecs are fresh off a famous appearance in the national championship game and have won three of the last four Mountain West regular season titles. Meanwhile, their softball team just played in a Super Regional for the first time ever and their women's basketball team just returned to the postseason for the first time since 2013.
Athletic success has meant revenue for San Diego State — not just through NCAA Tournament distributions but also ticket sales and donations. According to Sportico's College Sports Finances database, San Diego State athletics made more than $5.6 million in ticket sales and raised almost $20 million in donations in 2021-22, the most recent year on record.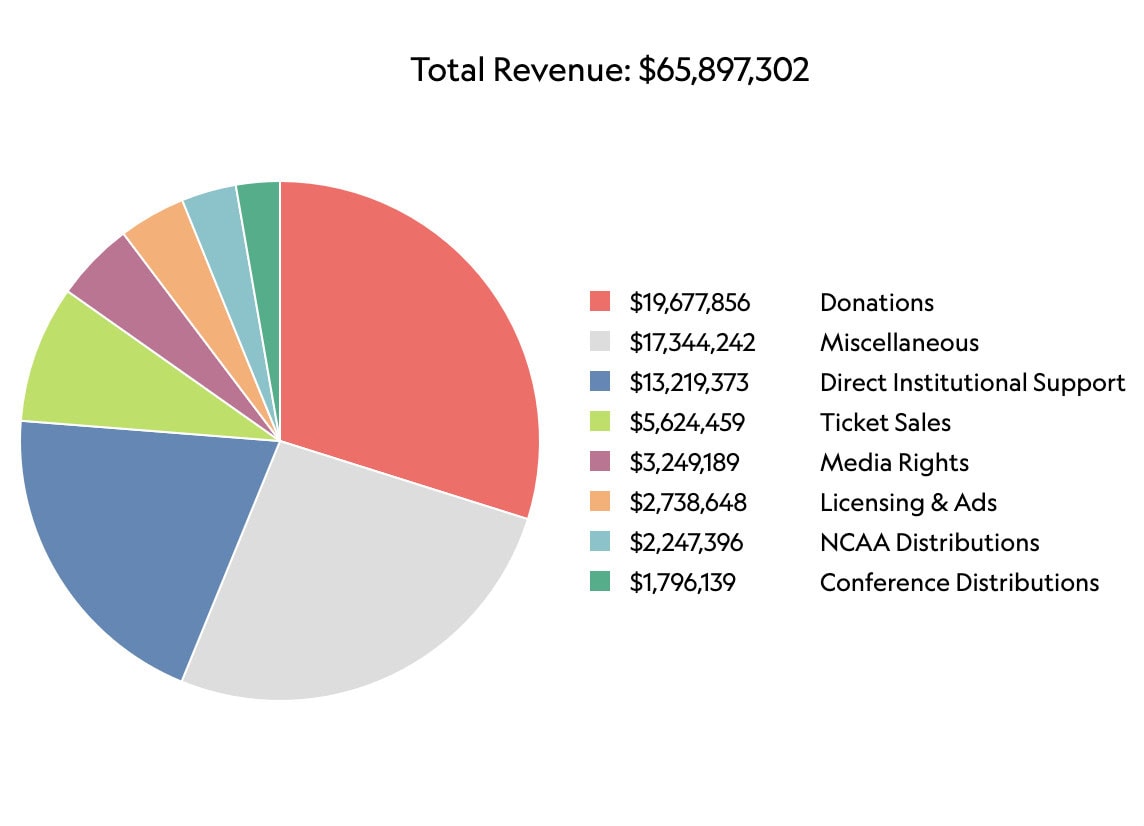 Compare that to their most noteworthy conference peers like Boise State ($7.2 million in ticket sales but just $9.1 million in donations) and Colorado State ($4.7 million in ticket sales and $10.9 million in donations) and it's easy to see why the Aztecs rank near the top of the Group of 5 in operating revenues among public institutions. In fact, SDSU led the nation in operating revenue in 2021-22 out of all public schools that will not play in a power conference in any "revenue sport" next school year.
Without a Power 5 invitation, however, the problem will be sustaining that momentum. With few exceptions, college programs go through ups and downs. One day, Brian Dutcher will no longer be men's basketball coach and it's possible that the next hire won't work out. What happens to ticket sales then?
For Wicker's part, he's doing what he can to kick that proverbial can down the road as far as possible.
"We're gonna provide [Dutcher] all the resources he needs to be successful," Wicker said, "from a coaching contract to what we have to provide for our assistant coaches and student-athletes."
From a contract perspective, Dutcher is set to make just over $1.4 million next season — a competitive rate, but still less than, say, Mike Rhoades made at VCU last year. Rhoades took the Penn State coaching job this offseason.
If Brady Hoke continues to move the Aztecs' football program in a positive direction, Wicker will have to look at his salary as well. Hoke, who left the San Diego State job in 2010 to lead Michigan and found himself returning 10 years later, made a little over $1.2 million in base salary this year. That puts him in the middle of the pack in the Mountain West.
But from elite coaches to student-athlete amenities, everything costs money. Wicker is doing what he can to open more revenue streams to his programs.
The Mission Valley Mission
Snapdragon Stadium, which opened last August, is more than just San Diego State's football venue; the $310 million, 35,000-seat stadium was built to host events year-round. The NWSL's San Diego Wave and Major League Rugby's San Diego Legion are already tenants, providing SDSU with two extra home schedules to balance each year. Major League Soccer's 30th expansion team will also call Snapdragon Stadium home when it begins play in 2025.
In addition, the stadium has a number of concerts on the schedule in its opening year, with Jimmy Buffett and the Red Hot Chili Peppers kicking off the slate in May. Coldplay, Guns N' Roses, and P!nk are also on the schedule before the end of 2023.
That was always Wicker's intention for Snapdragon Stadium — to have it active year-round. He learned from experience at Georgia Tech, where he served as senior associate athletic director, just how disappointing the alternative could be.
"We had this great stadium in the middle of midtown Atlanta and we didn't do anything with it outside of seven football games a year and the occasional concert we hosted," he said of the 55,000 seat Bobby Dodd Stadium. "It was one of those [moments] like, 'if I ever get this opportunity, it has to be built for all the other uses so you can keep it busy.'"
And that's just the stadium itself. Snapdragon Stadium is the centerpiece to SDSU's Mission Valley district, a development that, when complete, will include retail space, public parks, housing, and hotels. According to a video on the SDSU website, the district will generate $3.1 billion for the local economy and create 17,000 jobs.
"We'll invite the corporate world to come in and partner with the institution," Wicker said. "Our faculty, staff, students, researchers can work alongside whatever companies want to come in."
Given that the overall mission of college athletics is to enhance a university an its community as a whole, it's worth noting that the school also projects an increase in student enrollment of up to 15,000, before you even factor in the predicted increase in applications that will come from this year's dream tournament run from the men's basketball team. Wicker says a consultant told him that the week of the Final Four alone provided $201 million worth of exposure.
Shovels are still in the ground at Mission Valley, so we don't know exactly how much money it will bring in for San Diego State just yet.
We do know, however, that SDSU averaged 29,225 fans per game in their inaugural football season at Snapdragon — and if the Pac-12 comes calling, plans are already in place to expand the venue to 55,000 seats. At a time in which San Diego no longer has a pro football team, the Aztecs can become the next best thing, making their home stadium a hub for high-level sports and entertainment year-round.
Making Money at Snapdragon Stadium
San Diego State is hardly the only D-I school to share a venue with a professional sports team. Unlike most cases, though, the Aztecs own Snapdragon Stadium and have tailored their relationships with the Wave, Legion, and upcoming MLS team to suit their needs.
Take the MLS club for example. According to documents obtained by Boardroom, San Diego State is set to receive the following, in exchange for hosting the franchise in its stadium:
$200,000 per home game (use fee) — a number that can drop if the club does not make every seat available for the contest
$2 from every ticket sold (facility fee)
20% of net revenue for each home game
For the uninitiated, MLS teams play 17 home games apiece and average attendance for MLS games this season is around 22,000 fans. Assuming that's what this new club draws and the season format does not change by 2025, SDSU would stand to make $3.4 million in use fees and $748,000 in ticket sales in year one.
And that's not to mention gameday revenue or the $2 million per year that SDSU gets from Qualcomm — which owns Snapdragon — for stadium naming rights.
As for the university's deal with the San Diego Wave, we have less clarity. SDSU did not make available similar documents to show use or facility fees, but did provide an agreement for merch sales. Under that agreement, the Wave will pay San Diego State a 25% commission on merch sales from $0 to $100,000 or 20% if sales top $100,000. That's with a minimum guarantee of $10,000 per game.
It'd be unfair to crunch all the numbers and boldly declare that San Diego State makes X million dollars in profit from the stadium each year. Remember, the university owns the stadium, so it must pay for staffing and operations for each event, not to mention the initial $310 million cost. Still, these are sustainable revenue streams that not many other G5 programs can boast.
It won't bridge the gap completely, but it does accomplish two main goals: It keeps SDSU athletics financially afloat and keeps them at the top of the list of most desirable G5 programs.
For now, everything else is a waiting game, maybe with a dash of legal strife with the Mountain West.
More College Sports:
The top high school basketball prospect discussed with Boardroom his surprise commitment to Rutgers, signing with Fanatics, and his pioneering mindset. …