The Polar Bear's 2021 Home Run Derby victory stole headlines, but his card market took a leap even before the big win.
Card collectors seemed to have had a pretty good idea of how Monday's 2021 MLB Home Run Derby would go down.
Right on cue, the New York Mets star hammered more than 70 total home runs on the way to a second straight title, resoundingly finishing off Trey Mancini of the Baltimore Orioles in the final.
Over the past week, the total auctioned value of Pete Alonso trading cards as recorded by Card Ladder skyrocketed. After generating $22.49 in sales on July 7, his market hit a 90-day high of $2,627.35 on Derby day, July 12. And that number has every chance to rise even further after the mashing Met won the competition yet again.
That's what over a half-dozen miles' worth of dingers will do for you.
You don't have to be an expert card collector to wrap your head around how big of a spike the Alonso market experienced this week. But we can go even deeper.
Let's take a look at the trajectory of one coveted Alonso card in particular, his 2016 Bowman Chrome Autograph prospect card, in PSA 10 gem mint condition.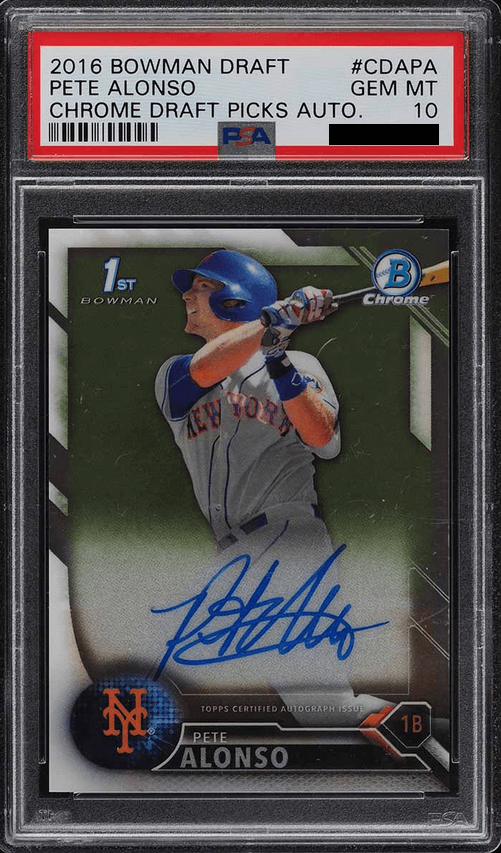 Last five sales:
$798 (July 12)
$361 (July 11)
$550 (July 10)
$525 (May 31)
$455.01 (May 23)
Rate of growth (one day): +121.05%
Rate of growth (one month): +45.09%
Rate of growth (three months): 28.09%
Bowman Chrome prospect cards are considered a gold standard in baseball card collecting, as they're the first available version of a professional player's card after they're drafted into the minors. Interestingly, Card Ladder has no record of any purchases of the Polar Bear's autographed Bowman Chrome throughout the entire month of June and the first week and a half of July.
That all changed in a hurry in the run up to the Home Run Derby. And those who bet big on the Mets power hitter these last few days are in position to cash in — especially if he follows up Monday night's Mile High barrage with a rip-roaring start to the season's second half.
Sign up for our newsletter
Trading card markets aren't just based on performance, of course. Personal brand goes a long way in driving popularity in the hobby, and that's not lost on Alonso. He made sure to bring some New York City swagger to Denver's Coors Field, stepping up to the plate to tracks from The Notorious BIG, Nas, and Mobb Deep.
"I wanted to set the vibe and just represent New York," the 26-year-old slugger said.
The vibe was set and the Polar Bear rolled with it, smashing 74 total homers that traveled a total of 6.5 miles in defeating Kansas City Royals catcher Salvador Perez, Washington Nationals outfielder Juan Soto, and Mancini head-to-head to become just the third player ever to win consecutive Home Run Derby crowns.
"I think I'm the best power hitter on the planet," Alonso proclaimed.
Winning the Derby ensured another huge windfall for the Tampa, Florida native, with his $1 million championship prize dwarfing his $676,775 salary for 2021.
The 2019 NL Rookie of the Year set a record for hitting 53 homers in his debut season, leading all Major Leaguers and breaking the all-time rookie record set by New York Yankees colossus Aaron Judge. Alonso has an endorsement deal with Fanatics as well as his own "Polar Bear Burger" at Citi Field. In other words, much like the man himself, the Alonso brand is strong and only getting stronger.
Card investors who haven't already sprung into action on the Alonso front should act accordingly.