Details on the clean white-and-black Kobe 4s draw from Kobe Bryant's Career Day visit to Gianna's classroom. 
Nike and Vanessa Bryant plan to celebrate Gianna Bryant with "Mambacita" Kobe 4s on what would have been Gigi's 17th birthday on May 1. 
This isn't the first time the two have honored Gigi with a release. After the Kobe Bryant Estate reached an agreement with Nike in 2022, the partnership's first release followed a month later. Styled in a simple black and white with gold accents throughout, the "Mambacita" Kobe 6 honored Gigi's Mamba Ballers team and her love for the game that her father became a legend by playing. 
"With this new partnership, fans will soon be able to have access to Kobe and Gigi Nike product for years to come," Vanessa Bryant said at the time. "Nike is donating 100% of the net proceeds yearly for Gianna's shoes to our Mamba and Mambacita Sports Foundation (M&MSF)."
The "Mambacita" Kobe 6s were already in production long before the contract's renewal, making this year's Kobe 4 release technically the first Kobe launch under the new partnership.
With a simple white upper and black border framing throughout the iconic low top silhouette, the details layered in add to the special edition storytelling. 
Sign up for our newsletter
This year's Kobe 4 Protro design takes on a home jersey flip of the prior "Mambacita" sneaker's black look. Inspiration comes from a series of photos Vanessa Bryant shared during Kobe and Gigi's Celebration of Life event shortly after their passing. One of the most touching showed an early-elementary-aged Gigi at her school's Career Day. Kobe visited her class in full Lakers uniform, even bringing along his Gold Medal, which he draped around Gigi's neck.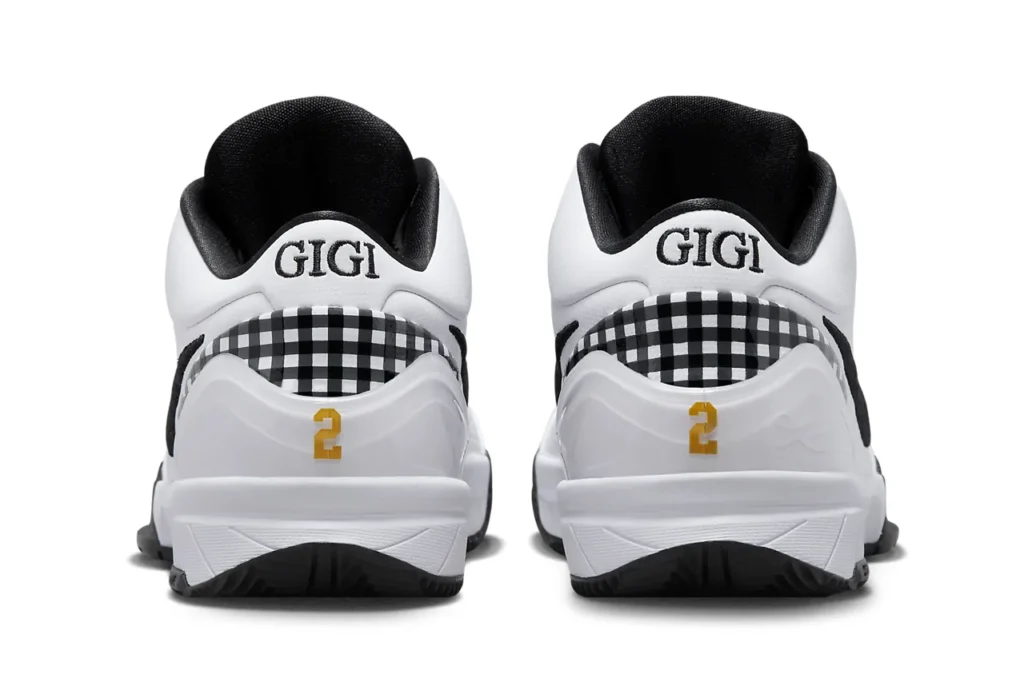 The heel and insole of the newest "Mambacita" sneakers include a black-and-white plaid graphic, tying back to that moment and the plaid outfit Gigi wore that day. 
Additional details include gold accents along the "Sheath" logo atop the tongue, and Gigi's No. 2 jersey number on the heel. Her name is also printed along each lace aglet. An angel wing design is featured along the insoles and box lid. 
In each season since Kobe's passing, more than 100 of the league's 450 players have laced up a Nike Kobe sneaker on gameday. 
"I am so proud that my husband's shoes are still the most worn by players on NBA courts and that the demand for his shoes remain so desired by his fans around the world," Vanessa Bryant added about the legacy of his sneaker series. 
In addition to an annual "Mambacita" launch around Gigi's birthday, Nike expects to continue pouring resources into celebrating the life and legacy of both Kobe and Gianna. The brand and Vanessa Bryant are working toward launching a new "Mamba Academy" sports training facility in Southern California, where future generations of young players can channel inspiration from the Bryants to learn the game and work on their craft.
More Sneaker News:
Exclusive
Adidas has signed 2025 phenom Darryn Peterson to an NIL deal — the Three Stripes' first ever with a high school basketball player….