Boardroom's Nick DePaula showcases the sneaker news and trends to keep an eye on in college sports, the NBA, and beyond as springtime approaches.
The month of March has already gotten off to an impressive start, with new debuts, activations, and announcements leading to an exciting stretch for sneakers coming out of NBA All-Star Weekend.
We've continued to see new and creative NFT-related projects in the sneaker space, strategy shifts that could have long-term impacts on retail, and have our next confirmed signature athlete to add to the current mix of 22 across the NBA.
As we get closer to the Madness of March, here are my picks for the top stories and happenings around the industry to kick off the month.
Sign up for our newsletter
Division Street launches 1st NFT Collection Benefiting Oregon Football
When Tinker Hatfield designed an Air Jordan 8 PE to be auctioned off to benefit current student-athletes on the Oregon football team, we were merely seeing the beginning of the endless potential that the Ducks' name, image, and likeness (NIL) strategic agency, Division Street, has a chance to realize. 
Not long after, Hatfield and Division Street teamed up again — minting the first NFT series under its "Ducks of a Feather" platform. The series offered 120 unique NFTs dubbed "Flying Formations," featuring the Oregon Duck mascot, along with a connected physical pair of exclusive Air Max 1s.
"Because of the [NIL] rule change, there's an opportunity to do something new and different that really helps athletes navigate through the rule changes and ultimately make some more money for their education and their future," Hatfield told Boardroom.
In just 12 hours, Boardroom has confirmed, the series generated over $700,000.
With more NFT collections expected to release in the near future under the "Ducks of a Feather" banner — benefitting other Oregon sports teams — Hatfield and Division Street could be setting the bar for how schools generate NIL impact for their current student-athletes going forward through digital collectibles.
Nike Pulls Back on Foot Locker Inventory
The initial (and since updated) headlines were a little dramatic — even reading "Foot Locker Gearing Up To Pull Nike Products From Shelves" in one instance — and caused a Twitter stir.
No, Foot Locker isn't removing the industry's best-selling brand from its global web of more than 3,000 stores.
The reality is that the longtime leading U.S. retailer had recently revealed that they would be downsizing their Nike inventory to just 60% of its total stores' inventory. That's a noted drop from 75% in 2020 and 70% in 2021, though the Swoosh is still far and above the most heavily stocked brand at Foot doors.
By Q4 of 2022, Foot Locker admits that Nike products could make up just 55% of their inventory.
That revelation resulted in the company's stock dropping a whopping 35% at the end of February — a market cap fall of nearly $950 million.
While the expected spin had framed that the shift was partly due to "ongoing brand and category diversification efforts," Nike is largely in control here — opting to shift more allocations of product to its Nike.com webstore and SNKRS app for limited edition pairs. Just how far the brand continues to push its direct-to-consumer business strategy in the coming years will have an industry-wide impact on all of its retail partners, and primarily, Foot Locker.
LukaDončić Gets a Jordan Signature Shoe
When Jordan Brand signed the trio of Zion Williamson, Jayson Tatum, and Luka Dončić all in a matter of six months during the second half of 2019, the brand's push for a roster refresh went even better than expected.
A signature shoe for Zion was a mandate of his shoe deal talks with every brand heading into the 2019 NBA Draft, meaning the process of eventually launching his own Zion 1 during the Spring of 2021 was underway just after his signing.
While just recently becoming public knowledge, I can confirm that both Tatum and Luka each earned their own signature shoe over a year ago, with the design process underway behind the scenes ever since. Tatum publicly confirmed his Sig earlier this season, with Luka's namesake kicks finally revealed to be on the way thanks to a leaked Summer & Fall 2022 launch calendar captured by SneakerNews.
"No details yet," he told reporters during a Mavs media session this week. 
The "Sly Fox" alternate name floated by Sneaker News — much like the Zion 1's early alternate "Z-Code" moniker — is likely simply a factory decoy name used during the process.
Coincidentally, it was Nike's then-VP of Sports Marketing Nico Harrison who inkedDončić to the Jumpman — he's now the Mavericks' President of Basketball Operations and GM. 
So far, six official colorways have appeared on launch lists during the span of late June through December 2022, meaning we could be possibly seeing a Luka 1 debut as early as this season's Playoffs.
Ja Morant's (Signature Shoe-less) Insane Run
The worst kept secret around the league is that Ja Morant is deserving of a signature shoe — right now. (Well, that's if you disregard that "sneaker free agent" Zach LaVine has been wearing New Balance for a month straight…)
Morant's 52-point outing last week was most likely the best individual performance of the NBA regular season to date. The league actually announced that his highlights generated a record-setting 80 million views across its social media channels.
Already on the rise all season in leading the 45-22 Memphis Grizzlies to a now second-best record in the entire league, Ja Morant cemented himself amongst the MVP tier of players — a moving target this season that's mostly been centered on names like Embiid, Curry, Durant, Jokic, DeRozan, and Giannis. 
While the look was killer — Memphis City Edition uni plus yellow compression accents — his footwear was once again done by a third-party customizer. Hand-painted by Ja's go-to artist, Sierato, the vibrant yellow Kobe 6s with a light blue midsole featured an oversized No. 12 along the medial side and a haloed Mamba "Sheath" logo on the heel.
A fresh look, no doubt, but after each monster highlight and massive win of Morant's, more and more are we reminded that he's in need of his own signature series.
Right now.
Stephen Curry Debuts "Flowtro" Concept
MJ had Retro. Kobe had Protro. Stephen Curry has…Flowtro.
After launching his own Curry Brand in tandem with just his eighth signature shoe, there's a new hybrid concept on the way from the Warriors sharpshooter that should not only bring some energy to his line but also allow for his earliest Under Armour sigs to benefit from the brand's latest top innovation.
Merging Retro designs with the Flow platform, the company's rubber-less and wildly grippy technology, has tons of potential. While other Flowtro models are expected to launch over the next year, Curry first debuted the silo in a Flow-upgraded edition of the Curry 4 during the Warriors' first game after the All-Star break.
Will Billy Hoyle wear
New Balances?!?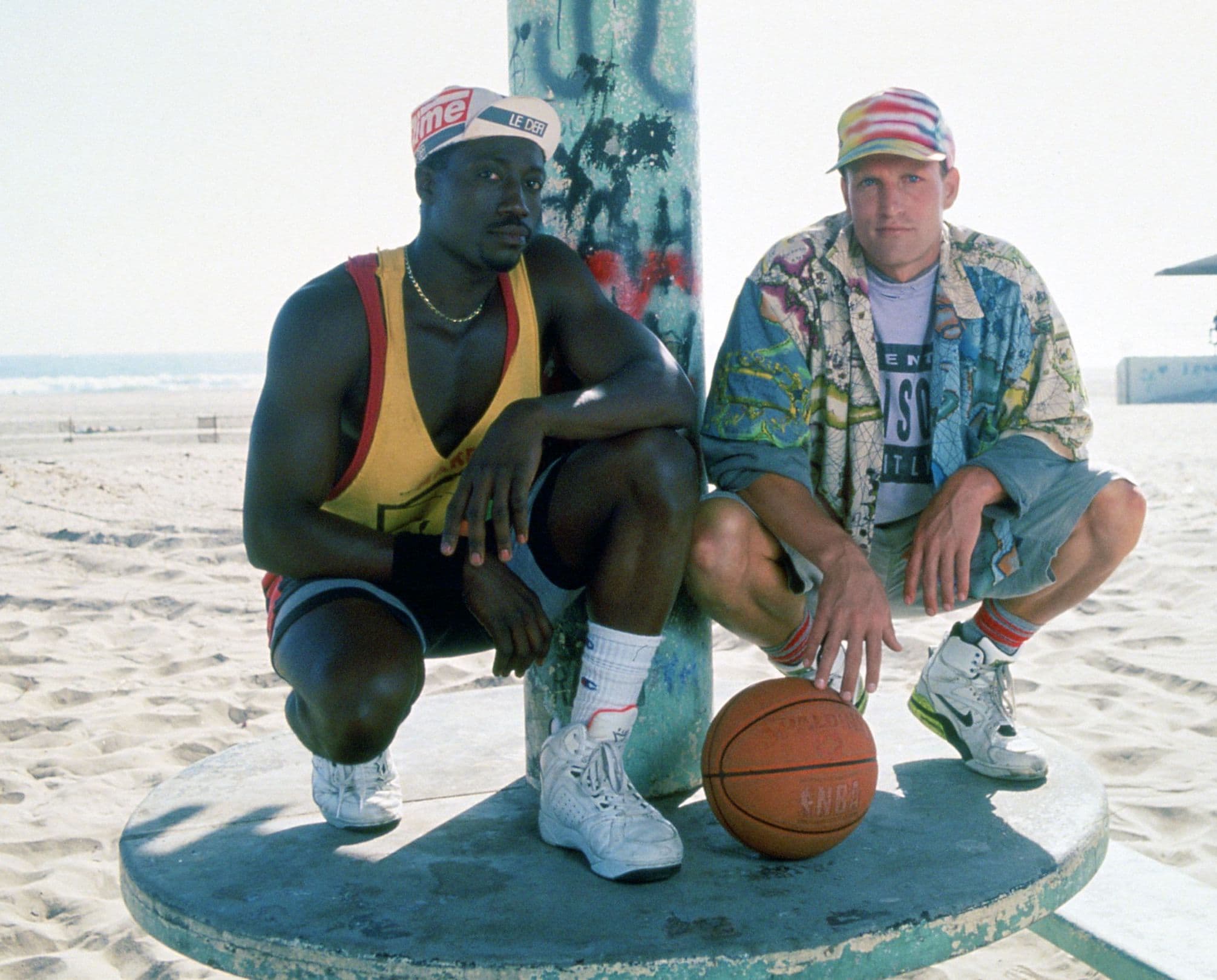 The greatest basketball movie of all time is White Men Can't Jump.
"Hard goddamn work." "Your mother's an astronaut." "We goin' to Sizzler." Et cetera.
The legendary lines are endless. The guest roles ("Raymond – that's you!") were incredible.
Naturally, the purist in me is terrified that a remake is in the works.
While the merit of a sequel is for another debate, from a sneaker perspective, you almost have to assume that Jack Harlow's casting in the remake means that the legendary Billy Hoyle character — he of the perfectly-early-'90s white, black, and neon high-top Nike Air Command Forces — will now be donning New Balances.
Harlow just recently announced an official partnership with the brand, after being an exclusive ambassador for the year prior.
For "Billy's" sake, it doesn't exactly feel right, given that New Balance had practically gone dormant in hoops during the early 1990s, after success with its James Worthy signature shoe and several other '80s staples. While the movie itself will face lofty expectations, the sneakers and style of the main characters will be just as hard to live up to. Here's to hoping Harlow has some heat.
Nike unveils 17th Doernbecher Collection With $43K Opening Auction
Every year since 2004, Nike has launched an annual series of special edition sneakers designed by young patients at the Doernbecher Children's Hospital in Portland, Oregon, just 10 miles away from the Swoosh's Beaverton campus. Custom logos, graphics, and color palettes always add to the flair atop some of the brand's most beloved models, as the sneakers take on the energy of each patient to tell their story.
With 100% of the proceeds from the releases helping to raise funds for future patient care at the hospital, to date, the "Doernbecher Freestyle" program has generated over $30 million.
Since this year's 17th Collection is the first virtually designed batch in the series, each of the sneakers crafted by the seven former patients was first auctioned off of on eBay, kickstarting the upcoming resource-raising release with a starting tally of $43,000 through the auctions.
Sign up for our newsletter