Since revealing his identity earlier this month, the prominent NFT pioneer and crypto advocate told Boardroom all about his future Web3 plans.
The Web3 community has correlated gmoney's identity with his CryptoPunk — Punk 8219 — for the past two years or so. During Art Basel 2022, the NFT pioneer finally decided to dox himself.
gmoney revealed his identity earlier this month for various reasons; one being because of the mass loss of confidence in the crypto industry this year. He built his Web3 persona around his CryptoPunk, during the height of the NFT industry in January 2021. Even though gmoney's face is revealed, much of his online presence will stay the same. He told Boardroom that he doesn't plan to change his profile pictures on any of his social media accounts; they will remain Punk 8219. He doxxed himself to represent the Web3 space in person better while planning to continue running his digital presence the same.
"I think it's made it a little bit harder for me to "walk around at NFT events because I'm more recognizable," gmoney told Boardroom about his initial thoughts after revealing his identity. "Overall, I like it because I'm connecting with more people."
Sign up for our newsletter
The Time is Now for gmoney
gmoney doxxed himself on the same day within hours of y00ts Founder Frank DeGods, aka Rohun Vora, a former Y-Combinator fellow and UCLA dropout turned Web3 enthusiast. He hopes more Web3 founders will reveal their identities to instill trust during a time when the crypto industry needs it the most.
"I really think we need strong and visible leaders," gmoney said. "I felt like I took the pseudonymity as far as I could. I need to be a little more visible to open up the next chapter and go mainstream."
While everyone knows what gmoney looks like now, he has always been present in Web3 spaces these past two years, unmasked. If you ever caught any of his video interviews online, his face has always been covered by an avatar filter of Punk 8219. But if you ever conversed with him in person, you know he didn't shy away from showing his face. He trusted the Web3 community to respect his wishes to stay anonymous, and he even said he was surprised to see no one ever leaked photos of him.
The Web3 giant is known for pushing back on the expectation of showing his identity before he was ready.
One aspect of revealing himself that gmoney is excited about is the ability to give non-verbal cues when talking to people via Zoom interviews for his podcast. It seems simple, but it's an aspect of conversing that gmoney has been missing out on with his physical identity behind a stagnant screen when virtually communicating.
gmoney wears many different hats in the Web3 world, but most notably, he's the founder behind the phygital Web3 luxury fashion house 9dcc. He launched his fashion company earlier this year, which formalizes the ownership of items using blockchain technology as a documentable avenue. 9dcc dropped its first NFT collection earlier this year called ITERATION-01. Each NFT corresponds with a specific shirt size of 9dcc's oversized black lux tees that dawn blockchain-verifiable patches. NFT holders were airdropped vouchers granting them access to a physical t-shirt.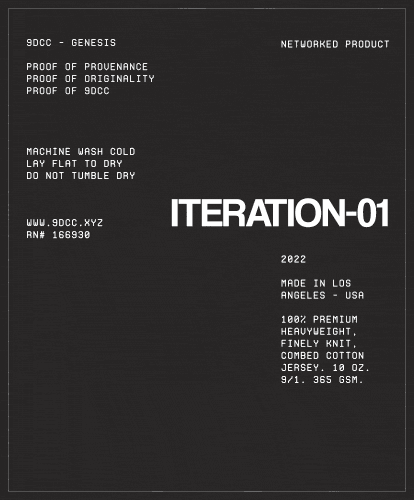 After the success of 9dcc's first drop, gmoney worked with a unique designer for the fashion brand's second collection, which was released at Art Basel.
Selling Out 9dcc's Second Drop
gmoney and 9dcc collaborated with generative art creator and Art Blocks founder SnowFro for the brand's ITERATION-02 drop. Working with Snowfro was a full circle moment for gmoney, who first got into collecting NFTs by mass minting a group of Chromie Squiggles NFTs from Art Blocks. The ITERATION-02 collection features a variety of 9dcc's oversized white lux tees with the brand's logo and thick lines inspired by Chromie Squiggles.
The fashion brand handled approximately 450 sales and live mints at its Art Basel pop-up shopping experience for ITERATION-02 before selling out in under six minutes online. Different rarities throughout the collection drive up interest in secondary sales.
"It's been really fun, and the community has been so engaged," gmoney said about the rollout of 9dcc's second collection. "A lot of logistics and innovation had to happen to make an NFT on the spot, mint it, and put that on a garment that links to a unique asset on-chain, all within a matter of 10 minutes. To me, that's a huge technical feat that hasn't been done at scale, and we did it with 1,200 shirts over the course of a week."
gmoney is most excited to see that the Web3 community is really getting familiar with 9dcc and what he's building with the fashion brand. That's another reason why he doxxed himself, so he could put his identity in front of the brand and meet people face-to-face at 9dcc's pop-up during Art Basel.
What's Next for gmoney?
gmoney's physical identity is out in the world now, but his real name and life history remain hidden. He will continue going by gmoney while he further cements himself in Web3.
The NFT guru will continue advising Adidas on its Web3 strategy, and the pair is fine-tuning the details of a long-term partnership. He'll also continue producing his podcast under his Admit One ecosystem.
As for 9dcc, gmoney said the brand has a couple of new collections lined up with potential collaborations in the pipeline that he's really excited about. He's on a mission to create IRL opportunities and connections for the web3 industry that typically happen online within communities.
"As a true crypto native, I want to be out there pushing the true core ideals behind crypto so that people understand it's not this Ponzi scheme," gmoney said. "Why are we here? Ultimately, crypto is for self-sovereignty and non-censorship in a digital world."
gmoney is most looking forward to running activations and being more visible at web3 events in the future to teach people the real power of decentralization.
"We're laying the groundwork for future generations of how humanity will interact with each other in a more digital world," he said.
Read More:
Sign up for our newsletter