How the iconic Cincinnati Cat Scratch shorts came to be, then how they came back.
Less touted than either coast, the Midwest still makes waves when it comes to fashion trends.
From St. Louis adding life to the Air Force 1 to Don C selling throwbacks out of his trunk in Chicago, the area attached to blue-collar cities and countless cornfields sprouts off-kilter style statements known to make noise.
In 1997, the University of Cincinnati created clamor heard nationwide: the debut of Bob Huggins' squad's signature Cat Scratch shorts.
Adorned by Kenyon Martin, DerMarr Johnson, Steve Logan, and more, the Bearcats' uniforms were designed by Jordan Brand and commissioned by the college.
Though the block short style was intended to be exclusive to the five-star studs who went to work at Shoemaker Arena, the bold trunks provided a blueprint for others to follow. Rival schools quickly copied and mass-marketed their own versions, with the Jumpman empire even expanding to an insanely popular inline range.
Seemingly out of nowhere, the Cincy shorts and their retail off-shoots reoriented hoop style in a movement that swept the country. Suddenly, they were gone.
Back now in authentic engineering, Boardroom breaks down the arrival, departure, and return of the Cincinnati Cat Scratch shorts.
Sign up for our newsletter
Midwest Swing
Outside of the Fab 5, few college kids from the Midwest could influence how hip-hop style swayed.
In the Fall of 1997, that all changed.
Though Michael Jordan made Chicago cool from Palm Springs to Spain, his professional playing career was winding down. To make sure his influence remained relevant, Nike started the subsidiary Jordan Brand, headed into his Last Dance season.
From Eddie Jones in Los Angeles to Michael Finley in Dallas, MJ signed and aligned with ascending talent that exemplified his ethos in major markets. That strategy trickled down to college where Mike secured stakes in schools renowned for their hoop talent and regional retail.
"We had Cal on the West Coast and St. John's in New York," former Jordan Brand VP Gentry Humphrey told Boardroom in 2021. "So geography-wise, Cincinnati made a lot of sense."
Already longtime friends with Huggins, MJ had his new company cement its future in the Midwest by bringing on a school of the same spirit and team tones associated with his signature line.
While the team would play in sneakers attached to MJ's image, their uniforms would introduce an aesthetic all its own.
Baring a sleeveless shirt silo, baggy build, and bold block detailing down the obliques and thighs, the redesigned Cincinnati Bearcat uniforms brought out by Brand Jordan were unlike anything college basketball had ever seen.
Rather than shock fans and opponents in their 1997 home opener against Detroit Mercy, Michael unveiled the uniforms and his new company on live daytime television.
Using The Rosie O'Donnell Show as a stage, R&B group BLACKstreet modeled the uniforms soon set to outfit Kenyon and company.
"Jordan Brand always has a little different level of swag that's attached to it because we epitomize MJ," Humphrey said. "MJ is not like the guy next door."
Though Cal and St. John's also debuted signature styles that day, Cincy earned the buzz thanks to the boldly blocked shorts.
"We sold stuff, man," Huggins said on The Bearcat Basketball Podcast. "We sold shoes, we sold warmups — we were what everybody wanted to be."
This sentiment proved true at the time in Bob's backyard.
"If you hooped in Cincinnati, you had the jersey, both of the shorts, you had all the stuff," Corporate Got 'Em owner Matt Tomamichel told Boardroom in 2021. "All the gear was everywhere."
The Cat Scratch phenomenon started in the Midwest, but before long, it spread to major markets miles away.
"We sold more gear in New York than the Knicks," Huggins said.
Cat Scratch Fever
From 1997 to 2002, the Cincinnati Bearcats became a trendsetting program thanks to powerful play and daring design.
The team took pride in the uniforms while opponents expressed envy.
"We played Rhode Island," former Bearcat guard Alex Meacham told Boardroom in 2021. "Cuttino Mobley was like, 'Yo these are crazy!' And you know Cuttino was a fashion guy and still is. He just kept looking and looking."
Soon, the Cincy style was a recruiting edge for top talent that wanted to be the freshest of the fresh. Just as quickly, other schools followed suit.
"Everywhere we'd go, every team would be so jealous of our gear, our uniform, our shoes," Meacham said. "Guys would say, 'Man, I shoulda went to Cincinnati…'"
The Jordan Brand backing — one that came with countless kicks and exclusive apparel — spoke to a new generation of hoopers who grew up idolizing Mike. By breaking the mold with the jerseys and shorts, the young subsidiary spoke directly to its targeted talent.
"The first thing that stuck out was those uniforms," Kansas legend and former Bearcat recruit Keith Langford told Boardroom in 2021. "They were the first ones with the stripes on the side and the cut-off look. It was just so dope."
The dopeness derived from the Cincinnati Cat Scratch shorts design was singular to the Bearcats at first. While rarity kept the Ohio school cool, mass marketing made the Nike off-shoot a billion-dollar brand.
Thinking on their feet, the designers and execs at Jordan Brand realized they could extrapolate to other inline apparel offerings.
By the early '00s, Jordan Brand began producing retail renditions of the famous Cat Scratch shorts sans Bearcat branding in various shades of blues and alternate iterations in red and black.
Not only were the baggy trunks a fan favorite on Eastbay, but the single style was paramount in making massive Jordan Brand shorts a fad for years to come.
Still, even the high-priced, long-legged retail replicas couldn't touch the Real McCoy.
"My mom is in fashion design and has been her whole life," Meacham said. "She loved them because they looked great on two levels. When you saw them up close the detail was amazing and if you were sitting up high in the stands at a game, they looked so cool from a distance because of those blocks."
By the early '00s, the Cincinnati Cat Scratch shorts were a mainstream hit at malls and in mail-order catalogs.
Soon, Cincinnati Basketball modernized its design to drop and elongate the blocking as a means of differentiation. Though James White and Jason Maxiell kept the look relevant at retail, the tide was turning behind the scenes.
In the Fall of 2005, Andy Kennedy took over the Bearcat program and Fifth Third took Cincinnati's arena naming rights. No longer led by Huggins, Jordan Brand broke with Cincinnati. Adidas outfitted the Bearcats by 2007 before the program turned to Under Armour.
For years, the Cat Scratch style remained relegated to deep-dive searches on eBay or unlikely finds on Poshmark.
Now, they're back for the first time.
Letting Out the Claws
Growing up in Bobby Knight's Indiana, Josh Barnett bore a love for basketball and the fashion attached to it.
From the candy-striped pants the Hoosiers wore in warmups to the argyle shorts adorned by Jerry Stackhouse at North Carolina, every element of hoop culture in college basketball meant the world to him.
When Barnett decided to start nostalgia basketball apparel company 19nine in 2011, the Midwest native knew licensing rights were the first step when it came to signing schools and telling stories.
With a laundry list of schools set to target, one remained incredibly meaningful, but also elusive.
"We worked hard to get that Cincinnati license," Barnett, the VP and co-founder of 19nine, told Boardoom. "With all of the schools, we get on the phone and talk about our passion for the program. It's genuine and it's real. What we want to do is bring those stories back to life the best we can through products."
So far, so good.
Over the course of the last decade, Barnett's been able to bring back the Durasheen shorts worn by the Fab 5 and even the denim jorts Antoine Walker won a National Championship in when hooping for Kentucky. It's the through-line of March Madness memories and sport style nostalgia that make 19nine a power player in the college apparel game.
Still, a white wale for anyone of his origin and era remained Cincinnati's Cat Scratch shorts.
"Cincinnati 99-00 is one of the greatest what-if stories," Barnett said. "Kenyon Martin broke his leg right before the NCAA Tournament. People remember those shorts."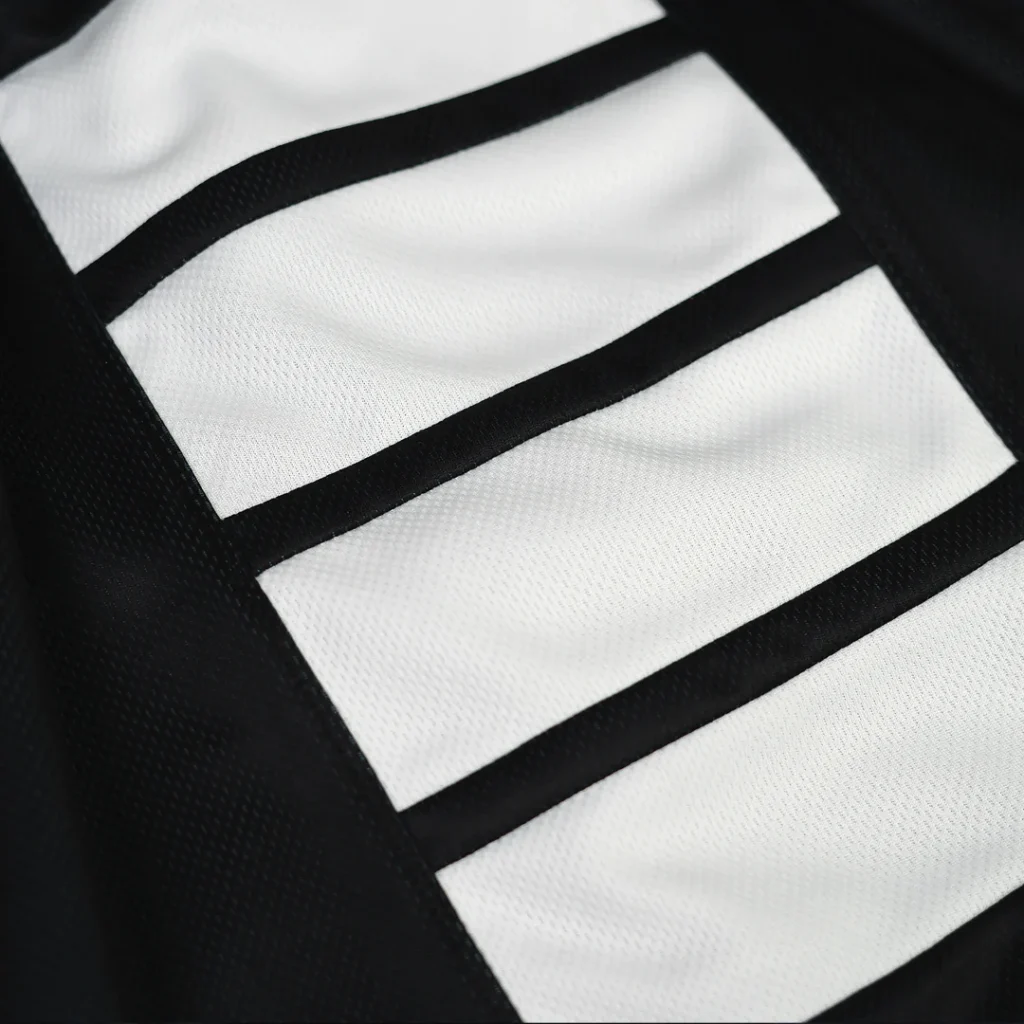 Reaching an agreement with Martin Ludwig, UC's Associate Vice President for Trademarks and Licensing, Barnett was able to produce, sell, and tell stories around Cincy hoops in the form of apparel.
Once the rights were secured, 19nine's Creative Director Matt Breivogel began sourcing original game shorts from the 1999 team to make the retro revival a reality.
"I know Matt went to great lengths to get them perfect," Barnett said.
That may sound hyperbolic for such a simple, yet striking short. But 19nine took no shortcuts.
"We had to get the blocking on the side of the shorts correct," Breivogel told Boardroom. "We had to get the embroidery and the butt logo the right size, we got game-used shorts to get everything. Even the folding in the waistband is as close as possible."
If the attention to detail made the originals a hit, the same energy had to be felt through the 2023 release.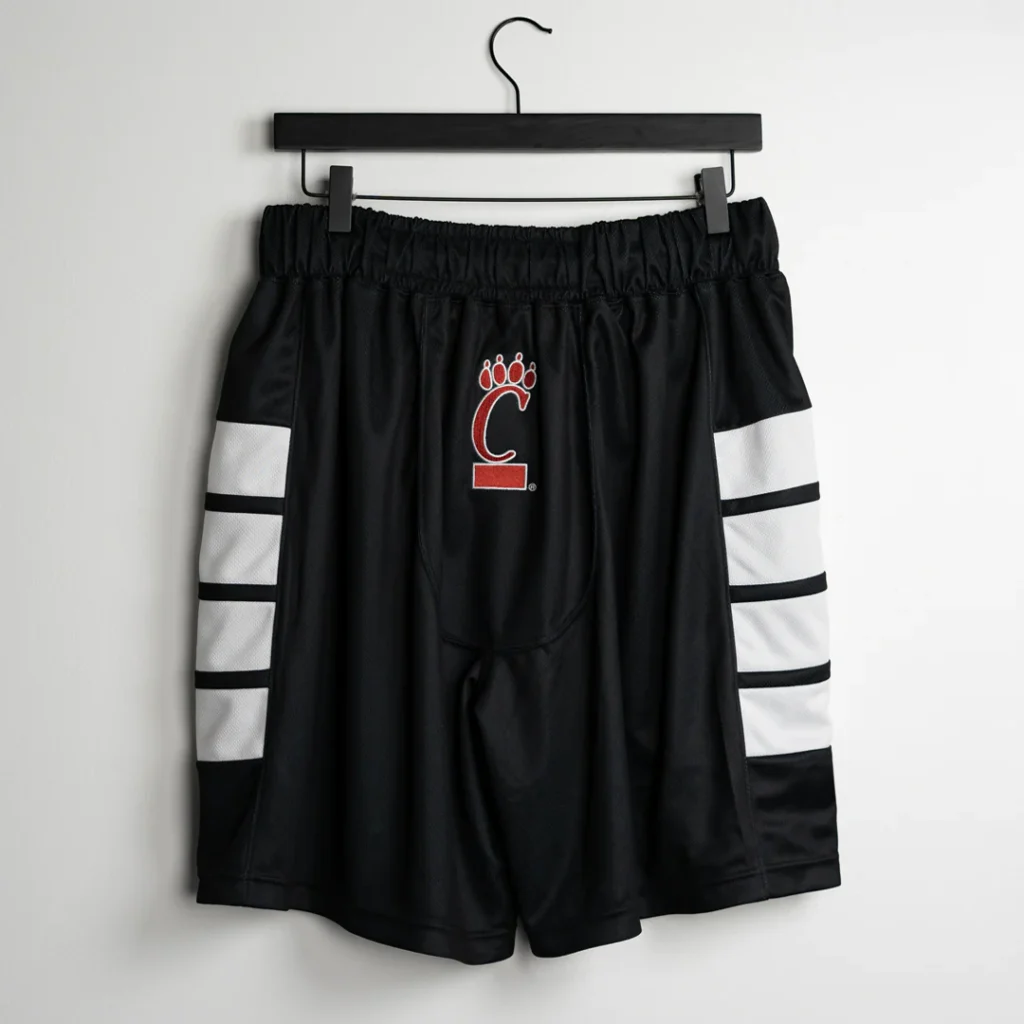 Made more modern by slight tweaks to weight and material, the Legacy remake — an homage to the authentic game short that change college basketball — is back for the first time at 19nine for $115.
Though it's unlikely the retro return will spark the same long tail legs as the original arrival, the Midwest classic will hit home hardest with locals that still consider Bob Huggins their coach.
"Cincinnati is our most fanatical fan base," Barnett said. "They're the craziest and the best."
It's all an homage to a moment when amateur basketball in Ohio was changing the style of a sport played and sold all over the world.
"That design was so different for that time," Meacham said. "In that space, uniforms got very boring. Those uniforms were so far left, but they weren't so far left that they looked bad. Ours garnered a lot of attention and everyone thought they were slick."
For a complete Oral History of Cincinnati's Air Jordan era from Boardroom, click here.
More College Hoops:
Athletes.org is starting men's and women's basketball ACC chapters, with RJ Davis, Armando Bacot, and Deja Kelly leading the way….