The star Cleveland Browns edge rusher locks in a multi-year deal that makes him one of the most visible, highest-profile athletes on the Reebok roster.
After initially tapping in with the brand as an ambassador this past September, Reebok and Cleveland Browns All-Pro defensive end Myles Garrett have a new expanded, long-term endorsement deal in place.
The 26-year-old former No. 1 overall pick of the 2017 NFL Draft will be featured in a variety of upcoming campaigns for the brand's lifestyle and performance silos, in support of key launches across Reebok's Classics division and Running, Cross-Training, and Basketball categories.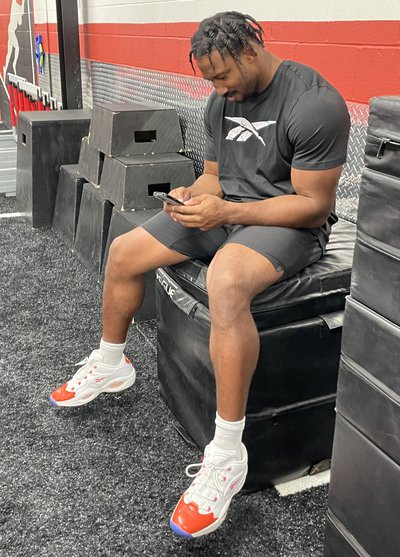 "I'm looking forward to showcasing more of who I am on and off the field to help better establish the brand in performance and lifestyle," Garrett said on the occasion.
Already, the 6-foot-4, 270-pound edge rusher has been spotted most often in the Reebok Question, which he also laced up in the recent NBA All-Star Celebrity Game in Cleveland.
"Growing up admiring all-time greats like Allen Iverson, Shaq, and Shawn Kemp, I'm extremely excited to be joining the Reebok family," he said. "I really pride myself on having a lot of interests off the field, so to be working with a brand that promotes individuality and encourages people to pursue the things that bring them joy is incredible."
Boasting nearly 700,000 followers on Instagram, his feed often blends a mix of game shots with fitness and training posts, along with his off-field style and love for the outdoors.
"Myles Garrett is one of those incredible all-around athletes who could be a standout in any sport – he just happened to choose football," commented Caroline Machen, Reebok VP of Global Brand Marketing. "We're thrilled to welcome Myles to the Reebok family and shine a light on our shared ethos and passion for sport, fitness, fashion, pop-culture, and activism."
With Authentic Brands Group having officially taken over control of Reebok on March 1 after an extensive sales process out from under Adidas, Garrett's expanded deal represents the many ways in which ABG plans to invest in providing even more resources to Reebok to expand its capabilities.
Along with Garrett, already two of Reebok's longest-standing partners in Shaquille O'Neal and Allen Iverson have posted in support of the newly-sealed ABG ownership transition. Iverson took part in a campaign video for Reebok's "Life Is Not A Spectator Sport" marketing push, while all three also appeared at the brand's "Bok Door" activation space during NBA All-Star Weekend.
"As we embark on an exciting new era here at Reebok, Myles will be a key player in bringing his own unique energy and story to our next chapter," said Machen.
Sign up for our newsletter