The field is set for the final race in the Triple Crown. Boardroom has everything you need to know about the favorites, festivities, and prize money at the 2023 Belmont Stakes.
Today's top thoroughbreds are bound for Belmont to compete in the final leg of the iconic Triple Crown.
It's the 155th Belmont Stakes, and there's horse racing history on the line as nine of the top-performing ponies in the world are headed for the starting gates not far from New York City.
But this will be by no means a walk in Belmont Park.
As the longest-running of the three Triple Crown races (including The Kentucky Derby and Preakness), the Belmont Stakes has rightfully earned its "Test of the Champion" nickname, as it is also the longest race of the trio and is unlike anything each of the three-year-old horses competing has seen before this season.
And while there will be no contender for the Triple Crown this year, there's still plenty at stake come Saturday at 7:02 p.m. ET.
We're talking a 1.5-mile sprint, in rough terrain — all for the glory of standing in the winner's circle, adorned with white carnations and celebrating a generous portion of a hefty prize pool.
Here's a look at how much in 2023 Belmont Stakes payouts is on the line at "The Championship Track."
Belmont Stakes Payouts 2023
With a total purse of $1.5 million, the winning horse at the Belmont Stakes will walk away with $800,000 in prize money, while the runner-up will receive $280,000.
By all accounts, the prize pool for this year's race isn't expected to change from last year, so here's a look at how much money each of the top five finishers can expect.
First Place: $800,000
Second Place: $280,000
Third Place: $150,000
Fourth Place: $80,000
Fifth Place: $50,000
This prize structure at Belmont hasn't changed in nearly a decade — aside from the race in 2020 which was heavily impacted by the COVID-19 pandemic.
The last time the purse was increased was in 2014, when it was raised from $1 million. Back then, the winner realized $600,000 in prize money. And, of course, we've come a long way since the inaugural Belmont in 1867, where the winner walked away with $1,850.
But in addition to major money, the winner also gets the Belmont Trophy, a solid silver bowl originally crafted by Tiffany's, and a 40-pound blanket made up of 700 carnations traditionally draped over the horse and jockey.
Sign up for our newsletter
Belmont Stakes Favorites
Wondering which pony will win big at the Belmont?
Todd Schrupp, FanDuel TV anchor and racing host, points to several factors to consider when picking your horses this weekend.
Schrupp, who's had a front-row seat to some of the most iconic moments in horse racing over the last 20 years, believes the impressive size of Belmont Park will no doubt have an impact on the race.
"The sheer circumference and expanse of the property are like nothing you'll find anywhere in the world," Schrupp said. "These horses have never gone this distance before. This will be a test like nothing they've ever had."
When picking ponies, Schrupp said you'll want to consider not only the horse's ability to maintain speed and pace throughout the race but also do some digging on the horse's pedigree and ability to turn things up a notch in the final stretch.
"That first half of a mile everybody is waiting to see who will make their move," Schrupp said. "It's a pedestrian-like pace, but then you get that mile sprint."
With the last 14 Triple Crown races producing different winners each time, Schrupp believes that streak will likely continue at this year's Belmont.
One horse to keep an eye on, according to Schrupp, is Arcangelo at 8-1. The horse didn't compete in either of the previous Triple Crown races, a strategy that Schrupp believed could pay off.
Forte (5-2), the original favorite at the Kentucky Derby before being scratched at the last minute, is also in the race and will likely draw interest, however, Schrupp said the horse has yet to show he's capable of winning the big race.
"(Forte) is the best horse in this three-year-old crop, but still has to prove it," he said.
Here's a look at the entire opening line of the 2023 Belmont Stakes.
2023 Belmont Stakes Odds
Numbers via FanDuel Sportsbook reflect the official line for the 2023 Belmont Stakes as of June 09, 2023.
| Post | Horse | Jockey | ML |
| --- | --- | --- | --- |
| 1 | Tapit Shoes | Jose Ortiz | 20-1 |
| 2 | Tapit Thrice | Luis Saez | 3-1 |
| 3 | Arcangelo | Javier Castellano | 8-1 |
| 4 | National Treasure | John Velazquez | 5-1 |
| 5 | Il Miracolo | Marcos Meneses | 30-1 |
| 6 | Forte | Irad Ortiz, Jr. | 5-2 |
| 7 | Hit Show | Manuel Franco | 7-2 |
| 8 | Angel of Empire | Flavien Prat | 5-2 |
| 9 | Red Route One | Joel Rosario | 15-1 |
Big Things Happening at Belmont Park
Much like each of the Triple Crown races before it, the Belmont promises big things in the way of entertainment.
The 2023 Belmont Stakes Racing Festival, which officially began June 8, includes a loaded lineup of races, not to mention a race-day concert featuring Diplo, a member of the now-iconic Major Lazer, and other musical acts.
Other big things happening for spectators at Belmont Park include food and drink, particularly the Belmont Jewel, the official race drink made of bourbon, lemonade, pomegranate juice, and a garnish of lemon.
And don't forget about the high fashion expected of such equestrian events.
Organizers are also expected to feature a series of Secretariat-related fan giveaways and vintage artifacts to commemorate the 50th anniversary of Secretariat's historic 31-length victory in the 1973 Belmont Stakes.
Read More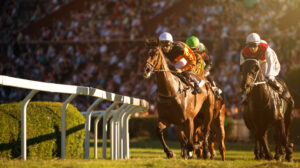 A six-team, city-based horse racing league called the National Thoroughbred League debuts this fall with five F1-style race weekends….