On the heels of Banned Day, Boardroom breaks down the tale of the tape on how Michael Jordan's first signature shoe soared to unprecedented sales heights.
Thirty-nine years ago, the National Basketball Association flagged a rising rookie in Chicago's sneakers as unfit for team uniform standards.
Infamously, an Air Ship prototype made by Nike for the newly signed Michael Jordan was based in black and red as a way to test the waters of elevating an individual athlete as a signature star in a team sport.
"He signed this huge $500,000 contract, and we had to get him in some shoes," Brad Johnson, former Head of Category at Nike Basketball, told Boardroom in 2022. "We were cobbling up shoes with whatever we had available to try because he'd never worn Nike shoes before."
Catching the attention of the late great David Stern, the shoes caused a commotion in the league's front office while spurring an advertising agenda over in Beaverton.
SIGN UP FOR BOARDROOM'S SNEAKER GAME
"The NBA sent out a rule and an approval process where footwear companies had to submit our drawings and colors to show how the scheme represented the uniform," said Johnson. "It had to be either a majority white or a majority team color."
In a move of marketing judo, "Banned" became the basis for an Air Jordan business estimated to do $3 million upon arrival and instead doing 42x that mark.
Today, Nike is valued at over $160 billion, ironically serving as the official uniform provider for every team in the NBA. The league no longer requires a dress code for footwear, with MJ outfitting superstars in hoops, music, football, and more.
From those first steps in October 1984 up to the gargantuan growth of Jordan Brand today, get a timeline overview of how the "Banned" marketing mythology made for a billion-dollar footwear franchise.
1984: Michael Jordan Joins Nike, Wears 'Banned' Prototypes
In 1984, Nike claimed a reported 15% share of the basketball footwear market.
Upon signing Michael Jordan, the brand looked to recoup its five-year, $2.5 million investment in MJ by creating an Air Jordan line of footwear and apparel. The plan was to create product and buzz for MJ in the early months of his rookie season, seen most brazenly by the Black/Red Air Ship he wore in pre-season action.
"He never wore the Black/Red Air Ship in a [regular season] NBA game because that's when David Stern called and said, 'We're fining him $1,000,'" Johnson said.
Looking to make $3 million on annual Air Jordan sales, Nike VP of Marketing Rob Strasser suggested having MJ go against the grain and wear the fine-worthy color combo as a means of counter-culture promotion. At that time, Nike was all about endorsing rebellious athletes and coaches.
"Strasser said, 'Great, we're going to send you a check for $82,000 because he's going to wear them every game,'" Johnson recalled. "Stern said, 'It doesn't work like that. It's $1,000, $5,000, then $10,000, then we'll suspend him.'"
1985: Air Jordan Arrives at Retail, Earns $126 Million in Opening Year
As the story goes, Michael Jordan shelved his Black/Red Air Ship sneakers in favor of league-approved pairs.
By late 1984, the Air Jordan game shoe was ready for wear, donned by MJ in high-flying action in white-based iterations. As a rookie, Jordan was voted an All-Star starter in the 1985 exhibition. The big stage — and its Dunk Contest — was fertile territory for a Black/Red Air Jordan shoe and its apparel offerings to take flight in front of a national audience.
"All-Star was the one time where the NBA said the colors didn't have to relate," said Johnson.
Brazenly, Jordan wore the "Banned" color code in the 1985 Dunk Contest. That spring, Nike ran a corresponding commercial playing off the NBA's fines of said style, with pairs arriving at the market in April.
In its opening year, Air Jordan footwear and apparel accounted for $126 million in profit.
1986: Nike Resets Air Jordan Market with Luxury Air Jordan 2
After an unprecedented arrival, the Air Jordan was hot. Perhaps too hot.
"We massively oversold the original Air Jordan," Dave Siddons, Nike salesman in the '80s and '90s, told Boardroom in 2022. "The AJ1 was on sale in so many colors."
Comparable to the Tiger Woods' red polo a decade later, the Air Jordan was oversaturated in stores due to a lack of distribution strategy and the fact it was the only basketball shoe Nike could sell.
"At that time, Michael had around one million units between men's, boys, KOs, and infant sizes," said Johnson. "It was about 1.2 million units worth of royalties to stay with Air Jordan. The average shoe at that point in time was about 60,000 or 70,000 units, so it was about 10-20x the volume."
Because of this, Nike flew its top technicians to Italy to conceptualize a successor and reset the market. The result was the Air Jordan 2: a luxury sneaker set at the $100 price point as opposed to the original Air Jordan's $65 start.
"When we brought out the 2, we had to reset the Jordan in the marketplace," said Siddons. "When the 2 came out, I was getting probably 600 pairs to sell to 100 accounts. The 2 was a really important shoe because of how much we oversold the Air Jordan 1."
From then on out, an annual Air Jordan game shoe would arrive each season, led by performance innovation and endorsement from Mike. The strategy would suddenly shift once MJ stepped away from the game.
1994: Air Jordan 1 Returns as Anniversary Retro Release
In October 1993, Jordan shocked the world by announcing his retirement from basketball.
Coming off his third straight NBA championship and the tragic murder of his father, the living legend was burnt out. Forced to pivot, Nike considered shutting down the annual Air Jordan business as its namesake star would not be on the court.
Coincidentally, the timing of Mike's baseball sabbatical aligned with the tenth anniversary of the Air Jordan franchise. Making the most of the past, Nike released retro renditions of MJ's first three signature sneakers.
"The first Air Jordan retros were in 1994, and that experiment was considered to be a failure," NikeTalk co-founder Todd Krevanchi told Boardroom in 2021.
At that time, the idea of selling old shoes was foreign to a consumer conditioned on innovation. Lucky for Nike, Mike would return to basketball and win three more titles. Lucky for Mike, fans would soon change their perspective on buying old shoes.
1997: Nike Announces Brand Jordan Subsidiary
When Michael Jordan was enjoying life on the diamond during his first retirement, good friend Howard White pitched Phil Knight on the idea of a legacy line attached to Air Jordan.
Originally, Knight balked at the idea of a retired athlete selling shoes to active consumers. By 1997, he was won over.
"It wasn't just me," Howard White told Boardroom in July. "Tinker [Hatfield] was on board, we brought Larry Miller on, and I knew perspective. There are so many things that are ridiculous to do, but there was a small band of people that believed."
That small band of people was a subsidiary now known as Jordan Brand.
In the fall of 1997, Nike announced Brand Jordan ahead of MJ's Last Dance season. The expectations for the MJ-led subsidiary were sky-high from the jump as analysts estimated the new empire turning $300 million in revenue by 1998.
"I think it's something he deserved," agent David Falk told Boardroom in July. "I think that he was singularly successful as an endorser."
Over the course of that 1997-98 campaign, Jordan played in models, new and old, while signing stars such as Ray Allen and Michael Finley to endorse his brand.
In 1998, a somewhat fiscally challenging year for Nike as a whole, Brand Jordan was the outlier, increasing in revenue by 57% and improving by 133% in year-over-year average selling price. It was a testament to how Mike could move the market with championship expectations on his back and also provide a path for revenue once he walked away from the game.
"He's got the Midas touch," Falk said. "Not only is he a great basketball player and an amazing person, but he's a very astute businessman."
2001: Air Jordan 1 Returns as Modified Retro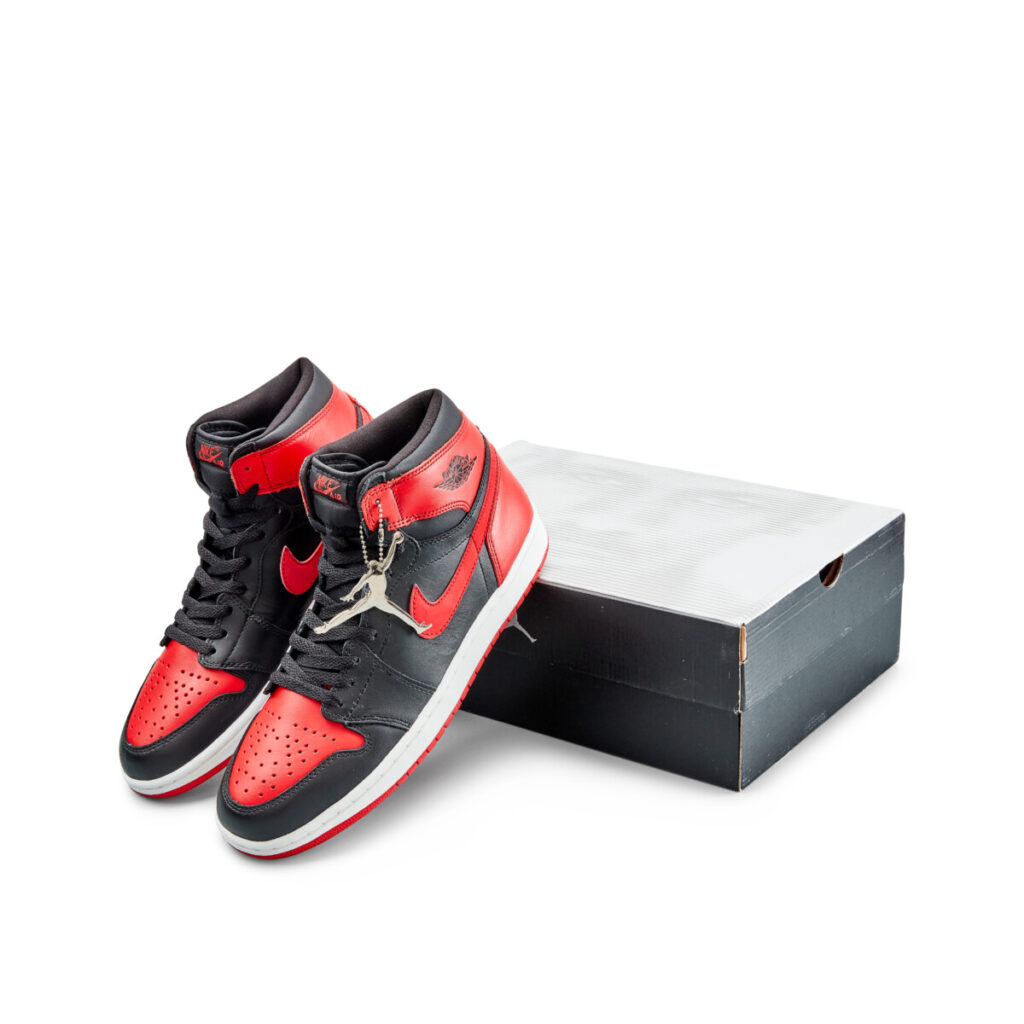 In 1994, buying old Air Jordan models was a non-starter for the majority of the market.
By the year 2000, that tone changed.
Relaunching the retro campaign on the heels of Mike's second retirement, the throwback trend caught fire with the return of the Air Jordan 11 in new and old colors at the turn of the millennium. By 2001, the equity was established to return the original Air Jordan in a slightly modified fashion.
Sporting a shorter cut, commemorative hang tag, and numbered notation for collectibility, the '01 re-release outperformed that of the prior decade by miles. An average MSRP of $100 was higher than that of the $65 starting point of the '85 edition, allowing Jordan Brand to gradually hike up the retail rate of retro releases for years to come.
2011: Kanye West Wears '01 Air Jordan 1 Retro to London Fashion Week
Though the Jordan Brand blossomed over the course of the 2000s, the original Air Jordan did not.
The collector craze around retro releases gravitated towards other iterations worn by Mike over the course of his historic career, led mostly by patent leather pairs and models made famous during the late '80s and mid-'90s. For years, the Air Jordan 1 was a forgotten favorite where the masses were concerned.
Then in 2011, two things happened.
In June 2011, Jordan Brand bucked boutique rollouts by releasing a "Banned" Air Jordan 1 exclusively at Nike Factory Outlet stores. The counter-culture approach and unique storytelling caused a surge of collectors seeking a shoe that performed poorly in previous years. Once again, the MSRP was raised to $125.
Months later, Kanye West — at the time the most influential man in menswear — wore '01 Air Jordan 1s at Fashion Week in London. Sporting said pair at five different shows with Tom Ford suits and front-row seating, the once discounted darling was now positioned as the 'it' shoe in sneaker culture.
2012 to 2013: Air Jordan 1 Franchise Soars from $33 Million to $68 Million
Seizing the momentum — and creating much of it — Jordan Brand built up the Air Jordan 1 over the course of 2012 and 2013 to serve as a staple in its annual retro business.
Led by the direction of Kris Wright, the Air Jordan 1 went from a $33 million business in 2012 to that of $68 million in 2013. The two-pronged approach began with celebratory colorways on the heels of the "Banned" hysteria before re-releasing coveted original makeups the following year.
Over time, the Air Jordan 1 in its high-top original form was a breadwinner for the brand year-round, with more money to be made.
2015: Jordan Brand Reveals Remastered Retros Initiative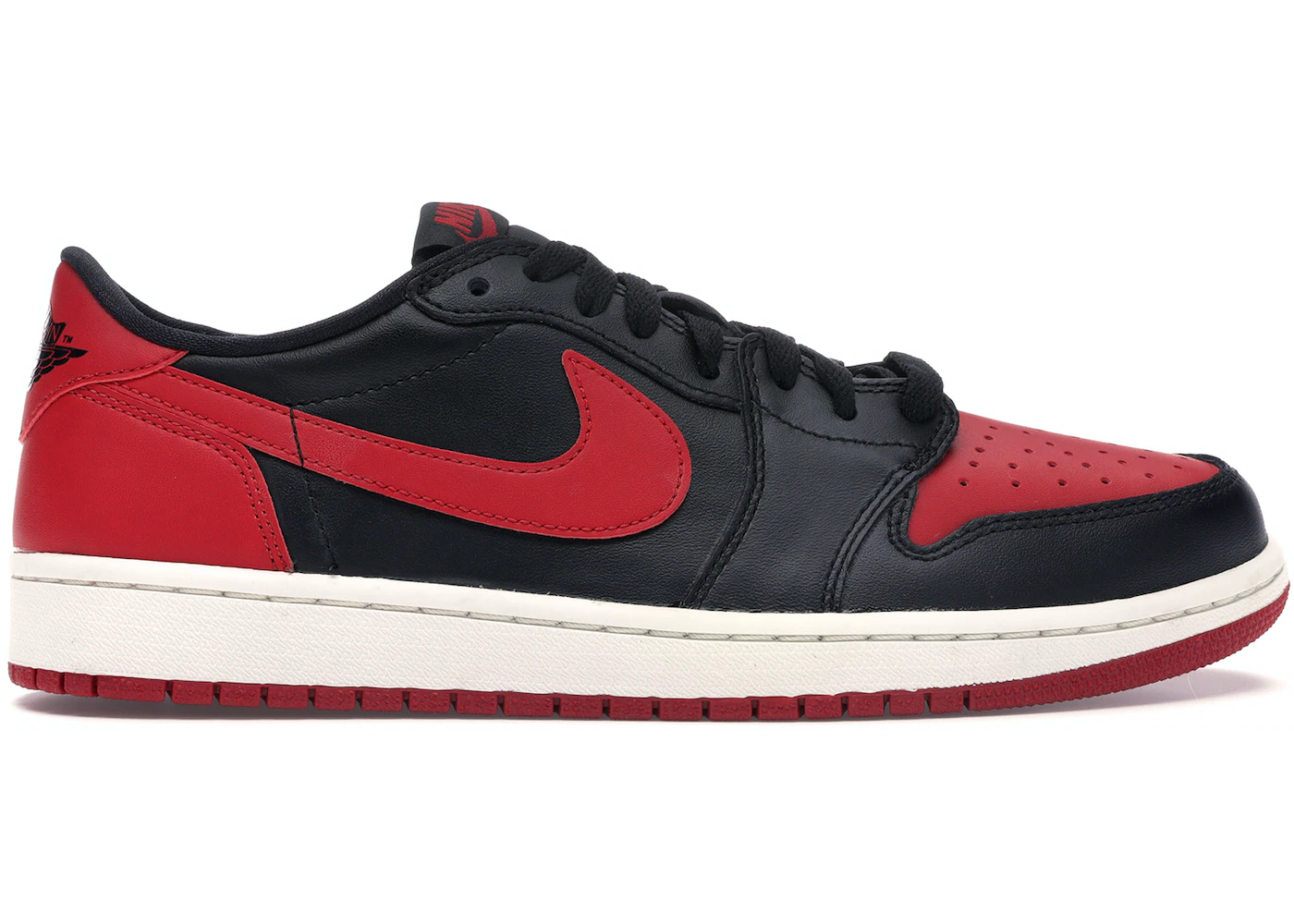 In 2015, Jordan Brand rolled out a Remastered Retros initiative focused on delivering better quality, construction, and detailing to its most coveted pairs from the past.
With the reset came an increase in MSRP, noticed notably on the Air Jordan 1 High proper priced at $160. Over time, original makeups of the AJ1 High became the toast of sneaker culture, often fetching 10x their retail rate.
Slowly, the brand began to build up the Air Jordan 1 High in make-ups never worn on the court by Mike. Just the same, they leveraged the AJ1 energy to move units of the franchise in low and mid-top form.
2017 to 2019: Air Jordan 1 Catches Fire Through Collaborations
By 2017, the Air Jordan 1 High could do no wrong.
Looking to push the boundaries as far as possible, Nike enlisted Virgil Abloh to revise the original "Chicago" colorway as part of his deconstructed design series. By inverting the most meaningful shoe in hoop history, it allowed free reign for the likes of Union, J. Balvin, Aleali May, and Travis Scott to do the same.
No longer were original Air Jordan 1 High colorways the toast of sneaker culture; rather, artist collaborations were.
Doubling down on this equity, Jordan Brand began repositioning the lesser-loved Air Jordan 1 Mid through a series of creator collaborations in 2019. By 2021, the Air Jordan 1 Mid was among the top 10 best-selling sneakers on the market.
2023: Jordan Brand Reports $6.6 Billion in Annual Revenue
In 2023, almost 40 years after the infamous fine from the NBA, the Air Jordan franchise is just about as big as it gets.
Reporting $6.6 billion in annual revenue, Jordan Brand has a chance to become the second biggest footwear company in America. From music festivals to NFL Sundays, the Jumpman has conquered arenas far removed from the NBA hardwood and expanded its share to fans all over the world.
Though many moves were made on the court and in boardrooms to make this all happen, the spark for much of the marketing momentum still dates back to that first $1,000 fine.
---
Read More:
Breaking down the 10 highest paid coaches in U.S. sports, led by championship winners Bill Belichick, Sean Payton, and Gregg Popovich….