The duo took different routes to CAA, but now share the same values in representing some of the biggest names in the NBA
With a superstar-studded NBA client list that includes Dwyane Wade, Carmelo Anthony, Zion Williamson, and Julius Randle, CAA agents Aaron Mintz and Austin Brown are two of the biggest power players in the modern basketball landscape.
Their overarching ethos: treating their players the way they'd want their agents to treat them if they played in the NBA. It seems like a simple, repeatable mindset, but it's far less common than it should actually be. In an in-depth, wide-ranging interview with the duo, Mintz and Brown detailed their two very different journeys, and how and why they plan to stay at the forefront of a tough and ever-changing industry.
Shaped by Westwood and the Fab 5
Mintz grew up in Los Angeles with a love for pro and college hoops and as captain of a high school team coached by disciples of UCLA legend John Wooden. Instead of pursuing a playing career at a small college, he majored in sports management at the University of Michigan, becoming student manager for the basketball team. He did everything from helping with the scout team to cutting videos, getting players in for late-night workouts, and taking recruits around the Ann Arbor campus. It led to him eventually serving under Steve Fisher for four years as a grad assistant during the most exciting era ever in Wolverine hoops — the height of the Fab 5.
Mintz thought at the time that he wanted to be a college basketball coach, but also saw the downsides of that lifestyle and thought about what else he could do to help players reach the pinnacle of their careers.
"I was naive at the time and said I'd like to be an agent," Mintz told Boardroom.
Mintz worked first at an NFL agency, but then as a basketball agent for 11 years before choosing CAA in March 2012.
"I saw what CAA was doing and said, 'this is where I've got to be,'" he said. "I've always had a mentality, it's always about the client. Do whatever you can do to put the best things around your client. And I just felt like CAA was doing things at a different level than everyone else. And if I wasn't there, I'm working with an inferior team in some ways. And I wanted to be with the best."
Midwest Routes
Brown joined CAA not long after Mintz did, with the two meeting while Brown was an intern. He grew up in Evanston, Illinois and played college ball at DePauw University in Indiana, but his path to the agency world was far less direct than Mintz's.
While maintaining his love for basketball, he worked on Wall Street as an investment banker for JP Morgan before attending law school at Washington & Lee University in Virginia, with plans to become a corporate lawyer.
Sign up for our newsletter
"The sport had given me so much. I have some of my closest relationships till this day from playing on teams going back to grade school," Brown told Boardroom. "So in the little moments that I had away from finance and law, I found myself staying tied to sport."
When a couple of friends who were playing professionally overseas looked to Brown for advice because of his legal background, he knew he found his calling as an agent. Just two weeks after starting at CAA in 2013, Brown and Mintz went on a May pre-draft Midwest roadtrip that helped cement a vision and a mindset that resonates nearly a decade later.
"I remember it to a T," Mintz said.
Great partnerships are forged through shared experiences, and this trip was no exception. The pair went from Indiana to Kentucky, up to Chicago and east to Columbus. The shared hotel suite attached to the liquor store with a pull-out couch that gave Brown searing back pain the next morning stands out in particular. The two came together because they both value hard work, good character, the ability to connect with people and to build and develop trust with other clients and each other.
Building a Roster
Mintz remembers telling Brown that his goal was not just to be the best agent in the business, but to be the best team in the business.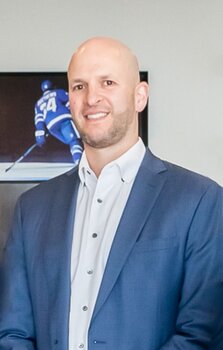 CAA only started its sports division in 2006, with Leon Rose and the late Henry Thomas providing essential guidance for the basketball group in its early stages.
"We were literally sitting in that car saying that we have all these great colleagues and these great resources now at this company," Brown said. "If we can just figure out how to hone that, we have a chance to do something really special."
Honing those colleagues and resources, Brown and Mintz agreed, has always been about finding and working with the right clients. They want players who are serious about their careers as well as their businesses. They want families that are looking for hardworking people who will put their hearts, souls, and expertise into their clients' careers. Taking on a client means taking on their families, dreams, and aspirations — a large responsibility and undertaking.
And unlike in other agencies, CAA does things collaboratively, including sharing clients as contract agents, like Mintz and Brown do with Minnesota Timberwolves star D'Angelo Russell.
"It's a very competitive and tough business. But I think for us, we've always wanted people that are just about the team, not themselves," Mintz said. "It's a collaborative effort and we've got unbelievable people throughout. At CAA, you're about the team. It attracts agents who have that mentality."
Brown got an amazing piece of advice once from a team president who complimented him on having great clients who are also good people. He said that the agent's players are reflective of the agent, and the player's agent is reflective of the player. Brown hadn't quite heard it put that way before.
"You are who you walk with," Brown said. "That's really stuck in my mind as the years have gone by, and every year it seems to become more ingrained and more true."
Mintz tries to live and work by the mantra of doing whatever it takes to help clients' careers and taking care of his clients. He does that by not letting anyone outwork him and by always being honest and transparent.
Going Beyond the Game
As a former college player, Brown often wonders what he'd want in an agent if he were in the NBA today. And like Mintz said, he'd want someone to work hard, be true to himself and his client, and to be honest.
"There are so many people that we represent. They'll be friends and family long after their playing days are over," Brown said. "You're invested in these people. They're athletes, but they're people first."
And although their contracts are public, the client-player relationship is about far more than annual salary. It's why CAA has a marketing team and a charitable and philanthropic team for its clients to make sure every player's full needs are covered. That's how every client is meant to feel like their needs aren't just being addressed but prioritized, despite the large number of players under Mintz, Brown, and CAA's watch.
Those needs have grown more varied over time, from just player contracts and endorsements to philanthropy, investing in tech, gaming, production, NFTs, crypto, and venture capital. Additionally, as the players' platforms have grown to be larger and more important than ever before across social and mainstream media platforms, they help players speak out about social justice issues.
Becoming a top-flight sports agency is hard, but maintaining that status is just as difficult. For Mintz, staying on top will be achieved using the same methods that got them there in the first place. It's sticking to CAA's foundational principles, including that if you take care of your own, the rest will follow. And these days, taking care of your own means not only being at the forefront and anticipating the latest trends, but being the trendsetters yourselves.
"We always tell our players, as hard as it is to get in the NBA — and it's incredibly hard — it's even harder to stay," Brown said. "I think we keep that same mentality where you've had one good draft here, one good contract, how do we sustain the success that we've had since we've been here and keep that going? Again, it all comes back to the people and the clients that you work with."
Brown went back to that 2013 road trip and the vision he and Mintz shared and marveled at how much of what they discussed and dreamt actually came to fruition at CAA.
"Of course it sounded great, but was it actually gonna happen?" Brown wondered. "Now we're sitting here and it turned out better than I could have ever imagined. If you would've told me during that road trip, this is what it would be like 10 years later, I would take that every day and twice on Sunday."
Sign up for our newsletter