As the two superteams prepare to tip off, the sneakers hitting the hardwood will feature a wider range of brands than any other WNBA Finals before it.
Since the spring, the New York Liberty and Las Vegas Aces showdown became the inevitable WNBA Finals matchup that all expected. While the superteams feature some of the league's most decorated athletes, the star power is also easily seen off the court, where the Aces and Liberty headliners helm the sneaker rosters of nearly every major brand.
While Nike will be worn by 12 of the 22 players across the New York Liberty and Las Vegas Aces rosters, a spectrum of six brands will be represented by stars on each side. The league's only two current signature shoes are worn by Liberty stars Breanna Stewart and Sabrina Ionescu.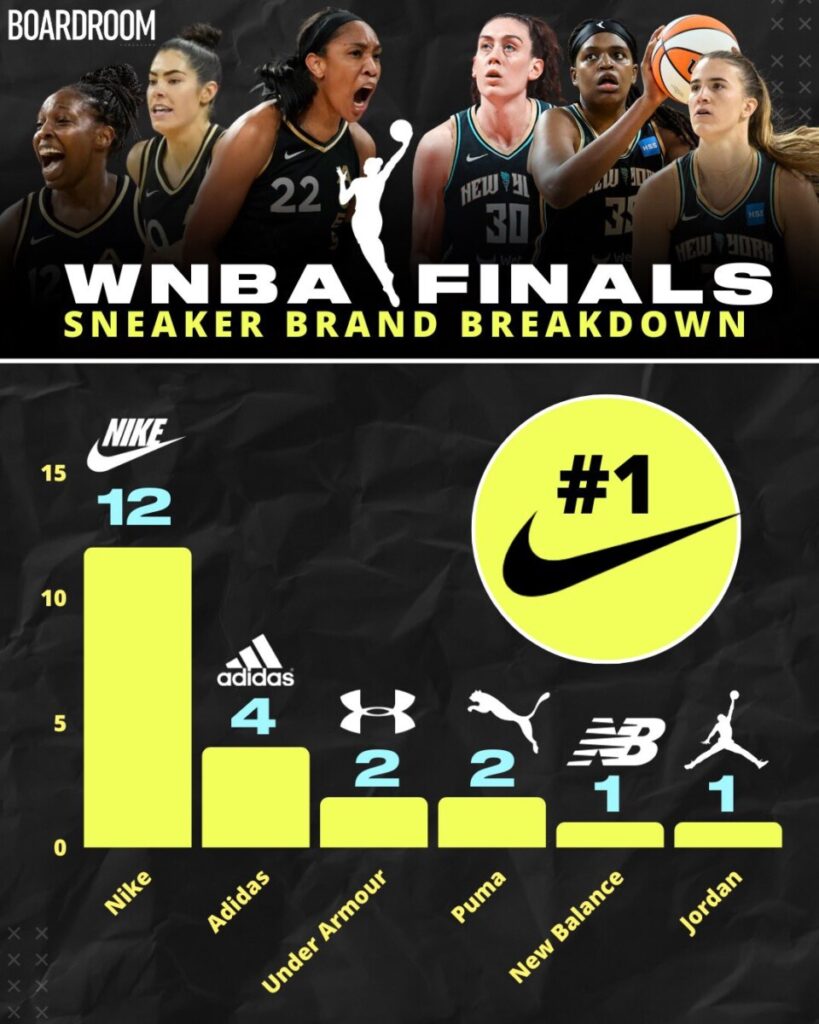 It was a detail that Ionescu was well aware of long before the Finals match-up was finalized.
"Being able to do that in New York, tells a story in itself," Ionescu said before the season started. "Having the only two players on the same team, rocking their shoes, being now projected to be one of the top two teams in the league and potentially winning a championship, while doing so and doing it in New York – you just can't put that into words."
While the Aces may not technically have a current signature athlete, they do have a league-leading four players that released their own player exclusive sneakers throughout the course of the season. With Under Armour headliner Kelsey Plum, longtime Adidas endorsers Chelsea Gray and Candace Parker, and of course, Swoosh staple A'ja Wilson, the team has seen its players impacting the launch calendar all summer long.
SIGN UP FOR BOARDROOM'S SNEAKER GAME
For New York, in addition to Stewart and Ionescu, Betnijah Laney has laced up Adidas all season, Jonquel Jones continues to wear Kevin Durant's Nike series, Kayla Thornton is one of the few W players in New Balance, and center Stefanie Dolson inked with Jordan Brand in the middle of this year's playoff run.
As the 2023 WNBA Finals get underway, these are the featured faces of the footwear industry to keep an eye on.
LAS VEGAS ACES
A'ja Wilson – Nike
As the elusive arrival of the anticipated A'ir A'ja still awaits, expect Aces star A'ja Wilson to lace up the new LeBron 21 in a clean player exclusive black and gold colorway throughout the WNBA Finals. The first player to receive her own PE of the model, keep an eye out for LeBron and the Lakers courtside for Game 1 to show support.
Chelsea Gray – Adidas
Wearing her own player exclusive orange and purple edition of the Dame 8, complete with "POINTGAWDDDDD" along the heel, reigning Finals MVP Chelsea Gray continues to cement her partnership with Adidas. Gray launched her PE at the start of September exclusively at the Adidas flagship store in Las Vegas. Now, she is looking to continue adding to her accolades as the Finals get underway.
Candace Parker – Adidas
The bridge between WNBA signature shoe eras of the 2000s and now, Candace Parker was one of the last players to receive her own signature shoe just after joining the W in 2008, until the resurgence more recently of signature silhouettes for the likes of Breanna Stewart, Elena Delle Donne and Sabrina Ionescu. While she hasn't been available to play since her season-ending foot injury in late July, Parker remains one of the league's foremost footwear icons and is the face of Adidas' newest Exhibit Select model for women.
Jackie Young – Puma
When Puma made its re-entry into hoops a handful of years ago, it signed the #1 picks in both the NBA and WNBA Draft. Jackie Young helps to headline the brand's resurgence in basketball ever since, and is known to mix in and showcase a variety of Puma's latest and greatest. This season, she's worn everything from the All-Pro Nitro, the Fusion Nitro and the signature Stewie line.
Kelsey Plum – Under Armour
One of the league's biggest sneaker free agents a year ago, Kelsey Plum entered the season as Under Armour's new face of the WNBA. She also launched her own "Dawg Class" camps to empower the next generation of guards and appeared at brand events at both the NBA and WNBA's All-Star Weekend. Throughout the season, she's rotated through a variety of Curry 1 Retro colorways.
"I wanted to be aligned with someone that saw the vision of me and them, and feel like we can grow together to impact new spaces," Plum said just after signing on. "Under Armour sees the potential in me to be able to impact that on a bigger level."
SIGN UP FOR BOARDROOM'S SNEAKER GAME
NEW YORK LIBERTY //
Betnijah Laney – Adidas
As one of the league's most fashionable players, it was only right that Liberty forward Betnijah Laney laced up one of Adidas' more stylish silhouettes in recent years, as she donned the Harden Vol. 7 in everything from its bright teal colorway to sharp pink pairs.
Breanna Stewart – Puma
The 10th WNBA player in league history to receive her own signature sneaker, Stewie has worn a variety of colorways all summer paying tribute to her family, her hometown of Syracuse, NY, and her contrasting on- and off-court demeanors.
She's expected to lace up this Liberty teal pair dubbed "Stew York" during the Finals, with an eventual launch on the way in December.
Jonquel Jones – Nike
Ever since the KD 10, former league MVP Jonquel Jones has been one of the leading headliners of Kevin Durant's Nike series. Look for Jones to continue rocking the new KD 16s in her own player exclusive teal edition, as her first season with the Liberty leads to the Finals.
Kayla Thornton – New Balance
As New Balance looks to add even more women's basketball athletes to its growing hoops roster with its recent signing of Stanford standout Cameron Brink, Liberty forward Kayla Thornton has been one of just a few WNBA players to don the brand this season. She's primarily worn the Two Way V3, with custom-painted looks in a gradient teal-to-black fade also highlighting the Liberty logo along the heel.
Sabrina Ionescu – Nike
Just the 12th player in league history to launch her own signature shoe, Sabrina Ionescu has laced up nearly 20 colorways of her Sabrina 1 model throughout the season, celebrating everything from her journey to the league after starring at the University of Oregon, her close friendship with Nike founder "Uncle Phil" and the spark she provides as the team's floor general.
Stefanie Dolson – Jordan
The newest Liberty star to land a sneaker endorsement deal, "Big Mama Stef" signed on with Jordan Brand at the start of the playoffs and is expected to be featured in apparel campaigns as the brand continues its push across women's categories.
She's been linking up her rotation to Liberty hues as of late, sticking with Luka Doncic's signature series over the past month.
Want More Sneakers?
Exclusive
Adidas has signed 2025 phenom Darryn Peterson to an NIL deal — the Three Stripes' first ever with a high school basketball player….