Whose shoes will Cade Cunningham, Jalen Green, and this year's top picks wear in the NBA?
After a slow rookie shoe deal window heading into the 2020 NBA Draft, the market appears to be bouncing back, as several of this year's top picks had already landed multi-year sneaker deals ahead of July 29's big event in Brooklyn.
Headlined by talents like top pick Cade Cunningham (Pistons), an explosive wing in Jalen Green (Rockets), and a do-it-all winner in Jalen Suggs (Magic), the 2021 draft class has been heavily scouted for years, with plenty of brands high on a variety of players for their pro potential both on and off the court.
Sign up for our newsletter
Typically, top picks have leverage in looking to land their deals before Draft Day, in order to lock in their per-year value before their new home city becomes official. For the rest of the rookie class, conversations have continued into the summer and fall, as players landing on the Knicks, Lakers, and Warriors generated more interest in key markets, while others looked to impress at Summer League to land their deals.
Throughout the process, we'll be continually updating each deal along the way, as brands look to reinvest in rookies and add to their rosters of NBA endorsers.
This list is official as of Sept 7, 2021.
Cade Cunningham // Nike
No. 1 pick, Detroit Pistons
After an accolade-laden freshman season at Nike-sponsored Oklahoma State, it was only right that Cunningham kept things locked in with the Swoosh at the next level, extending his relationship with the brand since he first blew up on the Nike EYBL summer AAU scene as a high schooler. Cunningham is expected to receive player exclusives of the upcoming GT Cut and GT Run models, as he kicks off his pro career as Nike's sixth #1 pick of the last decade.
Cade on choosing Nike:
"[I like] the way that they roll out all of their ideas the right way, but more than anything, they show that athletes are more than just athletes. They really put the right message out for people to see. That was important to me. I know that they have a huge audience, and the message that they're saying, with the audience, I felt like it was a perfect match for me."
Jalen Green // Adidas
No. 2 pick, Houston Rockets
The first player in this class to land a deal, Green has long been one of Adidas' top targets of the last five years.
The brand is incredibly high on his bouncy scoring style on the floor, feeling he can have a Vince Carter-type impact as a rookie, right out the gate. Off the court, he boasts 1.3 million followers on Instagram, where he shows off his ever-evolving style on his account, simply titled @Jalen.
Look for Green to lace up new hoop shoes like the Exhibit A on the hardwood and rotate through everything The Three Stripes have to offer off the court, from a variety of Yeezys to Originals staples like the Forums — and everything in between.
Jalen on choosing Adidas:
"Adidas has been a part of my life for a while now, and when the opportunity arose to join the brand leading up to my rookie year, I thought, why not join the family? They've always accepted me as family and shown love. On the court, I'm going to bring excitement and a winning mentality to the next level. If you lock in and watch me play, you'll see my competitive edge. And back in Fresno, I want the kids who are watching me there to know that they can do it too."
Evan Mobley // Adidas
No. 3 pick, Cleveland Cavaliers
After starring at USC as a versatile big man with advanced skills, Mobley enters the league looking to define the modern style of the center position. For years, he's had a longtime familiarity with Adidas, extending back to his prep days at Rancho Christian School and his AAU summers with the Compton Magic.
Evan on choosing Adidas:
"I'm really excited to join the Three Stripes Family. Adidas has been by my side for most of my basketball journey so far. It feels right to be partnering with Adidas as I start my pro career."
Scottie Barnes // Nike
No. 4 pick, Toronto Raptors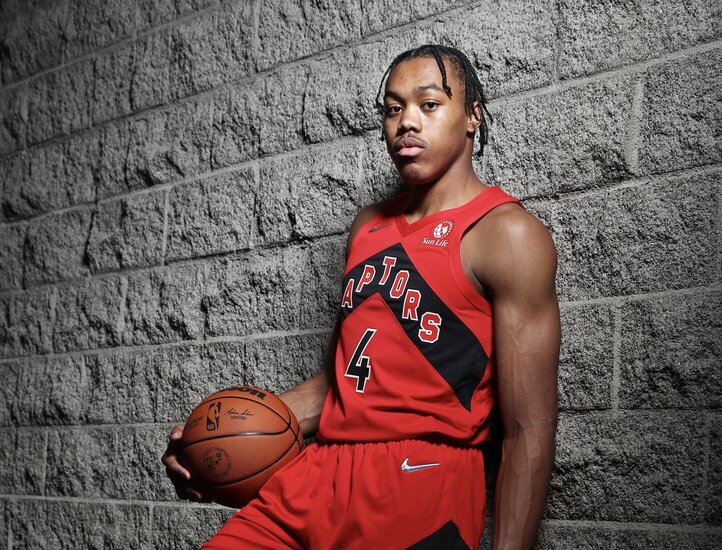 After rising the ranks of the NBA Draft board all spring, all-around wing Scottie Barnes also impressed at Summer League, showcasing a do-it-all game on both ends of the floor to validate Raptors President Masai Ujuri selecting him at the No. 4 slot.
Amidst a batch of brand offers, Barnes landed a multi-year sneaker deal with Nike by the close of his Las Vegas run, where he laced up both the Cosmic Unity and Kyrie 7 throughout his strong slate of games.
Jalen Suggs // Adidas
No. 5 pick, Orlando Magic
Suggs has won at every level, whether that's three state titles in Minnesota, before an expected fourth trip to the state finals was cut short due to his Covid-halted senior season, or his instant classic buzzer-beater to send the Gonzaga Bulldogs to the NCAA Championship Game this past spring.
Along the way, his do-it-all game and polished persona made him one of the most marketable players in the Draft, garnering interest from seven brands throughout the shoe deal process. Adidas ultimately stepped up both financially and with a detailed product, marketing, and activation plan to best feature Suggs as he begins his NBA path with the Orlando Magic.
Jalen on choosing Adidas:
"I'm so excited to be with the brand. I grew up inspired by D-Rose and Dame [Lillard] and want to follow in the steps of the young Adidas family coming up now like Trae and Don. We will create culture together. And if you give me some time, I will pursue greatness like them."
Josh Giddey // Nike 
No. 6 pick, Oklahoma City Thunder
A versatile 6'8″ point guard hailing from Australia, the Thunder have high hopes for the 18 year-old selected sixth overall. Ahead of his rookie season, Giddey inked a multi-year deal with Nike that'll likely see him lacing up models like the GT Cut and favorites from his stash of Kobe Protro models.
Jonathan Kuminga // Nike 
No. 7 pick, Golden State Warriors
A teammate of Jalen Green's on the inaugural G League Ignite roster, Kuminga impressed throughout the truncated bubble season of G League games, with a pro-ready style of play and confidence that should carry him through the early stages of his career.
After primarily playing in beloved Kobe models like the "Grinch" 6s and a variety of Kobe 5s, Kuminga quietly landed a Nike deal in the days leading into the draft before landing with an expectedly resurgent Warriors roster that looks to return to contending deep into the playoffs.
Davion Mitchell // Nike
No. 9 pick, Sacramento Kings
After winning a national championship with Baylor and earning co-MVP honors at NBA Summer League, Sacramento Kings guard Davion Mitchell landed a multi-year footwear and apparel endorsement deal with Nike on Sept. 13, he exclusively announced with Boardroom.
Known for his lockdown defense, shifty stepbacks and pull up jumpers, Mitchell also led the Kings to the 2021 Summer League Championship in Las Vegas with an impressive showing.
James Bouknight // Nike
No. 11 pick, Charlotte Hornets
As the fifth 2021 NBA rookie to sign with Nike, UConn guard James Bouknight gives the Swoosh a proper starting lineup.
After a strong NBA Summer League run, the Hornets' No. 11 overall pick signed a multi-year footwear and apparel endorsement deal with Nike, which he exclusively announced with Boardroom:
As he told Boardroom, his longtime affinity for the brand has extended from his days playing the game as a teenager on the courts across the street from New York City's Fulton Houses to his time at UConn — and now, his pro career in the NBA.
James on choosing Nike:
"Honestly, for as long as I can remember, I've been wearing Nike. Growing up, hoopin' in KDs, hoopin' in Kyries, hoopin' in Kobes… I honestly couldn't see myself as anything other than a Nike athlete."
Chris Duarte // Nike
No. 13 pick, Indiana Pacers
To barely anyone's surprise, former Oregon Duck standout Chris Duarte landed a multi-year deal with Nike ahead of his Summer League start with the Indiana Pacers.

Continuing a longtime tradition of Ducks landing Swoosh deals upon turning pro, the All-Pac-12 First Team slasher and scorer is also the third player of this year's Draft to land with Nike.

The deal was first reported by Yahoo's Chris Haynes.
Moses Moody // Nike
No. 14 pick, Golden State Warriors
As the newest shooter added to a retooled Warriors roster, Arkansas guard Moses Moody will be joining fellow rookie Jonathan Kuminga as Nike athletes on one of the league's more brand-diverse lineups of players. With franchise headliners in Stephen Curry, Klay Thompson and Draymond Green each respectively signed to Under Armour, Anta and Converse, the two young guns coming in will have their chance to make their mark with the Swoosh in their first San Francisco seasons.
Cam Thomas // Adidas
No. 27 pick, Brooklyn Nets
After finishing No. 1 on the scoring list with 27 points per game at 2021 NBA Summer League and winning co-MVP honors, Brooklyn Nets first-rounder Cam Thomas earned another coveted distinction: a multi-year sneaker and apparel deal with The Three Stripes that he exclusively announced on Boardroom on Sept. 8.
The former LSU guard emerged as a key target for Adidas, who looked to add the 6-foot-4 scorer for both his promise on the floor and his potential to impact the contending Nets right away.
Cam on joining Adidas:
"Being able to be in the same brand as James Harden and Damian Lillard … some of my favorite players in the league, is a big thing to me. It was an easy decision."
Sharife Cooper // Adidas
No. 48 pick, Atlanta Hawks
With a family in the spotlight and a WNBA hooper sister, Te'a, playing for the LA Sparks, Sharife Cooper has been used to the attention that comes with basketball stardom at a young age. Once he decided to turn pro, his father, Omar Cooper, an agent at the helm of Lifestyle Sports Agency, helped land Sharife a sneaker deal ahead of dozens of players selected in front of him on the draft board.
Sharife on choosing Adidas:
"Growing up and seeing players sign major shoe deals has always been a dream of mine. And to get here and to have Adidas believe in me, means the world. I'm extremely excited to hit the ground running with the Adidas family and build something special."