The recently re-discovered 1933 Goudey Babe Ruth is in remarkable PSA 9 mint condition.
A lot of vintage baseball cards estimated to be worth $20 million is set to go up for auction after a Florida grandfather left his family an incredible assortment of some of the game's most coveted names.
Dr. Thomas Newman passed away in January, leaving behind a lifelong card collection dating all the way back to 1880 and including legends like Babe Ruth, Ty Cobb, and Mickey Mantle. The crown jewel of the collection? Newman's 1933 Goudey Babe Ruth #53 card.
Graded at a PSA 9, it's the only one known to exist in such condition.
And according to a growing number of industry experts, it has a real chance to blow past the $5.2 million all-time sale price record set by Mickey Mantle's 1952 Topps card and later matched by LeBron James' 2003-04 Exquisite Rookie Patch Auto Parallel.
The collection is up for sale through Memory Lane Auctions and features a 1952 Mantle that's also expected to break seven figures, as well as a baseball signed by the Bambino. Taking place on June 21, the event will feature an 18-foot U-Haul truck full of vintage cards and memorabilia.
The 1933 Goudey cards are famously hard to find in mint condition for a few reasons. Their advanced age is the obvious one, but more specifically, the cards used to come in bubble gum packs. In fact, you can still see gum residue on the back of many of these cards, which crease more easily than modern wax.
There are several Babe Ruth cards in the 1933 set, the #53 ("Yellow Ruth") which is the one up for auction and considered the rarest, as well as #144 ("Full Body Ruth"), #149 ("Red Ruth"), #181 ("Green Ruth"). The Full Body Ruth is the most common, as it was double-printed. However, even this version of the card is extremely difficult to find at a high grade, with none rated higher than a PSA 4 according to current records.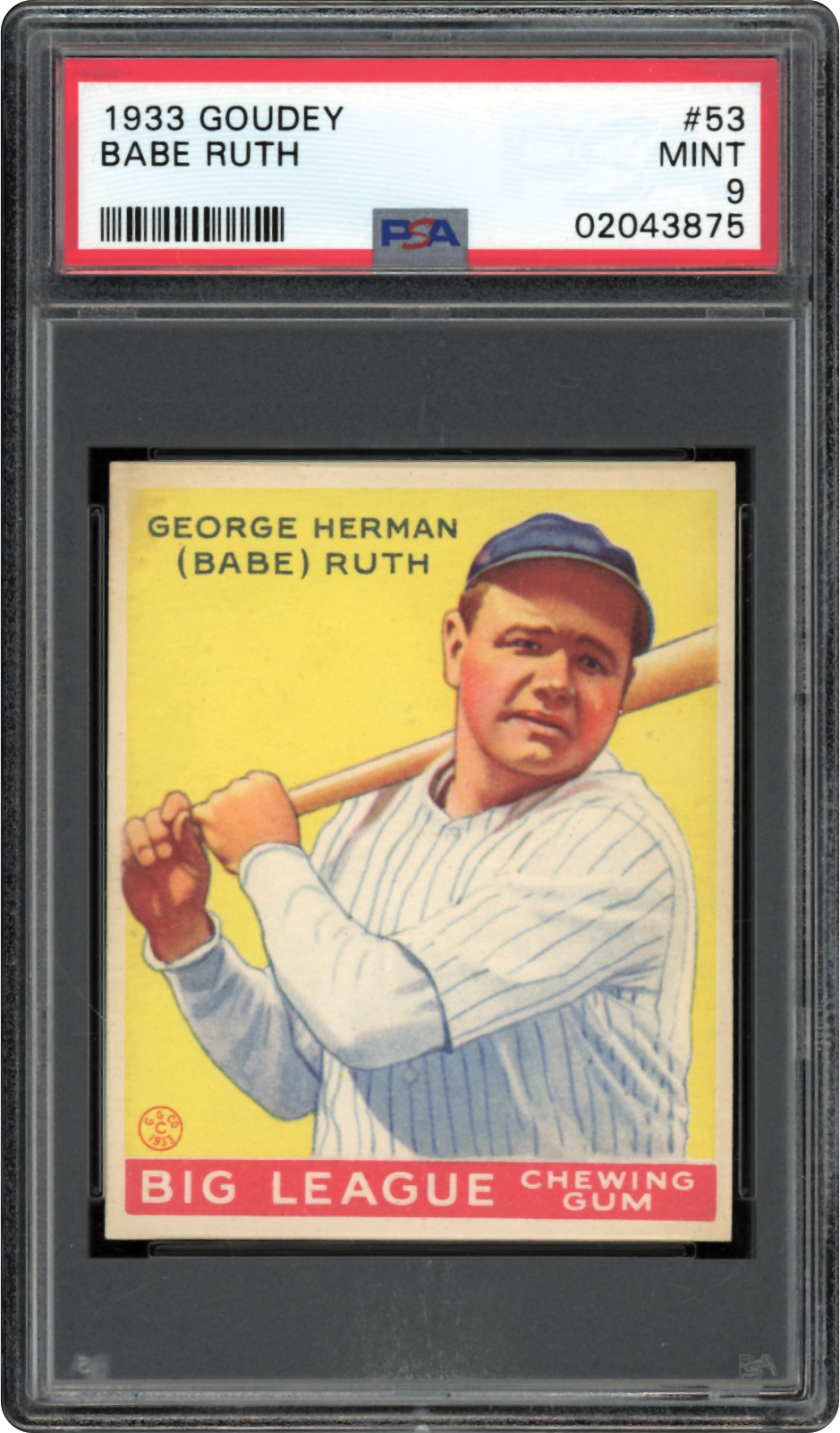 Perhaps the rarest card of the entire set is Napoleon Lajoie's #106 card, which was a late addition to its original set — it was only mailed out upon request following an outcry from fans who realized Nap had been omitted. A PSA 9 of Lajoie's 1933 Goudey sold for $192,000 last May.
Until a PSA 10 is found of Ruth's (or Lajoie's) 1933 Goudey, it's quite possible that if the late Dr. Thomas Newman's treasured Babe card sets the all-time sale price record, it could hold onto that disctinction for some time. Cards with this combination of age, rarity, and condition simply don't come around very often at all — if ever.
This is truly something to be treasured. Its owner may not be with us anymore, but he's left behind a truly incredible gift not simply for its next owner, but for lovers of the hobby in general.
Sign up for our newsletter