Taking his talents to South Beach, NBA Sneaker Champ PJ Tucker has plenty of shoes to play in this season. But let's talk about the Miami Heat models he needs to bring back.
The man has seen it all. And if you've ever noticed PJ Tucker's shoes, he's worn it all, too.
After making his postseason footwear choices with the Milwaukee Bucks count on the way to his first NBA title, the storied sneaker king has a new home with the retooled Miami Heat. Always one with a flair for the moment, Tucker has nodded to nostalgia over the course of his career.
Paying homage to the South Florida franchise that just signed him, let's identify 17 rare, classic, and stylish Heat-centric kicks that we absolutely need to see PJ Tucker bust out this season.
17. Air Jordan 4 Derek Anderson PE
+ An original member of Jordan Brand's inaugural 1997 class of signees, Derek Anderson spent his entire 11-year NBA career rocking retros, player exclusives, and team models from the Jumpman.
+ In only half a season with the Heat, Anderson made his mark by breaking out a Black/Red Air Jordan 4 PE in the 2006 Playoffs against the New Jersey Nets. The Heat went on to win the 2006 NBA Championship, their first in franchise history.
16. Nike LeBron 9 PS Elite Finals PE
+ In 2012, LeBron James led the Miami Heat to their second NBA championship. Famously, this title win was his first, finishing off an MVP season in the Nike LeBron 9 in inline and PS Elite form.
+ While White/Gold and Black/Gold makeups of the Nike LeBron 9 PS Elite released at retail, this Red/Gold rendition was made exclusively for King James. Though an MVP Pack launch was similar in styling, this PE pair packs a speckled sole and added edge.
15. Air Jordan 12 Quentin Richardson PE
+ Calling all Knuckleheads! After rocking an array of Air Jordan player exclusives in Los Angeles, Phoenix, and New York, swaggy shooting guard Quentin Richardson brought his sneaker heat to Miami for a single season in SoFla.
+ Q Rich's Black/Black-Red PE pair of Air Jordan 12s were in many ways a preview of the patent leather low top 12s that were released in 2011. In that same era, teammate, fellow Chicago native and then-Jordan Brand ambassador Dwyane Wade also scored his own set of "Home" and "Away" Air Jordan 12 PEs.
14. Nike Air Bakin PE
+ Arriving in South Beach and ascending back to All-Star status, lightning-quick point guard Tim Hardaway held his own in the mid-90s as an occasional advertising favorite for his sponsor, Nike.
+ The scorching Nike Air Bakin was tied to Hardaway through print ads aligned to the Heat guard and the shoe's loud red, black, and yellow tones. Funny enough, Hardaway swapped in black laces for his PE pair, stamping the controversial heel patch with No. 10 tagging and his 'MEE' motif, a tribute to late grandmother Minny E. Eubanks.
13. Air Jordan 2010 "Silver Anniversary" & Dwyane Wade PE
+ In 2009, Wade left his signature shoe deal at Converse to join Jordan Brand. Shortly after, he was named the face of the Air Jordan 2010.
+ Headlining the annual Air Jordan silo, Wade won MVP of the 2010 All-Star Game in the "Silver Anniversary" pair of the Air Jordan 2010. On top of that, he scored several PE takes, like a Black/White-Red rendition that harkened back to the playoff version of the Converse Wade 1 that he wore when winning his first NBA title back in 2006.
12. Air Jordan XX Ray Allen PE
+ In 2005, the Air Jordan XX was released to the general public. At that time, Ray Allen received a slew of player exclusive pairs while playing for the Seattle Supersonics. By 2012, Allen was a member of the Miami Heat, but no less a fan of the shiny, strapped model.
+ Allen's Air Jordan XX PE in Miami celebrated the Heat hosting the Oklahoma City Thunder on Christmas Day. Accordingly, the shoes featured a shiny red and glossy green color palette.
11. Nike Air Alonzo PE
+ Rocking Nike in loud fashion since his collegiate days at Georgetown, Alonzo Mourning had long been a supporter of the Swoosh. In 1997, Nike rewarded his loyalty with the high top Air Alonzo, the first-ever signature shoe for the storied center.
+ Returning to the Miami Heat at the end of his career a member of their 2006 championship team, Nike laced Zo with retro PE pairs of his forgotten signature. The revived exclusives sported the Heat's signature hues along with Alonzo's embroidered No. 33.
10. Air Jordan 18 Ray Allen PE
+ Christmas Day 2012 saw Jordan Brand in the giving mood. Aside from Allen's PE pair of the Air Jordan XX, the Jumpman also laced him with an Air Jordan 18 PE.
+ Sporting robust red suede and a green carbon fiber midsole, Allen's Air Jordan 18 PE presented the same holiday hues as his other exclusives, but with new shape and substance.
9. Air Jordan 7 Eddie Jones PE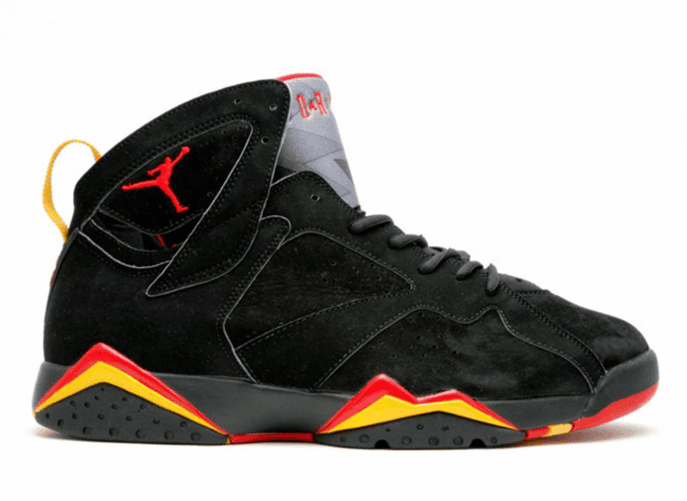 + The fourth quarter of 2002 had Air Jordan fans lining up for the long-awaited Air Jordan 7 retro release. While fans flocked to the famous "Raptors" rendition at retail, Jordan Brand veteran Eddie Jones had his own "Heat" homage.
+ Almost identical to the "Citrus" colorway that later launched in 2006, Eddie's pair passed on contrast stitching and instead hosted his #6 on the added medial embroidery. Over the course of his playing days in Miami, Eddie also debuted the Air Jordan 9 and Air Jordan 13 PEs that eventually made their way to retail in close, but not quite identical form.
8. Nike Zoom BB1 Penny Hardaway PE
+ Reunited in Florida with Shaquille O'Neal, Penny Hardaway played 16 games in 2007 with the Heat. At the age of 36, his longtime sponsor, Nike, laced him with PE pairs of the recently released Nike Zoom BB1, complete with Heat hues and embroidered 1 Cent branding along the heel.
+ Famously, LeBron James was spotted in the "Miami Heat" Nike Air Penny 2 retro before announcing his intentions to take his talents to South Beach in 2010. Years later, PJ Tucker himself pulled out that same pair for an on-court outing in 2018.
7. Air Jordan 16 Ray Allen PE
+ After playing the early parts of his career in Milwaukee in the Air Jordan 16, Allen acquired yet another PE pair years later as a member of the Heat.
+ Allen wore the flashy exclusive in the first game against his former team, the Boston Celtics, since joining up with LeBron, D-Wade, and Chris Bosh.
6. Nike Zoom T-Bug Flight
+ After assisting in ad campaigns for the Nike Air Raid, Go LWP and Nike Air Bakin, Tim Hardaway received his first and last signature shoe in the form of the Nike Zoom T-Bug Flight.
+ The 1998 model mirrored Gary Payton's signature shoe of the same era, sporting a partial zip-up closure and Monkey Paw support. There *is* an original PE pair on eBay right now for a cool $1,995, if PJ feels up for squeezing a size down.
5. Nike LeBron X PEs
+ The Nike LeBron X played off the "pressure makes diamonds" ethos that LeBron has exhibited since Day One. Designed by Jason Petrie, LeBron wore the signature shoe during a 2012-13 campaign that saw him win a second straight championship and another MVP award.
+ Throughout that celebrated season, Nike laced LeBron with a variety of PE pairs of both the inline Nike LeBron X and the playoff-approved Nike LeBron X Elite.
4. Nike Zoom Flight The Glove PEs
+ Gary Payton became a signature athlete in 1998 with the release of the Nike Zoom Flight 98, aka The Glove. Inspired by his legendary lockdown defense, the Eric Avar design featured a shrouded upper backed by a zip-up closure, Monkey Paw ankle support, and Zoom Air cushioning.
+ Joining Shaquille O'Neal as a member of the reloaded Miami Heat roster, The Glove got PE pairs of his most favored kicks years later in South Beach. While winning the 2006 NBA championship — his first and only title — GP rocked new renditions of his first signature shoe styled after his Heat home.
3. Nike LeBron 15 South Beach PE
+ Upon arriving in Miami, LeBron launched the Nike LeBron 8 "South Beach" as a celebration of his new city. While James never played in that popular pair, he did revisit the theme years later with this "LeBron Watch" Nike LeBron 15 PE, after returning to Miami while with the Cleveland Cavaliers.
+ Continuing to make the most of his Miami Heat exclusives, LeBron also famously reinterpreted the "Watch the Throne" Nike LeBron 9 PE with a limited Nike LeBron 16 of the same sentiment.
2. Nike Air Garnett III Tim Hardaway PE
+ The Nike Air Garnett III served as the signature shoe for Minnesota Timberwolves big man Kevin Garnett in 1999. While plenty of players in the college ranks rocked inline colorways, Tim Hardaway received his own Black/Red PE pair.
+ Sporting gradient mesh paneling and marker tagging just like KG's, this Hardaway rarity preceded his Nike Shox BB4 PE of similar styling.
1. Air Jordan 11 Ray Allen PE
+ Over the course of the last decade, Jordan Brand has rewarded those who win championships with their own Air Jordan 11 PE. Both with Boston and Miami, Allen has trophy-inspired sneakers to call his own.
+ In commemoration of a hard-fought 2013 championship over the Spurs that featured his famous Game 6 stepback, Allen received an Air Jordan 11 exclusive adorned by a gold mudguard, much like his celebrated Celtics style. Fittingly, Allen wore this pair in action while hosting his former Boston Celtics.