Few athletes have a shoe game quite like Bucks veteran PJ Tucker. Let's count the reasons.
Since arriving in Milwaukee in mid-March via trade, PJ Tucker has been busy loading up his new high-rise apartment with cases of pairs from his Houston sneaker loft.
Yes, he has an entire downtown Houston loft just for his sneaker collection.
He's also been on the endless hunt for vintage Bucks-related shoes worn long ago by the likes of Ray Allen, Vin Baker, Michael Redd, and Richard Jefferson, among others, as he continues to get acclimated to his new city and embrace the history of the franchise. Tucker often jokes that he spends two to three hours a day of his downtime looking for new sneakers — so naturally, he's also been busy adding vintage Kobes and rare Dunks to the collection lately.
Last summer in the NBA's Orlando bubble, Tucker worked virtually with Nike designers to create two sets of four Kobe 6 PEs for this season. The first honored each of his favorite Air Yeezy 2 colorways, bringing the Solar Red, Platinum Grey, Red October, and Purple Cheetah themes to the latest low-top Kobe Protro edition:
For his second set, Tucker wanted to get even more personal, layering in looks atop one of his favorite hoop shoes that also highlight the ups and down of his wandering basketball career since turning pro in 2006. Before solidifying himself as a corner 3-and-D workhorse for playoff contenders, he bounced around in a variety of leagues all around the globe for a handful of years.
"I took the unconventional route and came up with my own storyboard presentation to present to my Nike Basketball fam," Tucker said.
The first shoe in the appropriately dubbed "Journey Pack" honors his time at the University of Texas and his entrance into the Association as the 35th pick of the 2006 Draft with the Toronto Raptors. The "Texas2Toronto" theme is highlighted by a Raptor red-to-burnt orange fading upper.
Sign up for our newsletter
During the opening round of the playoffs, Tucker broke out the second sneaker of his "Journey Pack," celebrating his time in the late 2000s with the BC Donetsk Tigers, a now-defunct club in the Ukrainian SuperLeague. Tucker toiled away as a star import player in sparsely attended gyms en route to becoming a 2008-09 SuperLeague All-Star.
The team bankrupted halfway into the following season in 2010, with his hoop journey taking him next to Israel.
"To understand me, you gotta understand my story. Thank god I don't look like half the shit I been through," Tucker joked on Instagram.
The veteran's footwear choices throughout the 2021 NBA Playoffs for the Bucks captures a whole lot of that story on basketball's biggest stage.
From rare PEs, coveted Kobes, limited-edition Dunks, and even his own upcoming designer sneaker collab, here's a look below at every sneaker worn by PJ Tucker so far during the first two rounds of the NBA postseason.
Bucks vs. Heat // Game 1
Nike Kyrie 4 "Green Lobster"
Nike Kobe 6 PE "Red October"
Bucks vs. Heat // Game 2
Nike Dunk SB High "Maui Wowie"
Nike Kobe 6 PE "Ukraine"
Bucks vs. Heat // Game 3
Nike Dunk Low "Kasina"
Nike KD 5 All-Star "Area 72"
Bucks vs. Heat // Game 4
PJ Tucker x Dolce & Gabbana Miami Low
Nike Kobe 6 PE "Red October"
Nike Kobe 6 PE "Ukraine"
Bucks vs. Nets // Game 1
Nike Air Force 1 "Questlove"
Nike Kobe 6 PE "Prada Floral Shirt"
Bucks vs Nets // Game 2
Nike Dunk Low "Pigeon"
Nike Hyperdunk 2010
Nike LeBron 15 "SVSM"
Nike Kobe 6 PE "Prada Floral Shirt"
Bucks vs. Nets // Game 3
Nike Kobe 6 PE
Nike Zoom GT Cut
Nike Kobe 4 Protro "Wizenard"
Bucks vs. Nets // Game 4
Nike Air Max 1 "Clot Kiss Of Death"
Nike KD 5 "What The"
Nike Zoom Kobe 1 "Undefeated"
Nike Zoom Kobe III "Fade To Black"
Bucks vs. Nets // Game 5
Air Jordan 1 High x Dior
Nike Zoom Kobe III PE "Rice High School"
Bucks vs. Nets // Game 6
Nike Hyperdunk Kobe Bryant PE
Air Jordan Retro 10 "Shadow"
Nike Kobe 6 PE "Solar Red"
Nike Zoom Kobe 6 Protro "Journey Pack / Ukraine"
Bucks vs Nets // Game 7
Nike Kobe 4 Protro DeMar DeRozan "Drew Aid" PE
Nike Kobe 6 Protro "Red October" PE
Bucks vs Hawks // Game 1
PJ Tucker x Dolce & Gabbana Miami Low
Nike LeBron 9 Low "112"
Nike Kobe 6 "Prada Shirt" PE
Bucks vs Hawks // Game 2
PJ Tucker x Dolce & Gabbana Miami Low
Nike Zoom Kobe 6 "Journey Pack" / Hapoel Holon in Israel
Bucks vs Hawks // Game 3
Nike Air Flight Huarache
Nike Kobe 6 "Prada Shirt" PE
Nike Kobe 6 PE
Nike Kobe 4 PE
Bucks vs Hawks // Game 4
Nike Zoom Freak 3
Nike Kobe 6 PE "Journey Pack" / Hapoel Holon
Bucks vs Hawks // Game 5
Air Jordan 1 High "No Photos"
Nike Hyperdunk 2010 "Pau Gasol Christmas PE"
Nike Kobe 6 PE "Red October"
Bucks vs Hawks // Game 6
Nike Kobe 6 "Red October"
Finals practice
Nike Kobe 1 Protro "Devin Booker" PE
Bucks vs Suns // Game 1
Nike Hyperdunk "Kobe Bryant" PE
Nike Kobe 6 PE "Prada Shirt"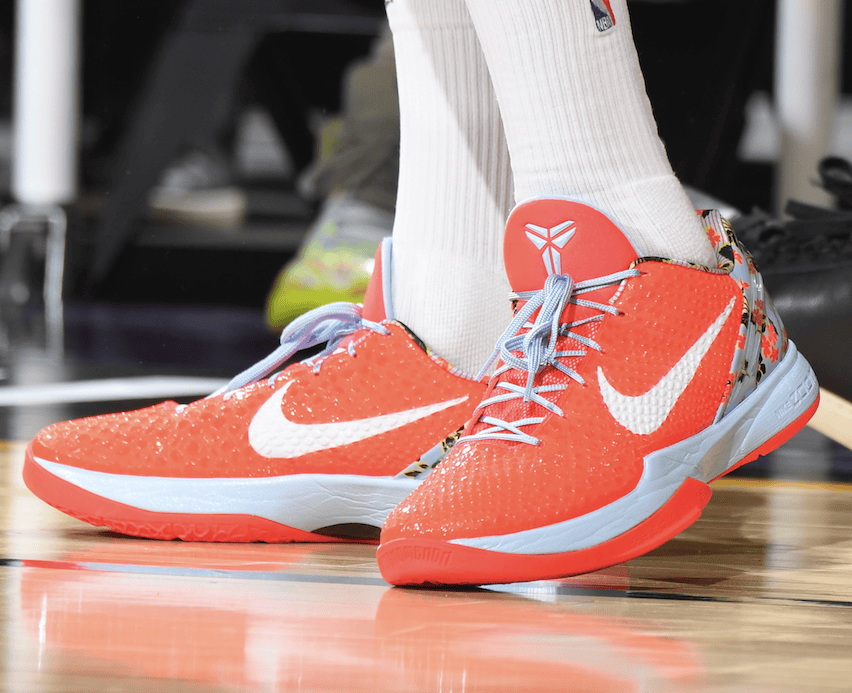 Nike Kobe 6 PE "Journey Pack" / Hapoel Holon
Practice
Air Jordan Retro 13 "Oregon Ducks"
Bucks vs Suns // Game 2
Nike MAG
Nike Kobe 4 Protro "Undefeated" PE
Nike Kobe 4 Protro PE
Practice
Nike Kobe 9 Low "HTM"
Bucks vs Suns // Game 3
Nike Kobe 7 "What The"
Nike Kobe 4 Protro PE
Practice
Air Jordan 16 "Veteran's Day" PE
Bucks vs Suns // Game 4
Nike Hyperfuse Low
Nike Kobe 4 Protro
Nike Kobe 6 PE "Red October"
Finals Practice & Media session
Nike GT Run
Bucks vs Suns // Game 5
Nike Dunk Low SB "Oompa Loompa"
Nike Kobe 6 "Journey Pack" Puerto Rico
Practice
Air Jordan Retro 3 "Sole Fly"
Bucks vs Suns // Game 6
The Shoe Surgeon x Jason of Beverly Hills custom Diamond Air Jordan 1
Nike Air Giannis Immortality "Smoothie"
Nike Kobe 6 "Journey Pack" / Puerto Rico
Nike Kobe 6 "Red October"