From fresh takes on Chucks and Jordans to injection shoes and Crocs collabs, Boardroom's resident expert presents a curated list of his favorite shoes of the year.
We were treated to some awesome footwear releases this year.
Brands like New Balance made massive strides, with models like the 550 taking off perhaps beyond their own expectations. Puma launched its first signature basketball shoe in 20 years, a welcome addition to the competitive landscape as LaMelo Ball's star power continues to climb.
Kanye's Yeezy line continued to push the envelope from a construction and silhouette standpoint, with a full category assortment now featuring slides, injection foam runners, and even hilariously overdone boots of all proportions alongside his cash cow staples like the 350 and 700 series.
We even saw sneakers enter the metaverse as NFTs — a sentence I'll admit that I didn't entirely even understand before the calendar year kicked off.
Sign up for our newsletter
Collaborators like Salehe Bembury brought a new lens and perspective to both beloved and hated models alike to make their mark. The prioritizing and investment in women's launches got upped in a big way too, both in activations through global campaigns and with the release of several lady-led looks for everyone from WNBA stars, celebrities, Olympic athletes, and designers.
In all, progressive design, clean takes on classics, daring new silhouettes, and layered storytelling was on point throughout the year – one of my favorites in the game.
In order, and admittedly up for debate (@ me on Twitter), below are my Top 25 sneakers of 2021.
And as a wise man once said – it's my opinion – so that's the way it's gonna go.
Nick DePaula's 25 Best Sneakers of the Year
25 / Parra x Nike Dunk SB Low "Abstract Art"
With the entire Tokyo Olympics getting stalled out a full calendar year, the Parra-penned skate uniforms for the sport's first foray into the Summer Games and collaborative Dunk SBs that went along with the launch were likely originally slotted to be a top sneaker of 2020, but eventually released in 2021 and immediately caught my attention.
Everyone has their own opinion on Dunk hype these days, and the simple white and black Low top execution that's worn in every major city would be an easy option to highlight, but it was the familiar burgundy and blue-hued Parra pair that became one of the best Dunks of its comeback year.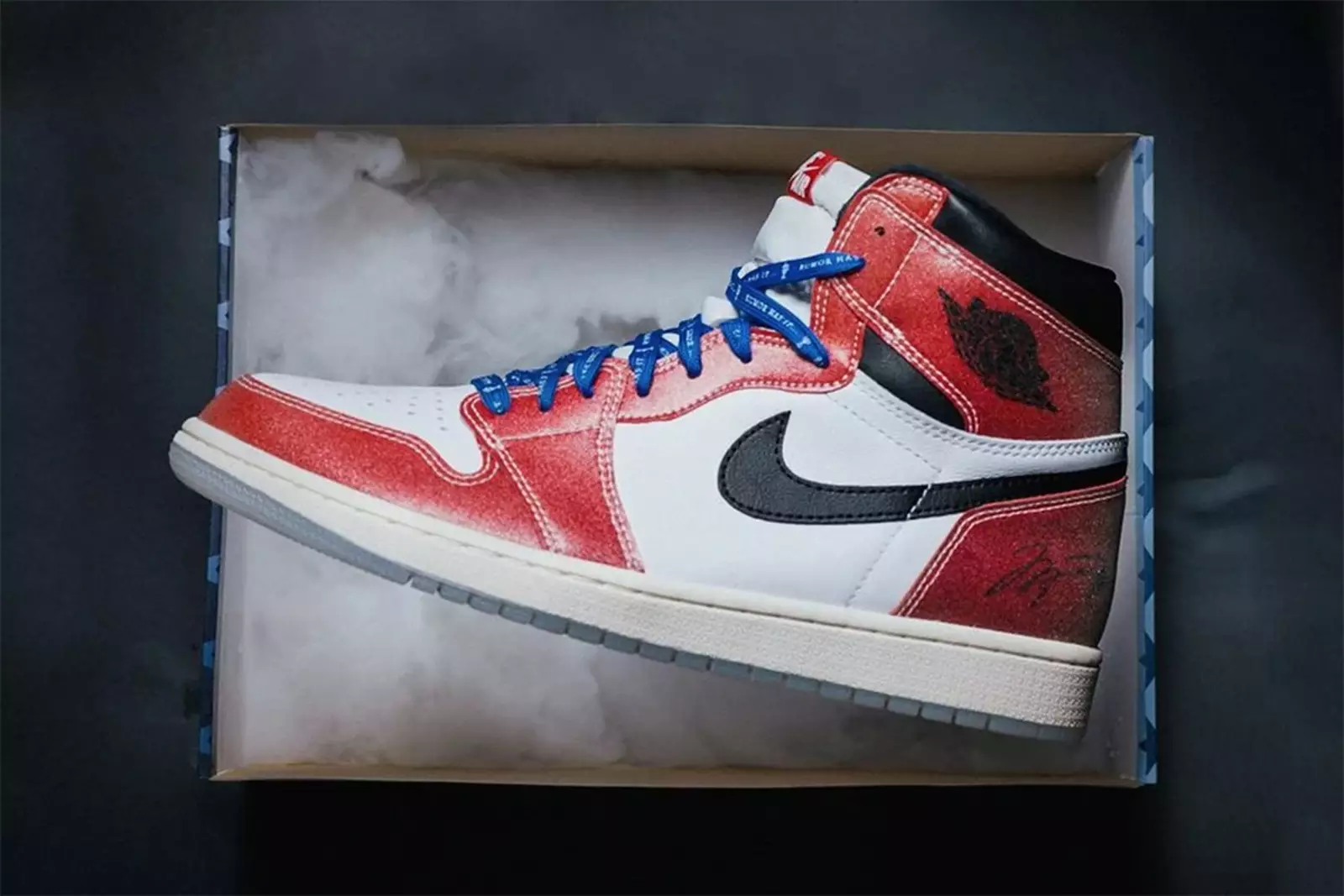 24 / Trophy Room x Air Jordan Retro 1 High
With seemingly every last "storytelling" colorway tied to MJ's career already spoken for, we've gotten some major reaches in recent years. A pair just dropped inspired by his love for bubble gum. We've even seen entire themes drafting off of one-off jackets Mike donned back in the day, whether while hosting SNL or simply walking into the Bulls practice facility.
When his son Marcus dropped his own collaboration on the AJ 1 High, in a Chicago-inspired colorway, no less, it seemed impossible that the theme would cover new ground. Channeling the infamous "freeze out" that Mike faced at his very first All-Star Game was fresh though, bringing great textures, added touches of nuance, and an epic rollout video to a new spin on the iconic model.
23 / Nike Air Force 1 Craft "Galactic Jade"
Every once in a while, a GR Force drops that just goes crazy. This is that pair for me. Wearable. Clean. Simple and solid materials. I was on board right away.
22 / Alexander McQueen Tread Slick
The platform-esque twist on the Stan Smith is, of course, the McQueen silhouette most ubiquitous in NBA tunnels, but it was the clown shoe update to a Chuck Taylor that I was more impressed by, so I got a pair of the black and white lows. Sure, they're mostly ridiculous in person (and in my size 13) with their nearly two-inch lift and expansive stance, but still, the preposterous proportions somehow made for a great sneaker.
21 / Kim Jones x Converse Chuck 70
Updating a Chuck can often fall flat, as it's the original silhouette everyone simply wants, but Kim Jones (of Louis Vuitton and Dior creative direction fame) got it right here. The added sloped molding gives the iconic silhouette a different read from afar, and the alternating eyelets and bonded webbing overlay bring a technical touch to the historically basic high top.
20 / Patta Air Max 1 "Rush Maroon"
Seeing a collaborator go back and spin up another colorway on a model they've already had success with is a tricky premise. Patta has long had some of the best Air Max 1 looks to ever release – or not release, in the case of its coveted F&F exclusive.
Rather than remix yet another batch of traditional AM 1 editions, the Dutch boutique brought a new look to the mudguard panel that defined the 1987 classic runner, updating the Tinker Hatfield design with a wavy overlay that worked well in both suedes and leathers. The Rush Maroon pair with its subtle grey mesh was the best of the bunch.
19 / Rick Owens DRKSHDW x Converse TURBODRK Chuck 70 High
After the longtime success of Rick Owens' distinctly Chuck Taylor-inspired high-top sneaker, it was fitting for Rick to officially collab with the brand he's drafted off of for years for his most beloved high-end sneaker model. His unmistakable elongated tongue is carried over here, with a body kit-like toe bumper and thicker midsole that perfectly fits the Rick design language and style.
18 / BrandBlack Rare Metal II
Though the company may have peeled back from its on-court NBA presence in recent seasons, BrandBlack has still been putting out great design work that falls in that hard-to-crack hybrid zone of hoops-inspired lifestyle that so many brands miss on.
The Rare Metal II is certainly a directional shift from the much-loved and sleekly quick first edition from 2016, which eventually also served as the foundation for the re-designed Big Baller Brand ZO2 when the Triple Bs got into a jam with its original design after Lonzo Ball's 2017 Summer League debut.
Like its predecessor, there's a unique collar slant and thoughtful mix of materials on the II that allows it to stand out. With a fully wrapped Vibram midsole/outsole giving it a unique stance, the ballistic mesh upper and glossy synthetic atop the toe all work great together. Plus, I'm a sucker for anything black, grey, and purple.
17 / Prada x adidas A+P LUNA ROSSA 21
America's Cups are one of the greatest sneakers of all time. And while the classic designer shoe has been getting shown love again this year in some great patent looks, it was the Prada collab with Adidas that I most liked seeing. The partially translucent and mesh textile upper looked best specifically in grey, with the iconic red Prada heel strip adding the signature sign-off that the duo's Superstar collab was missing.
16 / Undefeated x Nike Dunk vs Air Force 1 "5 On It"
One of the best two-shoe packs in years, Undefeated once again killed it on their latest Nike collaboration set. Snakeskin along the toe of the Dunk and AF1 Swoosh worked great, along with a mix of suedes and sail accents.
15 / Nike Air Tuned Max "OG"
While most consider the Air Max 1, 90, 95, and 97 to be the unquestioned best Air Max models, I've always felt the Tuned Max should be right there in the conversation.
(Perhaps the original ad campaign was a bit much.)
The Celery and Saturn Red launch colorway is one of Nike's best debut looks for a runner, with the color-shifting iridescent toe overlay and molded collar detailing all making the shoe an instant cult classic at the turn of the 2000s. While some shoes from the "Tuned Air" era haven't gotten their proper respect as Retros (Ex: Air Garnett III), Nike got the pillar-based Air unit just right on this one.
14 / "South Beach" Nike LeBron 8
Simply one of the greatest themed sneakers of all time.
In a hostile post-"Decision" climate, Nike dropped one of the freshest pairs of LeBron James' entire series, and initially, it seemed like all was right in the world again. As has been the case for nearly every LeBron sneaker to receive the Retro treatment to date, the re-release was precisely dead on, nailing the exact Vice vibes of teal and pink that originally contributed to the peak era of James' sneaker line.
13 / Travis Scott x fragment design x Air Jordan 1 Low
While the brown and black AJ 1 Low is my personal favorite Travis Scott edition of the model, this year's white, blue, and black Low was simply too clean to overlook. The sail shade along the lateral's backwards Swoosh balanced out the black medial mark, with the mix of black and royal panels and accents perfectly picked throughout.
12 / Off-White™ x Air Jordan 2 Low
It goes without saying that the passing of Virgil Abloh is an enormous loss for the collective sneaker, streetwear, and design communities. While the Air Jordan 2 has honestly never been a favorite of mine, Abloh's archival approach to the crumbled midsole execution was a refreshing twist on a largely untouched model from the brand.
His personal interactions with collectors and fans alike on a myriad of Instagram pages, both massive and obscure, added to the build-up and excitement of the release for many. Sharing his thoughtful reasoning behind why certain textures were chosen and an inside look at how many sample rounds and tweaks the overall process took only added to the passion he often poured into his Jordan collabs.
11 / "Cool Grey" Air Jordan Retro 11
Dreamt up by Gentry Humphrey at 4 a.m. on a random day at the turn of the millennium, the "Cool Grey" 11 is the greatest non-OG Air Jordan colorway of all time. Clean and classic, every time they're re-released by the brand is a win, with the 2021 edition taking on an even icier outsole than the two prior drops.
10 / Salehe Bembury x New Balance 2002R "Water Be the Guide"
I'm not remotely into orange, so the teal-based counterpart of Salehe Bembury's strong ongoing collaboration series with New Balance was the one for me. With a quirky roll-out that's come to be expected from the endlessly inquisitive designer, Bembury enlisted Jesse Williams to model his newest standout suede and mesh makeup.
9 / Air Jordan 8 x Oregon Ducks PE
Ducks PEs have been a thing for a sec, but this pair, with its $380,000+ auction raising NIL impact for current Oregon Football student-athletes, immediately made it one of the most important launches of the year. An instant favorite of designer and Duck grad Tinker Hatfield's, the shoes also laid the foundation for how sneaker brands could look to create NIL impact for athletes at their powerhouse programs around the country going forward.
8 / Curry 9 Flow "2974" NFT Release
With zero thanks to factory shutdowns and global launch delays that marred many a Fall season release, Curry Brand shifted plans ahead of Stephen Curry's much-anticipated December schedule, with the expected release of the blue and gold Curry 9s worn during the greatest shooter of all time's 3-point record-breaking game at Madison Square Garden pushed until early 2022.
Instead, they launched their first foray into the metaverse, with five variations of a "Genesis" Curry 9 Flow linked to 2,974 NFTs and priced at $333 each. Along with his own SC30 Inc.-led 2974-themed NFT release, the launches raised over $5 million for Curry's orbit of charitable givebacks that'll impact communities around the country.
Looking ahead to 2022 and beyond, the success of the blockchain-powered launch could lead to even more digital releases celebrating some of his greatest career highlights.
7 / Candace Parker's Adidas ACE Collection
Wearing one of the most important launches of the year, Candace Parker carried her hometown Chicago Sky to its first WNBA championship, in her first season back home with the franchise. Legendary stuff.
Candace was rightfully deemed the AP's Female Athlete of the Year for her on-court exploits, with the full launch of her own Adidas ACE Collection only adding to her accolades. Parker was the last WNBA player to receive her own signature shoe in 2011, with the release of three colorways of her Exhibit A PEs this fall coming at a much-needed time, as a renaissance for W-headlined sneakers appears to be on the horizon.
6 / Nike GO FlyEase
With accessibility in mind, Nike has launched several different FlyEase silhouettes in recent years, most with a series of straps or zipper-based mechanisms allowing for easy entry and fastening. The GO FlyEase took the notion of accessibility to another tier, providing wearers of all abilities with a truly hands-free sneaker that can be slipped on and off thanks to a patent-pending hinge construction.
From a pure product design and solution-based function standpoint, it's one of the best highlights of the year.
5 / Salehe Bembury x Crocs Pollex
Crocs has been on fire. One of the only footwear brands to report an uptick during the pandemic, the once-clowned clogs have evolved from oddity to accepted in a variety of settings.
Rather than join the growing list of collaborators who simply brought a new colorway to the brand's Classic Clog design, Salehe Bembury re-envisioned the structure and look of the shoe entirely, bringing a web of grooves to the silhouette with fingerprint pattern inspiration and zonal breathability. Released in a trio of earthy tones dubbed Spackle, Menemsha, & Cucumber, the launch was madness, with the $85 clogs now fetching north of $400 on resale platforms.
4 / Saysh One
After Allyson Felix parted ways with Nike in 2018 over a contract dispute during her pregnancy, the most decorated women's Olympic track and field female athlete of all time took matters into her own hands and launched her very own sneaker brand ahead of the Tokyo Summer Games.
Most importantly, the company was women-led – "for women, by women" – with veteran footwear designer Natalie Candrian of Adidas TMac series fame helming the look of the debut silhouette, and former Nike Innovation Kitchen developer Tiffany Beers building out the construction and working through factory particulars.
The result was the Saysh One, a versatile running-inspired lifestyle sneaker that Felix also went on to wear as a cleated racing spike in Japan. It's also worth noting that the brand was launched during an entirely remote work setting, which earned it Footwear News' Launch of the Year.
3 / A Ma Maniere x Air Jordan Retro 3
To date, A Ma Maniere hasn't missed. The high-end Atlanta boutique's elevated take on the Air Jordan 3 is perhaps their very best collab, with light grey suede replacing the model's beloved elephant print, a luxe quilted liner along the collar, and aged midsole touches all making for one of the best sneakers of the year to simply get a fit off.
2 / Nike Zoom GT Cut
Oftentimes, "best of" lists are mostly made up of Retro executions of shoes that originally released in other years, long ago. So, I've gotta give a shout to what I deemed the best basketball shoe of 2021 – the Zoom GT Cut. These are a beast on the court. The fit, support, cushioning, transition and grip are all A+ level. I firmly believe if they were called the "Kobe 12" or "Mamba Legendary" and Devin Booker headlined them during the Suns' run to the NBA Finals, they'd be an instant classic and iconic hoop shoe. 
Instead, the initial launch colorways left a little to be desired, and a huge percentage of NBA players are now wearing GTs in clean yet unattainable team bank colorways, so perhaps the shoe hasn't gotten its just due. I also wish they were available on Nike By You to style up my own looks. Either way, if you're able to track down a pair, you should. They're incredible for hoop.
1 / Fear of God California
Yes, my Number One Sneaker of the entire year is not exactly a sneaker. That's because the injection-molded California mule from Fear of God is a perfect silhouette. 
Insanely comfy, remarkably versatile, and ideal for the delicate dance of 2021 that still found us working from home and often jammed up inside. I found myself wearing the "Concrete" pair more and more over all other options since I snagged 'em. The dramatic top line of the brand's signature slightly sloping midsole and the medial vent design are distinctively Fear of God.
As injection shoes continued to grow in acceptance, this was my very favorite execution of them all.
Sign up for our newsletter