With the NFL offseason upon us, now's the perfect time to step back and take stock of the state of the hobby on the gridiron.
It might now be the football offseason, but the trading card hobby never rests.
The Super Bowl champion Rams were led by game MVP Cooper Kupp, who solidified himself as one of the league's best wide receivers and offensive weapons. On the other side, the Bengals' young quarterback, Joe Burrow, suffered a loss in his first Super Bowl appearance, but his stock rose dramatically throughout the year. With the dust now settled on the 2021-22 season, we're here to provide sports cards collectors and investors with an offseason buying guide.
First, some general rules when looking for certain cards and players that could increase in value:
Be Wary of Base Cards
Base cards are fun to have in a personal collection, but from an investing perspective, it's the equivalent of getting rich off penny stocks. Look for autographs, multi-color patches, and #'d variations of players you think will be the next Patrick Mahomes in regards to value. Also, instead of ripping hobby boxes and packs, it's more advantageous to strategically buy singles. Yes, it's fun to rip open packs, but leave that along with base cards to the younger collectors.
Sign up for our newsletter
As grading companies such as PSA and BGS start opening lower-price submissions, graded-base cards are going to flood the market. This, plus the increased print runs over the last couple of years, will drive down their value. We saw this in the NBA. Ja Morant's base Prizm in a PSA 10 had a high of $700+. Now it's staying steady around $250, even after he was named an NBA All-Star Game starter.
Related: Singles, Hobby Boxes, & the Truth About Trading Card Investing
Quarterbacks are King, but…
Even though wins are not a QB stat, quarterbacks get the credit for every win. Especially Super Bowl titles. We saw Burrow's prices exponentially increase as he led the Bengals through the AFC to a Super Bowl appearance. The same with Matthew Stafford, as he guided the Rams to another Super Bowl victory. The Super Bowl MVP went to a wide receiver, though.
Kupp won the triple crown in receiving this year. At the beginning of the season, you were able to get his 2017 Prizm Rookie PSA 10 for as low as $80. That same card is now valued at $548 with a low pop count of 222. This was a predicted trend for the 2021 season. Could this be the moment where position players are valued in the hobby?
Deebo Samuel saw a boost, too. The San Francisco 49ers utility knife's PSA 10 Prizm rookie was as low as $46 during the season. After showing off his flexibility of playing either RB or WR, the value increased to $185.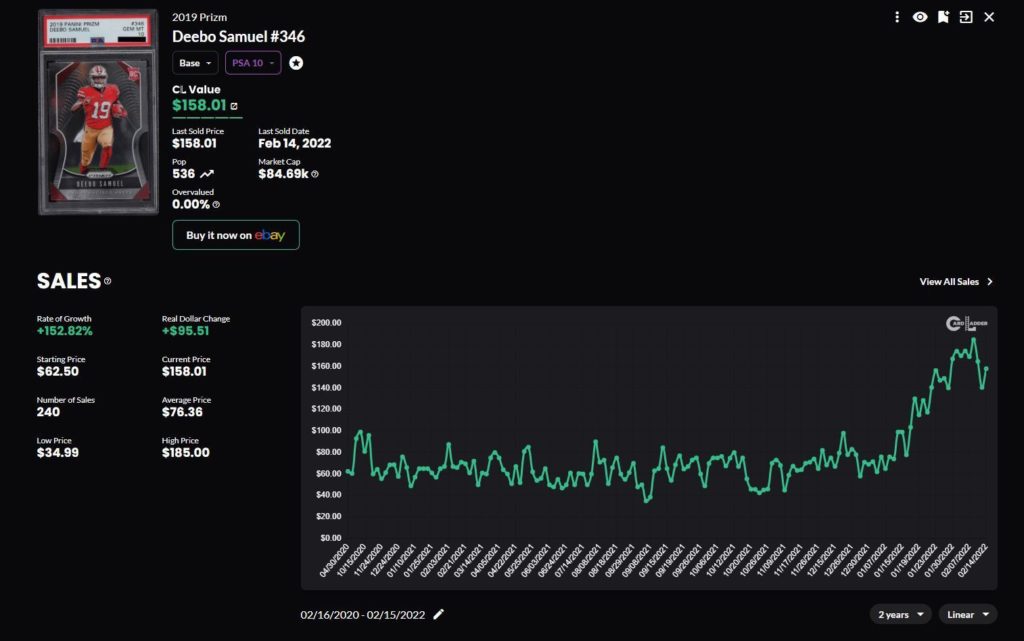 While position players may never hit the value ceiling of a QB, it's refreshing to see hobbyists appreciate other players besides quarterbacks. Position players provide a low-cost alternative for investors if they don't want to sink their money into a quarterback. Position players also provide a lot of volatile risk.
Incoming Rookie Class
There really isn't much to say here. The quarterback class of 2022 does not have the same level of hype as the previous two, which means quarterback rookies of 2022 will be a lot cheaper than Justin Herbert, Trevor Lawrence, and company. The three rookies to look out for are Kenny Pickett from Pittsburgh, Sam Howell from North Carolina, and Matt Corral from Ole Miss. These three are expected to be top-15 picks.
Potential 2nd-Year Studs
The 2021 quarterback class didn't have the same pop as the 2020 class, but there are high expectations for a few of those individuals.
Zach Wilson
The Jets haven't had a household name as quarterback since Mark Sanchez, who earned renown via the butt fumble. Wilson showed progress through the season after a really rough start, helping New York beat the eventual AFC No. 1 seed Titans in Week 4 last season.
The Jets have a good coaching staff and we could see Wilson take another step in a tough division that's filled with the Bills, Dolphins, and Patriots.
Justin Fields
Fields has the opportunity to win the division next season and doesn't have to play his best football to do it. Minnesota has a new coach, we're not sure if Aaron Rodgers is staying in Green Bay, and Detroit is still Detroit. We could see the dynamic Fields lead the Bears to their first division title since 2018.
Fields showed a lot of promise through his arm and legs last season, even with head coach Matt Nagy presumably holding him back. The Bears' offense in 2022 will be led by Luke Getsy as Offensive Coordinator. Getsy was previously in Green Bay as the passing game coordinator and quarterbacks coach.
Veterans You Can Count On
Russell Wilson
Wilson is one of the most dynamic QBs we've seen, and he has two Super Bowl appearances and a ring to his name. If he gets out of the toxic situation in Seattle, Wilson could be heading to a team that just needs a QB to get them over the top. Wilson's cards have taken a huge hit due to the Seahawks not being able to get more pieces around him. Wilson's Topps Chrome Rookie was as high as $1,300 last year, but has dropped to sub-$400. If Wilson can get to a new team and make a postseason run, you can expect his value to bounce back.
Justin Herbert
The Los Angeles Charger quarterback's 2021 campaign ended in the regular season finale at Las Vegas. Herbert was only one win away from making it to his first postseason, and the Chargers are in a really good place going into next year. They have solid pieces on both sides of the ball and with the inevitable fall of the Chiefs' dynasty looming, the Chargers may take over the AFC West.
Herbert improved in almost every statistical category compared to his first season. He was second in yards — only behind the GOAT Tom Brady — and third in passing touchdowns. Though Herbert's value has dropped due to missing the postseason, now is the perfect opportunity to get his cards at a discount before his first postseason appearance.
Joe Burrow
While Burrow may have lost on the biggest stage, the future is bright for him and the Cincinnati Bengals. The Bengals have the third-most available cap space at $57 million and will certainly look to revamp an offensive line that saw Burrow get sacked seven times in Super Bowl 50. If the Bengals hit in free agency, they certainly are one of the favorites to represent the AFC next season.
Burrow's value has taken a dip since the Super Bowl loss, but they're still a lot higher than they were last offseason. While Burrow may be the highest risk due to the increased value after bouncing back from last year's injury, his team is only an offensive line away from another Super Bowl appearance.
We saw a lot of growth and change in the way we see NFL cards in the sports card hobby. This included increased value in position players, quarterbacks coming back from injury to a Super Bowl appearance, and the GOAT hanging up his cleats. 2022 has a lot of promise and certainly has an increased level of excitement as free agency commences.
Sign up for our newsletter