It's a new era in Phoenix as Kevin Durant makes his Suns debut on Wednesday. Here's how the Phoenix brass got the franchise to this point.
It's a new day in The Valley, with championship aspirations suddenly emerging ahead of the Wednesday night Kevin Durant Suns debut, a new owner in Mat Ishbia, a battle-tested veteran team, and prominent leaders within the front office and coaching staff.
To the fanbase, anything short of the Finals would be considered a loss for an organization still yet to hoist a Larry O'Brien Trophy in its 45-year history.
Amid the high expectations, it's worth noting just how far Phoenix has come in building a star-studded team centered around Durant, Devin Booker, Chris Paul, and Deandre Ayton, who between them have a combined 28 All-Star appearances and 22 All-NBA nods. Just five years back, the team finished with the second-worst record and the second-worst attendance across the Association.
"The organization has grown leaps and bounds in terms of its presence in the community, the brand of basketball they play, the people they hired to run the day-to-day," Durant told Boardroom. "I felt that that stepped up from when I was first in the league. They also have some familiar faces that I know over here and worked with before, so I could tell what the structure was going to be like."
Sign up for our newsletter
State of the Suns
KD joined the Brooklyn Nets in the summer of 2019 and took the following season to recover from a torn Achilles. Though Brooklyn's superstar era with KD, Kyrie Irving, and James Harden didn't quite pan out the way anyone anticipated, Durant individually has pulled off one of the most remarkable injury comebacks not only in NBA history, but in all of sports.
T.J. Warren and Kevin Durant were traded to the Suns on Feb. 9 in exchange for Mikal Bridges, Jae Crowder, Cam Johnson, four unprotected first-round picks, and first-round pick swap rights in 2028.
"Every day I play, it means something to me," KD reflected. "I feel like I can do what I do anywhere. I feel like I can operate in any environment and still be myself. So, I'm looking forward to doing that here."
Phoenix has work to do if it wants to avoid the play-in. The Suns are currently the fourth seed in the West with only 1.5 games separating them from a play-in spot. They're 3.5 games from falling out completely.
Talk about a helluva time to add a player of Durant's caliber. He was averaging 29.7 points, 6.7 assists, and 5.3 assists in Brooklyn before sustaining an MCL sprain in early January. That's not mentioning the career-high 55.9% FG clip and league-best 93.4% shooting from the free throw line.
Starting At the Top
Mat Ishbia took no time bringing in a superstar, officially purchasing the team for $4 billion on Feb. 7 and pulling the trade for Durant two days later. The United Wholesale Mortgage CEO spoke to Boardroom's Ian Stonebrook about the new role.
"My first order of business when I take over any business is I've got to learn and I've got to listen. I've got to find out what it is and then make an impact… If there's an opportunity to get the best player in the world on your team, man, how do you not do that?"
"We have a great team, can we make it better?" he added. "Can we improve? I'm not the kind of guy who sits there and says, 'Let's plan so in six years we have a chance to win a championship.'"
There were risks in this decision — one that hurt the hearts of die-hard Suns fans who watched Bridges and Johnson develop into stars in their own respective roles, not to mention the glue guy effect that homegrown players have in establishing a cohesive, winning culture. Secondly, those picks don't seem like much now and they really aren't. Durant's on the books through 2025-26 and Booker through 2027-28.
The window opens and closes with them two. But it's always a risk any time you send away unprotected picks — in this case, the 2027 and 2029 picks might turn into something special.
Look no further than when Mikhail Prokhorov bought the Nets. Then-GM Billy King included a top-3 protected pick in a trade with Portland for Gerald Wallace; that pick turned into Damian Lillard. A couple years later, King traded unprotected first-round picks in 2014, 2016, and 2018; and the right to swap 2017 first-round picks.
Those picks turned into Jayson Tatum and Jaylen Brown.
The circumstances are different in this scenario, and Phoenix fans don't need to worry six years down the road. Ishbia certainly isn't.
'We're going to be the leading franchise in the NBA. How do we do that?' We have to have a culture of winning," he told Sports Illustrated. "We have got to make sure the fans love it. We're doing great in the community. We've got to do great there. This is not about just winning this year. We're going to win again in '27 and '29 and '31. We're going to try to win all the time. I'm not into the planning to win phase, I'm in the let's win today phase and let's win tomorrow phase."
Building a Winner
A sustainable culture always starts at the top. Ishbia, Jones, and Monty Williams turned this ship around when each took over in their respective roles in 2019. They built with wise drafting, development, spending, and continuity in a bridge season that saw a 19-win team turn into a 34-win team during a shortened season.
Things began to click in the Orlando Bubble, but 2020-21 is when it popped off as the Suns made their first Finals appearance since 1993. Jones won Executive of the Year and earned a promotion to President of Basketball Operations in Nov. 2022. Among his good moves, hiring Williams in 2019 was perhaps his best.
Here are some others:
Traded the No. 6 pick for Dario Saric and the No. 11 overall pick (Cam Johnson) in 2019.
Traded Ricky Rubio, Kelly Oubre Jr., Ty Jerome, and a first-round pick for Chris Paul in 2020.
Did NOT extend Deandre Ayton at the first opportunity in 2021; it saved the team roughly $43 million.
Extended Bridges to a four-year, $90 million deal in 2021.
Extended Booker for four years, $224 million in 2022.
Booker's extension showed a commitment to spending in order to build a contender. The Suns were still missing another scoring punch — and Jones made it happen by acquiring KD.
"I can probably provide him a little bit more space than he's used to with my shooting ability," Durant told Boardroom about how he'd fit on a team with Booker. "I see a lot of games. He gets double-teamed a lot, especially off the small forward, which is the position I played. So, I can help provide him a little bit more space, which would make him even more efficient, and vice versa. I played against a lot of double teams as well with the Nets, so having another shooter out there at the wing position can help me, too."
Payroll By Year:
2019-20: $98,539,675 (28th in the NBA) | Record: 34-39
2020-21: $128,858,241 (22nd) | Record: 51-21 (Finals loss)
2021-22: $136,476,474 (13th) | Record: 64-18
2022-23: $176,042,453 (6th) | Record: 33-29
The championship window was already open for Phoenix and that's in large part because of all that Jones and Williams built. Sure, Ishbia played a huge role in his willingness to listen, learn, adjust and spend on the fly — but these two laid the foundation. Now they gotta get the job done.
If the legal betting market provides any clarity as to what this next chapter indicates, then things are looking pretty good. They're currently +450 on FanDuel to win the 2023 NBA Finals (third) and were +1900 before the trade.
We'll let KD himself wrap all of this up: "It's on me to come in and not fuck up what they've done, basically."
More KD: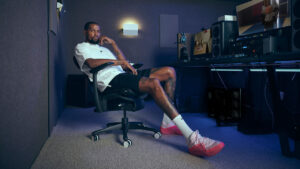 Anthony Edwards and LaMelo Ball join Durant and Curry — as well as musician Enisa — in the campaign, launched in tandem with Foot Locker's The Heart of Sneakers platform. …