The 18-year-old hooper and social media star has yet another NIL deal locked in, becoming Champs' first multi-year NIL male endorser.
Sure, he's a 5-star, Duke-bound point guard that's led his high school team to a state title, won offensive MVP at Nike's Peach Jam AAU tournament, and has been a mainstay across the All-Star Game and elite summer camp circuit. But Sacramento-bred basketball standout Jared McCain also already has an insane social media following in tow, now totaling well over two million followers across TikTok and Instagram.
The three pinned videos on his @JaredMcCain24 TikTok channel have tallied a total of more than 40 million combined views.
His content is less a barrage of polished hoop highlight mixes, and rather a look at his personality off the court, his time with friends and family, and so, so much dancing.
Sign up for our newsletter
Just as the landscape of amateur sports was forever changing a year ago, McCain was soon able to monetize his newfound fame thanks to the newly-passed regulations regarding amateur athletes' name, image and likeness rights — in his native California, the relevant law includes high school athletes. It all started happened just a few short months after he turned 17; now, as he begins his senior year at Corona Centennial High School outside of the Los Angeles area, McCain's latest NIL deal has him headlining Champs Sports' newest nationwide fall performance apparel campaign.
That's a noteworthy achievement for an athlete of any level.
Featured both in standalone brand imagery and solo video rollouts, the 6-foot-4 floor general is also positioned alongside Philadelphia Eagles star quarterback Jalen Hurts. The two male faces of the Eastbay-branded collection with hits of its subtle, italicized 'E' logo are seen spotlighting a mix of performance-meets-lifestyle wear crafted with tech fabrics, suited for any arena of life.
For McCain, last year's 2022 California Gatorade Player of the Year during his junior season, he calls the new partnership with Champs a "dream come true."
"We're excited to begin our partnership with Jared McCain, who has an immensely bright future ahead of him," said Guy Harkless, Senior Vice President and General Manager of Champs Sports and Eastbay. "At Champs Sports and Eastbay, we believe in supporting student-athletes across all phases of their career, both on and off the field of play."
Without missing a beat, McCain rattles off his early favorites from Champs' newest collection of tops, jackets, joggers, hoodies, and shorts like a seasoned pitchman.
"Out of the Eastbay Performance 'Field Day' Collection," he begins smoothly, "definitely the Temptech performance joggers, those are my favorites comfort-wise. And I always like a good t-shirt, so the Gym Tech t-shirt is probably my favorite, too."
From the onset of the NIL era, Champs was an early adopter of embracing and incorporating once-amateurs into its annual and quarterly flagship campaigns. Harkless reveals that student-athlete deals will be a key component of the company's strategy ahead.
"As NIL evolves, we're looking forward to growing our roster of athlete partners and continue being a leading example for athlete partnerships in the space," he added.
Champs inked the basketball star duo of Hanna and Haley Cavinder to an ambassador deal that spotlights work out gear across their social channels, and also landed a deal with Oregon star center Sedona Prince to host a webseries/podcast featuring conversations with fellow collegiate athletes navigating the emerging NIL market.
"We aim to empower student-athletes as they explore the benefits that NIL provides, such as expanding their audience and allowing others to be a part of their journey," Harkless said. "We are particularly encouraged to work with young athletes who grew up with Champs Sports and Eastbay, who have now become our partners."
In the 1990s, reading Eastbay with a bowl of cereal every morning served as a portal to learning all about the technologies and designs of sneakers from every brand on the block. For most kids of that era, circling pairs in the physical catalog that you aspired to get your hands on became tradition when every new issue dropped.
For Jared and his current generation, he's had a more digital-than-tangible connection, coming up with the orbit of Foot Locker Inc.'s iPhone apps as he tried to track down Yeezys and Air Jordan launches in recent years.
In many ways, the Champs partnership is a sharp strategy from McCain and the Icona Agency that reps him; building a flexible, additive endorsement deal during his lone remaining high school season that bridges into his college years rather than simply aligning with one major footwear brand figures to be a nice way to keep the broadest number of options open ahead of his pro career.
(For now, since Duke has long been the Swoosh's staple powerhouse hoops program, the much-pursued point guard will don pairs from Nike's ongoing signature lines starting next fall.)
The deal allows for McCain to highlight Champs' Eastbay-branded performance apparel across his social media channels and continue to switch up his off-court footwear as he pleases. In the "Field Day" launch campaign shoot, he shifts between a grey and royal Reebok runner, black Under Armour HOVR Machina 3 sneakers, and a pair of James Harden's signature shoes from Adidas. It's perfectly fitting for the phenom who's kept a variety of brands in his rotation all along — his Huskies high school squad is sponsored by Adidas, the Russell Westbrook-fronted "WHY NOT?" AAU team he played for in the summer is laced by Jordan, and Stephen Curry's new "Splash" logo with Curry Brand even garnered five million views when it was featured in three videos on McCain's TikTok page in August.
While SLAM tweeted out his Curry Camp highlights showcasing ample buckets, McCain was in his hotel room posting dances in full head-to-toe Curry Camp gear.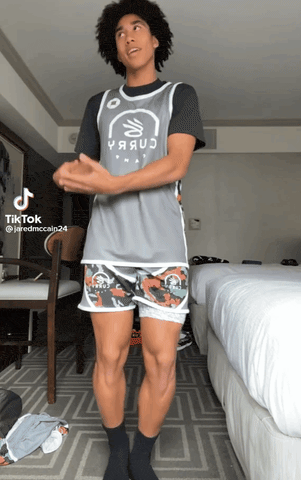 Every one of these brands figures to have an eye on him, but notably, one of the first NIL deals McCain landed was actually with Crocs, where he's currently the only male athlete amongst its student-athlete partners. He recently launched his own neon green sandal with the brand.
As he continues his ascent in the marketing realm, add to his budding portfolio of deals, and establish his presence across social media to myriad millions, the 18-year-old pauses for a second to relay that the whirlwind of handling hoops, school, deals, photoshoots and brand activations might sound like a lot to balance, but he's been embracing it in the only way he knows: by having fun.
There's no real roadmap for how to navigate what has become a wild, wild west of sudden marketing windfalls for student stars like McCain; like most NIL ambassadors, he's figuring things out as he goes. When he was just three minutes late to our scheduled Zoom interview, he had a good excuse – he was racing home from class and back to his bedroom desk setup.
While the new rules allow for McCain to launch his own series of t-shirts bearing a caricature of his face, his signature hairstyle, and his "JM24" phrasing, he's still just 18 years old and looking to enjoy his final year of High School after being faced with a fully virtual class load due to the pandemic in the two calendar school years since the spring of his freshman year.
"I love it," he beams. "I went back and now I'm doing three [classes] in person and three online. I like having the social aspect, getting to talk to people and learning in class. I have fun at school."
As the newest featured athlete in Champs' Eastbay Performance "Field Day" Collection, Jared McCain discussed with Boardroom the sneakers he grew up wanting most, what he plans to wear this season, and how he's looking to make his mark in the marketing world.
NICK DePAULA: How exciting is it to be partnering with Champs as part of their new Fall campaign?
JARED MCCAIN It's like a dream come true. To work with Champs, that's like every kid's dream. You walk into the store when you're younger, [and now] to be on those posters and to be a part of it at all, I'm just super excited about it.
NDP: Tell me about some childhood stories. For me, I use to read Eastbay with my cereal every morning and that's how I learned about shoes. I used to circle the shoes that my mom wasn't going to buy me. What do you remember about Eastbay, Champs, and Foot Locker growing up?
JM: For me, I was really big into shoes. I would have the apps and I would try to get the new drops when they came out and try to get lucky. I would try to get my mom to take me to the mall to try and get access, because you'd get more points when you do that. I was trying to get the new Yeezys, the new Jordans that came out, and it was just tough. I got a few, but it was tough. Just going with my family, my mom would give me a little shopping spree and I'd be able to go in there and pick stuff out for basketball, for lifestyle. Those were my favorite memories.
NDP: To me, being able to help with gifts for other people has been one of the most fun things about NIL. As part of this new deal, what's the first pair you're going to get for your mom?
JM: That's tough! She likes comfort, so I'm thinking some Air Maxes. Maybe some 97s.
Sign up for our newsletter
NDP: Is there a sneaker that sticks out, that growing up you wanted to get, but was the elusive pair you couldn't get your hands on?
JM: Probably Jordan 1s. Jordan 1s were huge, and obviously still are, and are the hardest ones to get. Those and Yeezys. Around 2015 and 2016, that was a tough time to get Yeezys.
NDP: You've got one more year of high school ball here. What sneakers are you planning to break out for your final season, and how much do you like to switch it up as you go?
JM: Usually, I just stick to one shoe for the whole season. Last year, I wore the Donovan Mitchells every single game, all the way up until the state championship game. They were super beat, had holes in them, but they were my good luck. I'll probably still go with the Donovan Mitchells, to be honest.
NDP: It's obviously a super unique time of being an athlete, and especially a high schooler. Going back to last summer, what was your initial reaction to seeing that the NIL laws were going into effect, and what was your first impression?
JM: At first, I was just kind of confused. I didn't know what was really going on with it. As I got more into it, it's a blessing. Especially in California, where we're allowed to have it, it's just helpful for all of the high school and college kids. I love it.
NDP: What were some of the deals that you got locked in right away that you were excited about?
JM: Definitely Crocs was probably the biggest one. I was like, 'That's actually crazy.' I had about 10 pairs of Crocs before I got it, and when we got that, that was a great day [laughs]. Not as good as the Champs one, but it was a great day.
NDP: What was your early approach in how you navigated things and looked at deals? You were only 17 last year, so how'd you even start to figure that out?
JM: I've been kind of influenced to just go after what I'm passionate about and what I like and gravitate towards. I like having fun, so [I prefer] these fun deals and being able to express myself in these deals is how I was navigating it.
NDP: You're a great hooper, but what sticks out to me, whether it's TikTok or Instagram, you have a great social presence. How early on were you realizing you had this kind of appeal as a high schooler? Was there one moment in particular when it really dawned on you?
JM: On Instagram, I had a little bit of a following from basketball, nothing crazy. During quarantine is when I started the TikTok. I started it because I couldn't get made fun of at school for dancing [laughs]. It kind of just blew up from there.
I was just posting every day and doing new dances and learning new dances. It was probably at Peach Jam last year when I realized people were starting to recognize me in person, and that was so shocking to me. They were saying, 'What? That's the kid from TikTok!' That's wild.
NDP: I've been covering this space for a long, long time. It used to be that the brands would have a caption and a plug-and-play approach where they'd send players things to post verbatim. Now, you're creating the reels and the content. Where does that creativity come from?
JM: I credit a lot to my videographer Nick [@NickInTheCutt]. He comes up with a lot of these ideas. Jordan Gazdik and Diana Day [from the Icona agency] come up with a lot of ideas too. They know me and what I like to have fun with. I like the corny ad [approach], especially like the "Lemon Perfect" one. I'm creating stuff where I'm happy and I get to show my genuine smile. That's the main thing.
NDP: In terms of this Champs and Eastbay campaign, have you already started to brainstorm how that's going to look on social? How do you come up with those ideas?
JM: I love incorporating the athletic side, especially when we're in the gym, or stuff outside. Stuff that incorporates the athletic part of what I do.
NDP: As you've been handling the last year of NIL, what have the conversations been like with other players in terms of how you've all been figuring this out as you go?
JM: Some of us are pretty confused, some of us know about it, but we're all just having fun with it and this opportunity is just amazing, so we're all excited.
Sign up for our newsletter