Boardroom soaked up Dreamville Festival and talked to the key players who brought out all the stops, both in brand activations and music, for at least 80,000 fans.
"This is where everything Dreamville brand comes together with love, with community, with impact, with intentionality," said Candace Rodney, Dreamville's Executive Vice President and the President of Dreamville Studios, in an interview at the 2022 Dreamville Festival this month in Raleigh. "This is a safe space. This is a fun space. We're here to rollout, rock out, and we're here to do it together."
After two years of delays, Dreamville Festival finally returned to the North Carolina capital with the goal of being bigger and better than its first rendition. The first Dreamville Festival took place in 2019, bringing over 40,000 people to Dorothea Dix Park — a turnout that rivaled the North Carolina State Fair. The one-day event also brought in $3.8 million for the city of Raleigh.
"I told Cole, man, the mayor owes him a check. They gotta cut my boy a check. Nobody is doing this. "

–Bas
Instead of having Dreamville Fest take place in just 24 hours this year, the festival doubled its duration by taking on both April 2 and April 3. And even before fans were let into Dorothea Dix Park, Dreamville hosted pop-up shops, panels, and several other activations across the city in the days leading up to the festival.
Sign up for our newsletter
The Festival itself had no shortage of partners, of course. Sponsors for the event included Amazon Music, Bacardi, Bud Light, Don Julio, Monster Energy, NBA 2K, Tito's Handmade Vodka, and Wilson. But even more important than the big industry names is one of the Festival's key goals every year: To lift up Black- and minority-owned businesses.
"We bring friends and family here," said Adam Roy, the Festival's President and a partner at Dreamville. "A lot of the brands that we have here, we've been working with for a long time. Whether it be on tours or projects or albums, all of these companies here we have true roots and relationships with. We try to bring in a diverse group of food vendors and partners and merch partners. If you just look around here, it's really a diverse group from all around the country."
One of the vendors that fits Roy's description is Sea Breeze Italian Ice.
"This is our second time doing Dreamville. The first year, we did really good. I think we were a little bit underprepared the first time because we weren't expecting as many people," said Shaykia Mercer, an employee at Sea Breeze Italian Ice. "We came with two carts this time instead of one, so we were able to expand a little bit more. And the weather plays a great part in that because it's a nice day; it's not too hot, not too cold, not rainy. It's just a perfect day for some Italian ice."
Mercer has it right. On Saturday and Sunday, Raleigh experienced highs of 68 and 70 degrees. The weather ensured a pleasant kind of experience far removed from the intense heat music festivals like Bonnaroo and Coachella are known for.
The ideal scene didn't fade into focus in a snap, however — Roy had been working behind the scenes to bring Dreamville Festival to life since 2015.
"It was a journey," he said. "I had moved from New York to Raleigh to put in the work to set this up, and it's grown to this really crazy beautiful thing that I think all of Carolina and hip-hop should be proud of."
With Dreamville co-founder and foremost face J. Cole hailing from North Carolina, there was never any doubt that the Festival would take place in the Tar Heel State. There was much more deliberation as to which city would serve as the best possible home to the event, however.
"Raleigh is such a great epicenter for so many different things," Rodney explained. "There are tons of universities that are located here. Raleigh has a really great tech presence and a fantastic entertainment and gaming presence. The city is centrally located on the East Coast. It has the infrastructure for us to do an event of this scale. I think the city deserves a lot of credit because they've been able to build a relationship with Dreamville that extends far beyond the Festival grounds."
Notably, Dreamville had taken over the city days before the Festival itself kicked off. Walking into restaurants and shops downtown, fans could find Dreamville Fest booklets that included a map of the city, a map of the Festival, and a notes on a multitude of minority-owned businesses that fans could visit while in town.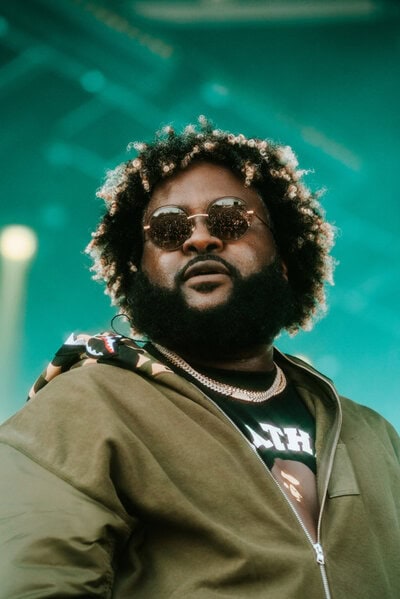 "[Dreamville Fest] is having a huge impact. You can't even get an Uber, [so] somebody is making money," said Queens, New York native Bas, the first artist signed to Dreamville, holding in a laugh. "Everyone that comes into town is buying food and doing everything that you would do to spurt a local economy."
But bringing a horde of people to Raleigh means something different in 2022 than it did in 2019. Dreamville had to factor in how COVID-19 could affect its plans.
"Even though the state of North Carolina didn't necessarily have requirements that we needed to follow, Dreamville as a company had requirements that we wanted to follow to make sure our fans and our artists and our partners would have a safe experience here," Rodney said. "We've reviewed all of the different protocols, [and] we're luckily in a place where we have vaccinations and booster shots."
Festival officials say over 80,000 fans gathered in Dorothea Dix Park for Dreamville Fest, thanks in large part to the diverse lineup of artists J. Cole and manager and business partner Ibrahim "Ib" Hamad crafted.
"[At] not too many Festivals you get to jump from one stage that's got Bas and then go to another that has Rico Nasty or a Lil Wayne and DJ Drama. It's truly special," said Roy. The artists at the festival say the vibe at the Dreamville Fest is unique.
"It's different 'cause it's North Carolina. I get to bring me and be really me because they understand who I am," said Morray, a Grammy-nominated rapper from Fayetteville. The last time Morray was at Dreamville Festival, he wasn't performing; he was merely a fan. "It's crazy to be coming here performing on stage because the last time I was here, it was before I was a rapper. Now I'm in front of family. It's more comfortable. It feels like I may be the star player."
Morray isn't the only one who wasn't on the lineup back in 2019. Mikhala Jene, an R&B singer from Jacksonville, North Carolina, was in the crowd back then, too.
"Growing up here in North Carolina, we had food festivals and flower festivals, but nothing like this one. So to be on stage this year is a full-circle moment," she said. "I'm grateful to have this platform to connect me to so many new listeners. That means the world to me. From catering all the way to security and the artist, there's so much opportunity here for everyone involved in the festival."
For the Dreamville artists, the festival serves as a family reunion. "This is the ethos of what we are as a label. Everyone's accessible and enjoying themselves. There's a serious home-court advantage here," said Bas. "This is who you want to perform to. It's the most ideal group of people. It's good to be back amongst creatives and fellow artists. None of us are taking these moments for granted right now."
Lute, a Charlotte native and a Dreamville artist, was quick to concur.
"This is all love and family. Seeing people and faces that I haven't seen in a long time is great," he said. "There's a lot of fun and networking going on."
Though officials have not yet publicly estimated how much money was generated for the regional economy over the course of two days, the Festival is expected to have generated a multi-million-dollar impact greater than the first Dreamville Fest in 2019. That sets an even higher bar for next year's edition, but in the meantime, Rodney teased much more to come from Dreamville throughout the rest of 2022.
"All of our artists are dropping this year," she said. "We have JID, Ari, and Bas on deck next. We have Lute, who is releasing Gold Mouf as a deluxe [reissue]. We have Cozz coming out with another EP. We have Omen coming out with music. We may or may not have more from Cole. I don't know if I'm at liberty to say, but Dreamville is going to have an incredibly busy year of music."
When Rodney speaks about the future, she smiles — clearly hiding plans that she is excited to announce.
"We have tons of projects coming out on the studio side as well," she continued. "We have partnered with some key partners with FX. We have partnered with Apple. We have two documentaries, one in which Cole directed that is coming out. We're doing Season 2 of 'The Messenger' podcast. We just have more and more and more to come, and so we're in a really good space.
"Dreamville Fest is really the kickoff. It's gon' be a whole Dreamville Summer. I hope y'all don't get tired of us, 'cause we coming."
Sign up for our newsletter