Boardroom caught up with NBA champion Iman Shumpert and his brother Ahrii Shumpert about what's to come in the new season of their popular podcast.
After a successful first run, Iman and Ahrii Shumpert are back with another season of the Iman Amongst Men podcast.
The brothers kicked off Season 2 with conversations with Hit-Boy and Tobe Nwigwe after learning much from their inaugural season, where they sat down with guests to have unfiltered discussions about what it's like to be a man in today's society. Iman and Ahrii Shumpert said they weren't at all surprised by the success of the show, which has attracted more than a million views on YouTube alone in the first season.
"I knew that for me to be any type of consistent and honest in all of my answers, I needed Ahrii there for that. So to me, it's not a surprise that it's doing well," Iman Shumpert told Boardroom in an exclusive interview. "I feel like our best work comes from me having him there to keep it authentic. I'm excited my gut feeling was right."
Sign up for our newsletter
As for Ahrii Shumpert's learnings from Season 1, he told Boardroom that he was more so intrigued by how far some of the conversations on the show went.
"I didn't anticipate a lot of the guests being as open and comfortable as they were," Ahrii Shumpert told Boardroom. "I was surprised by how we could get certain answers or stories out of people that they haven't yet shared on other platforms. That was my biggest takeaway."
Going into the second run of the podcast, Iman Shumpert told Boardroom that he and his brother are much more comfortable and acquainted with the flow of the show, so it's easier for them to get creative and playful with the production of it. Boardroom recently chopped it up with the duo about what's to come in Season 2, the NBA playoffs, and much more.
Iman Amongst Men, Season 2
Iman and Ahrii Shumpert are determined to create an organic vibe on their podcast, so it's only fitting that they brought Hit-Boy in to kick off the second season. Ahrii Shumpert said he was most excited to learn about Hit-Boy's deep knowledge of different musical genres. The brothers rifted with the notable producer about everything from making beats to how he connects with artists and how he goes through his creative process.
"I didn't realize how freely he creates his music; I thought it was very strategic and organized," Iman Shumpert said about Hit-Boy. "The way he got on the podcast and explained it, he stays in his own world, but he's never opposed to inviting somebody in and letting them sprinkle whatever is helpful onto his creative construct."
When the former NBA champion and his brother are preparing for the new show, they often sit down with producers and do some deep research on each guest to come up with a question list that highlights the bright spots on their life journeys. Iman Shumpert said one of the cool things about the show is that since he and Ahrii Shumpert are both fathers, they often get the opportunity to open up talks about family dynamics.
"Once that family aspect gets brought to the table, it's kind of hard not to open up," Iman Shumpert said. "Those are the biggest smiles we see on the show every time we enter that family discussion. That's a big aspect of what everyone comfortable."
The Iman Amongst Men Season 1 guest list included Matt Barnes, JR Smith, Jacob Latimore, Nick Young, and many more. Much like its inaugural kick-off, Season 2 of the show will welcome more big names across sports and culture, including Christian Combs, Miles Brown, and LaRussell. Uninterrupted will announce more guests over time, and we may even see the brothers in action live again following their in-person recording during the 2023 NBA All-Star Weekend. Iman Shumpert said he'd even like to take the show on the road to bring Iman Amongst Men to new markets and new audiences.
As for dream interviews, Iman Shumpert would love to eventually see Kyrie Irving, LeBron James, and Carmelo Anthony on the show. Ahrii Shumpert wants to sit down with Michael Jordan, his father, and two other brothers.
"Bringing the rest of our family on would give a good insight into how we are the way we are and why we make the decisions that we do," Ahrii Shumpert said about wanting to have the men in his family on the show. "You'll be able to see the lineage and put faces to names from the stories we tell."
Getting Vulnerable
It's Mental Health Awareness Month, and Iman and Ahrii Shumpert are known for being proactive advocates of normalizing therapy. The brothers are continuing to use their platform to push that message, which is about showing up authentically and putting an honest foot forward when addressing your mental health. Ahrii Shumpert said he is most excited to see the show become a safe space for guests to come unload, similar to a therapy session.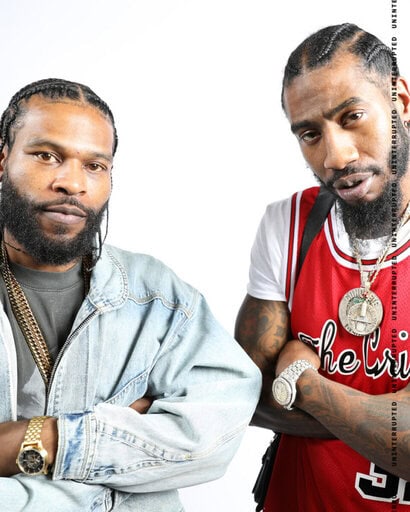 "I try to do it as naturally as possible by pointing at me," Ahrii Shumpert said. "I just started therapy, and I have a realistic approach to it. I'm looking at myself now to try to be an example on the show that this does help, and this can be something that you can participate in."
Iman Shumpert said Season 1 of the podcast taught him that a lot of men are leaning into therapy, and it's made him more aware of the resource.
"I'm more open to it, and I'm able to talk about it because before, I didn't have the most positive outlook on people bringing up the subject of mental health," Iman Shumpert said. "I've always been taught to be very strong-willed and consider everything as fair when it comes at you. I'm more aware that people are dealing with a lot of different things, a lot of different traumas, and it's okay to ask for help. It's also okay to sometimes not be ready to ask for help but want to talk about it in a comfortable setting. I'm happy as hell guests are finding me and my big brother's show as a comfort to open up about mental health."
Ahrii Shumpert said he and his brother are able to make the show more personable because they are aware and able to crack open conversations on difficult topics. They said Iman Amongst Men will live on for as long as they want to do it. Iman Shumpert said he always envisioned creating a podcast with either his brother or father because they are all consistently having deep discussions about life.
"This gives me and my brother time to have conversations that we're having," Iman Shumpert said. "We may not always stick to a script, but our everyday conversations are the reason why this podcast was birthed anyway."
Ahrii Shumpert doubled down on what his brother expressed.
"As long as we're willing to have these conversations and people are willing to listen, we're going to keep having them," he said.
Hot Takes
Iman Amongst Men is anything but a sports podcast, though the brothers often welcome athletes and most notably, basketball stars. Iman and Ahrii Shumpert both spoke on the current state of the NBA in the midst of playoffs and shared some hot takes on how they want to see this season conclude.
Iman Shumpert admitted that his predictions are a little out of whack since Phoenix Suns guard Chris Paul got injured. The NBA vet said he's used to seeing certain teams advance every year during the playoffs, but this year has been a bit unpredictable, so he's reevaluating his predictions.
"I had them getting a chip, man," Iman Shumpert said about the Phoenix Suns. "Well, I had them getting a chip if they could get past Milwaukee, then Milwaukee do that to me. Milwaukee decided to say, ya know what, 'Jimmy Butler is a little scary when you look at him in the eye.' … He did the damn thang. I gotta see a couple more games, then I'll have a new prediction."
Ahrii Shumpert said the current NBA playoff landscape reminds him of college basketball and tournaments since we're seeing so many upsets and unpredictable outcomes. He feels like there are no bad teams right now and he's eager to see how this second round of the playoffs shapes up in the coming days.
"The Knicks are really surprising me. I'm really happy for them, but at the same time, I am flabbergasted and surprised," Ahrii Shumpert said. "I didn't know these people were capable of this. I like it. It's not comfortable; it's really up and down. Energy is everywhere."
Ahrii Shumpert also said he expected the Bucks and the Denver Nuggets to walk to the championship round, but that won't be the case for the Bucks, at least.
"Them boys better run fast, they ain't finna walk nowhere," Iman Shumpert playfully said back to his brother about any team breezing through to the finals.
Iman and Ahrii Shumpert have a lot more to say about the NBA Finals, and they are especially eager to see who will snag the Finals MVP accolade. As for the future of their podcast, the brothers hope viewers and listeners can appreciate how they have advanced the brand since Season 1.
"I think it's a lot more upbeat. This second season just feels a lot more lit," Iman Shumpert said. "All the guests we've selected just have a cool energy to them, and they are more eager now that they've seen the show and how it is. There is a lot more laughter, [and] a lot more champion stories. I think we've had some hardship stories, and Season 2 seems like everybody is in a good season of their lives. It's super special that they look at me and my brother as people they want to come and share their stories with."
More Podcasts:
Boxing's pound-for-pound king got candid about how money really flows through the fight game on Boardroom's "Out of Office" with Rich Kleiman. When the subject turned to the messy, chaotic business of boxing, Terence…