IBM, The Masters' digital partner for over 25 years, is leveraging artificial intelligence to launch a series of new digital experiences across the tournament's app and website.
In 2023, IBM is evolving the digital experience at The Masters once again with two new features on the official Masters app and website powered by artificial intelligence technology.
Ahead of this year's annual golf tournament at Augusta National Golf Club from April 6 to 9, IBM and tournament organizers announced the addition of AI-generated spoken commentary and hole-by-hole predictions that patrons can tap into on the IBM-powered Masters app and Masters.com. This is a significant advancement since IBM became The Masters' official Global Technology partner more than 25 years ago when it spearheaded the tournament's first official website back in 1996. IBM is known for its software, consulting services, and hybrid cloud infrastructure, and the company pulls all of its expertise to bring The Masters' digital experiences to life.
"For more than 20 years, IBM and The Masters have partnered together to create custom solutions that improve the user experience and capture the attention of millions of golf fans globally," Jonathan Adashek, IBM SVP of Marketing and Communications, said in a statement. "We're applying the same hybrid cloud, AI technology, and IBM Consulting services that we use with clients across industries to bring an elevated digital experience to one of the most iconic sporting events in the world."
This reporter was fortunate enough to see IBM and The Masters' evolving partnership up close and personal during the lead-up to this year's tournament.
The IT leader showed members of the press the Masters Content Center, an on-site data house where the IBM Consulting and Masters digital divisions work side-by-side to monitor data flow coming from the course. Though these teams that make it possible collaborate digitally for months ahead of the tournament, the Masters Content Center is actually only operational for approximately one week out of the year around The Masters in order to deliver an authentically state-of-the-art experience for fans.
Here's a short breakdown of The Masters' new IBM AI offerings on its app and website for 2023.
Sign up for our newsletter
AI-generated commentary
The AI-generated spoken commentary is an expansion of The Masters' MyGroup feature on its digital platforms and permits patrons to watch every shot on every hole from every player in the tournament. The AI commentator produces detailed golf narration as the action plays out; instead of just watching in silence, patrons can now hear what's happening on the course from one voice.
The AI commentator uses the "American Henry" voice first used in MyGroup on the Masters app, which is a fun nickname for the AI voice commonly used on the app. The analysis will be different from what you might hear on TV, as "Henry" can switch up its responses with varied sentence structure and vocabulary. For patrons like me who like to watch their content with captions, users will also be able to see closed captioning alongside the AI commentator. This new IBM AI solution will be able to narrate more than 20,000 video clips during the tournament just like this:
IBM Consulting's experience design partner, IBM iX, worked with The Masters' digital team to train the AI to deliver authentic golf talk. The new feature leverages IBM Watson's Text-to-Speech function, an API cloud service that can transform written text into natural-sounding audio. This language model is similar to popular AI chatbots like ChatGPT and is equipped to deliver an announcer-level broadcast performance.
Hole-by-hole player predictions
Patrons can project a player's score on each hole at The Masters with hole-by-hole predictions powered by IBM AI. The IBM Consulting team worked with AutoAI in IBM Watson Studio, a data science-focused software platform developed by the company, to train AI models using six years of Masters data, including more than 120,000 golf shots from hundreds of players — and this new AI solution will continue learning after completing a given hole.
The hole-by-hole predictions are updated for each golfer after completing a hole.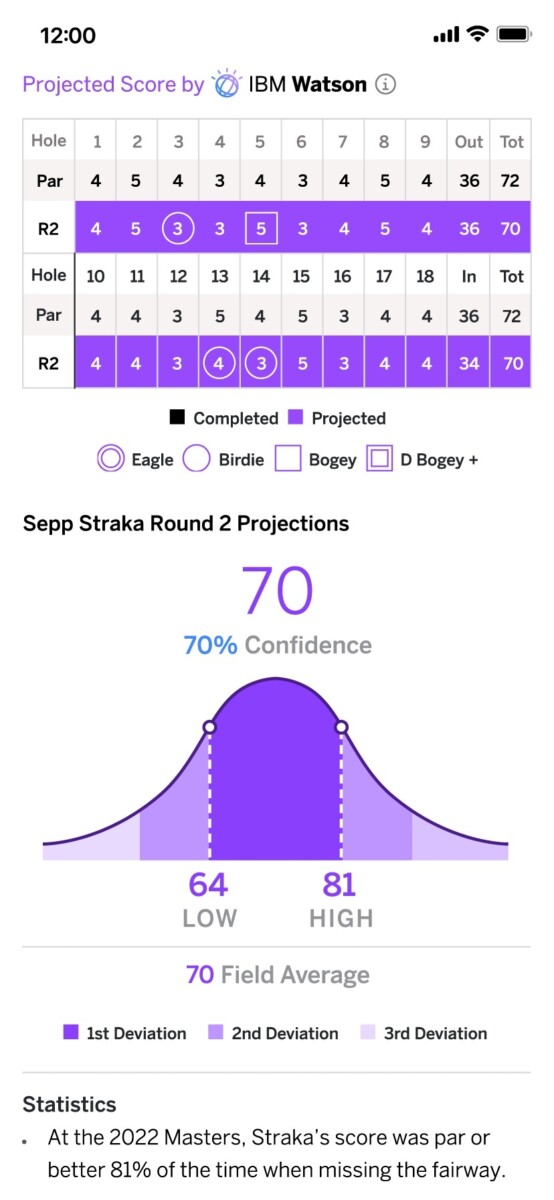 This year's new offerings additionally include the latest expansions to The Masters app and website's Players Insights and Masters Fantasy Projections feature. This advancement in scoring predictions will help patrons better predict how well a player will perform in the tournament — these new AI-powered tools will be a boon for patrons who are already active golf bettors or fantasy players.
Out on the course, your favorite pairing may be Tiger and Rory. It may be Scottie and Rahm. But if you're here for a golf experience that truly taps into the cutting edge, your best bet is IBM and The Masters.
More Golf:
This article originally appeared at FanDuel research Lock in for Team USA vs. Team Europe with a big 2023 Ryder Cup prediction, plus the latest betting picks and insights for the big event in…