Actress/writer Danielle Nicolet and CEO Thai Randolph shared an exclusive conversation with Boardroom about women in the comedy writing and production space.
Black women have always been asked to submit, dim their light, assimilate to Eurocentric ways of life, and somehow maintain cheer and good mental health all while toning down their Blackness. While we as Black women know that we are the most unprotected and disrespected of them all, as brilliantly stated by Malcolm X, comedian and mogul Kevin Hart's media and production empire, Hartbeat, is creating a safe space for us as creatives to allow our light to shine unapologetically through television and film.
One of its latest developments? Black Karen.
Originally directed by Meagan Good (Amazon Prime Video's Harlem, DC's Shazam! franchise) as a short, Hartbeat inked a developmental deal with Danielle Nicolet (The CW's The Flash) to write and executive produce the film which was created through Hartbeat's comedic screenwriting fellowship, Women Write Now. With Hartbeat producer and Head of Film Candice Wilson Cherry set to serve as executive producer, Black Karen follows the story of Karen Johnson (Bresha Webb), who struggles with an internalized anxiety battle and takes matters into her own hands by adjusting her lifestyle to that of her Caucasian counterparts in an effort to stay aligned with the "woke" world around her.
"A 'Black Karen' is what you make it. I think that that's different for all of us," Nicolet, who was among the inaugural 2021 class of fellows to go through the Women Write Now program, exclusively told Boardroom. "In the context of our film, my intention is for a Black Karen to be one of us who has been moving through this world, trying to make it under a set of rules and culture that we did not devise, and getting to a place in life of empowerment where our Black Karen ultimately realizes that the way to be strong, the way to be a badass, the way to get what you want in the world is not by proverbially behaving like a white lady would — it's by being your most badass Black self."
Sign up for our newsletter
In complete support of Nicolet's adaptation, Hartbeat CEO Thai Randolph told Boardroom that because of Women Write Now's mission to support Black women in the comedic writing space, Black Karen was not lacking for alignment as it related to production and vision.
"Black Karen was such a specific perspective and I think so many of us could resonate with the microaggressions and level of entitlement that often escapes or evades us," Randolph told Boardroom, specifically singling out Nicolet's work for praise. In addition to the script itself, Randolph noted the writer's ability to flip concepts of privilege and entitlement on their heads while keeping the story grounded in the often severe context of the real world. Walking the fine line of comedy in doing justice to these themes was always going to be a high bar to pass.
"It's something that deeply resonated in some ways. It was pulled right out of [a] headline and it was a scenario that so many of us had imagined, and she did it in a way that did not feel preachy at all. For [Hartbeat], it worked so well and it was so massively well-directed by Meagan and so well-acted by Bresha Webb that it felt like a story that needed to be told in a broader context and a longer format."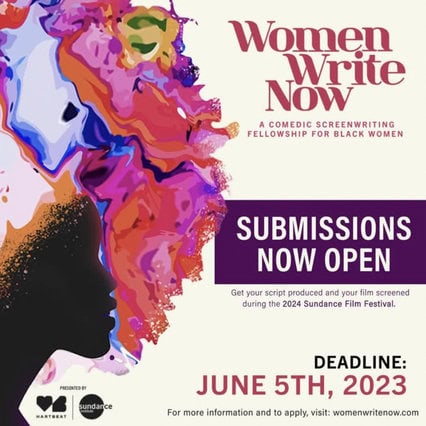 As if there weren't enough to celebrate with the Black Karen adaptation, Hartbeat has officially announced its Year 3 submissions for the Women Write Now fellowship, which will give three talented writers, as selected by an award-winning panel of industry executives, filmmakers, partners, and innovators, the opportunity to immerse themselves in a script-to-screen fellowship to develop short comedic scripts while being advised and mentored by some of the most influential Black women in comedy. 
In partnership with Hartbeat and the Sundance Institute, Women Write Now is specially designed to champion and elevate the voices of historically underrepresented Black female comedy writers through a fellowship that provides mentorship, advocacy, production, and exhibition.
"This is really about accelerating the work and the careers of talented and deserving Black women in comedy, both as directors and writers," Randolph said.
From The Haves and The Have Nots actress Tika Sumpter to titular Black Karen star Bresha Webb herself, Randolph continued to emphasize just how Women Write Now affords inexperienced writers the opportunity to sit in the director's chair to work with esteemed, capable performers in order to bring their projects alive through immersive workshops and mentorship. From copywriters and production assistants to screenwriters with MFAs, Randolph has seen all types of applicants work their way through the system and inevitably finds it difficult to narrow down to the fellowship's three final selections.
These three scripts are to be directed by high-profile Black female directors in partnership with Hartbeat and will be staffed above- and below-the-line by traditionally underrepresented talent, with premieres set for a special screening during the 2024 Sundance Film Festival; the finished products may be distributed by Hartbeat and its partners for a broader release as well. The selected writing fellows will also receive a 12-month first-look deal with Hartbeat to submit original projects for consideration for both production and distribution with the company going forward.
As a proud member of a previous Women Write Now cohort, Nicolet noted the importance of mentorship in the entertainment space, within which the selected three women will receive a plethora of resources provided by both Hartbeat and Sundance.
"It's a beautiful thing to be able to bring your loved ones along into a circumstance where you are experiencing success, and then you have the opportunity to share that and to shepherd others along with it," she said. "That's something that historically throughout all industries has been really prevalent. For our industry specifically, it's been really lacking for people of color across the board with women of color being the last in line," she admittedly expressed about the importance of mentorship."
As a Black woman from the small town of Ashtabula, Ohio, Nicolet can attest to the importance of getting to know folks in rooms that you can't typically get into if you're meaning to climb the ladder of success in the entertainment industry. While there are unspoken rules and regulations to any and every aspect of the entertainment business, she noted the specifics of navigating through the acting world if you've never had anyone in your close quarters to guide you through the do's and don'ts.
"This a really tough row to hoe if you don't know anybody. There's unspoken rules to being an actor that nobody ever explains to you unless somebody explains 'em to you. Same thing for writing," the Central Intelligence co-star said. "There's unions that you have to get into that are designed to be really hard to join because this is an industry that affords the opportunity to have great success. Having mentors in this business, opening the doors up to people like myself, I can only imagine how much safer I would've felt to do things like be funny and to write. This whole business is a mystery wrapped in an enigma. You need someone to just tell you how you do this."
Boardroom exclusively caught up with Hartbeat CEO Thai Randolph and actress, writer, and producer Danielle Nicolet about the positioning of Black women in the comedy writing space, how comedy can do a better job at supporting women within the genre, as well as how Hartbeat Productions puts women at the forefront of its efforts through its projects.
D'SHONDA BROWN: Dani, how important is it to not only tell these stories, but include elements of comedy as well?
DANI NICOLET: For me, comedy is the most efficient path to change. I really think that people don't respond well when you bash them over the head with something. Nobody wakes up in the morning thinking, 'Gee, I'm incredibly wrong about the way I think about something, or the way I view things politically or personally or within my family.' Everyone just wants to feel as though they're okay. When you tell someone, 'You're wrong, you need to change, you need to be different, and you need to see it the way that I see it,' I don't think that that goes over so well, but I think comedy allows people to loosen up, laugh at a circumstance, and if that comedy is well-written and well-performed, they might find themselves rethinking something later on. Or, they might find themselves suddenly comfortable with a visual or an experience that they wouldn't have otherwise been because they were laughing through it. For me, that's the best way to effect change.
DB: And why is it important to not only have Black women like Bresha Webb star in these films, but also have Black women behind the scenes in the director's chair and executive producing like Meagan Good and Candice Wilson Cherry?
THAI RANDOLPH: Look, it's critically important for us to own our image and to own the narrative. Women Write Now — the name was very intentional. It was about an urgent call to action to rewrite a narrative from our perspective specifically around women in comedy, but more broadly around Black women and our place in the industry.
You sort of turn your head in any direction and you see some brilliant Black woman you know who's creating content and telling universal stories from their perspective, whether you're talking about Shonda Rhimes, Issa Rae, or Quinta Brunson. If you listen to any of them talk about their plight and what it took for them to get there, we wanted to add more voices to that chorus and hopefully make that an easier plight in a wider road that more of us can get through. It was very important for us and, and the co-founders of this program because we sit in these seats and we have greenlight ability and we have the opportunity to provide advocacy and sponsorship, we felt a responsibility to do so.
DN: I was just having this conversation with Candice Wilson Cherry yesterday and I was saying to her that I really got clear on the effect to which my Blackness affects my job and, and how I'm received in my industry. When I was very young, I was new and I didn't know what I was doing, I was on a set and I did what anyone should do, which is observe the behavior of the people around me and look at the ones who are successful and then emulate that same behavior thinking that I would get the same results. I learned very quickly that I did not necessarily get the same results as my white counterpart on a film set. That experience is such an unspoken and incredibly common experience amongst Black women in particular.
I mean, I could go into my personal theories about why it affects women more than men, and I think that men perhaps receive a more overt level of racist aggression in our society, but I feel like Black women, we get it real low-key. We get it in a way that kind of is always telling us, 'Well, maybe you are crazy,' and no, we're not. We're receiving these microaggressions at different levels from all these different directions, and having other Black women around as producer, writer, and directors, it only informs the piece because everyone has something legitimate to say.
There's no note on this script that I find unwelcome because everyone has had the same experience as me, and we're all working together to find a way to share this experience in a way that we can all laugh at because we relate to it. It can be communicated to those who maybe don't even realize that it happens, or that they're the people who are doing it. It creates not only this protective bubble creatively, it also ensures truth and value and groundedness in the material itself because we all have something very legitimate to contribute to it. It's like all of the creativity is from the inside out on this as opposed to the outside in.
DB: How do Women Write Now and Hartbeat Productions prioritize Black women and female-identifying comedians, not only during, but before and after Women's History Month?
TR: We are a Black-owned, women-led company. We're about 75% people of color in terms of the composition of our organization; a little over 50% women. Even with our orientation, we know that women in comedy can often face an uphill battle, so we're always looking to celebrate and amplify women across all of our platforms audio, digital film, TV. That, for us, is 360 initiative and perspective across our entire platforms, across the whole enterprise and it's something that we think about every day.
I think that it's so important to have women and Black women in leadership, but overall for any group to really have representation in organizations because what happens is that then, the plight of those communities to which those folks subscribe, they don't get forgotten. For myself or Candice Wilson Cherry, for Tiffany Brown, our VP of [Television Development], we're constantly thinking about how we move the needle further for women in this industry.
DN: I have chills even being asked that question. Hartbeat puts its money where its mouth is. There's been a lot of movement in our industry over the last few years. A lot of recognition from studios about where their shortcomings were in terms of diversity and inclusion — Hartbeat is 100% with all of it. It's not just, 'Oh, we have a program and good for you. You learned this thing and now go do your thing.' The women that run this company, and I have been so fortunate to continue to work with, not only are they kind and generous of spirit as people, they're very aware of how challenging it can be to succeed. Particularly when you're someone like me who's already an actor and I'm pivoting into something else, I'm expanding into something else.
I genuinely did not believe that I could do it until I met these women who said, 'Oh no, we are gonna help you take the shackles off yourself. We are gonna help you re-identify yourself as a writer, and as more than even you think that you can be.' I'm forever grateful for it. I will never forget crying at the party that we had for the first year of the Women Write Now Fellowship when I looked around and I saw all of these incredible women that really want other women to succeed. There's not been one second of this process where I didn't feel supported and I've never felt that in all of my years in this business. I've never felt truly, genuinely, and completely supported. I've never felt like I was surrounded by people who wanted me to succeed and I feel the same level of passion towards them.
DB: How have you seen Kevin Hart personally champion for women, especially Black female comedians, and the executives who are part of the Hartbeat brand?
TR: You can hear someone's mouth, but then watch where they put their money and he is invested in his time, his attention, his money in an organization with such strong female leadership across the board. What I'm probably most impressed about is the diversity of our group and not just in terms of gender split, but the age ranges, the nationalities, and the races across [the company]. We really are committing to this idea of being and building a diverse biodesign organization and both creating with a creator base and then developing content that is truly representative and inclusive. Specifically how he's leaned in with women, if you know Kevin, you know how he's championed so many amazing female creators. We produced London Hughes' first standup special and he got behind that.
He's been a huge champion of and partner to Tiffany Haddish in the industry, Amanda Seales, the list goes on. I think it's been one of those things where it's not about just standing behind women, it's been about organizing around talent. The fact that I'm in this chair and I joined Kevin on the Laugh Out Loud side as his SVP of Marketing for the company before our merger — I reported to [President & Chief Distribution Officer] Jeff Clanagan and the two of them have been huge champions of my career.
I think since I've been here, I've probably been promoted four or five times. When I was appointed CEO, Kevin asked me to make sure that my experience here was the rule and not the exception. I feel a responsibility to create opportunity, a responsibility to create career mobility, and not just for women, but anybody who walks through this organization. We're trying to be very deliberate about evening the playing field while creating content that makes folks feel good, allows us to drop our shoulders, and that ultimately serves our vision and mission, which is to keep the world laughing together.
DB: Speaking of keeping the world laughing together, obviously a lot of people say to laugh to keep from crying or laughing through our pain. How can entertainment, specifically comedy, can do a better job to support women and especially Black female comedians instead of just, say, laughing through our pain all the time?
DN: I think we're making strides. I am sitting here in this conversation with you as a tremendous example of it. I think the number one way we do it is we have women be more active participants in it. We've been trying to overcome this notion for so many years that women aren't funny and female comedians [and] female writers have been trudging through this particular minefield for a long time now. We're kind of just starting to be on the other side of it. As often happens in our culture, Black women tend to be the last ones who make it out of the rubble and I think ultimately for a long time, funny women had to focus real hard on making men laugh in order to disprove that notion.
I feel like where we're at now, or certainly where I want us to be, is about making everyone laugh. It's a combination in entertainment of men watching women be funny is why men think women are funny now. There's just been this wall that's up. The more women that are producing comedy specials, the more women that are producing comedy film and comedy television, the more that wall comes down. That was a false wall. That was a wall that was built of sexism and misogyny — it had nothing to do with the comedy that we were all writing, producing, performing. It was too big to keep the room small.
I really believe that, as with most things in life, the way you fix a problem is [to] involve women. We tend to make things much, much better.
DB: How can we continue to hold the entertainment industry accountable as far as amplifying, supporting, and truly championing Black women?
TR: I may sound like a broken record, but so much of this, I believe, comes down to the composition of the organizations. As long as folks feel like diversity and inclusion on any level is an act of goodwill and not a business imperative the for future facing their business, then it's gonna feel like an initiative that will sort of be in and out of style.
For us, our mission is to keep the world laughing together. The world is 80% people of color, 51% women, but to serve our global mandate, it is imperative that we have a very diverse organization. It is imperative that the images that we put forth a diverse because that's the only way to meet our business goals. We don't feel like we're doing anyone any favors, even with Women Write Now.
Yes, we saw a need in the industry, but we're really commercializing our efforts. We are cultivating collaborators in these writers and directors who we plan to go on and make great content and great commercial output with. I think in order to hold the industry accountable, you have to design organizations that can hold themselves accountable and that give folks the opportunities to see something, say something, do something right. Comedy still can be a bit of a boys' club even as we sit in this seat, particularly when we're talking about the writers' room [and] particularly when we're talking about director's chairs and what is within our scope to change.
"It comes from a place of passion and perspective. What happens on screen is often a direct reflection of what happens in the boardroom and in corporate offices. I really focus a lot of my attention and advocacy on championing diversity in corporations because when empowered executives from diverse perspectives are in these seats, they have the opportunity to make change."
TOP ENTERTAINMENT STORIES:
Caffeine has become a thriving hub for live battle rap and the underground MCs who have become certified streaming stars. The digital age has seemingly given new life to the underground rap space. From…