A Marshall Mathers sneaker rarity from Nike is finally available to the public, but there's a catch — a pair will run you a cool $50,000.
Years before Air Max technology had its own holiday, the atmosphere around retro running was changing.
At the tail end of 2005, Nike began to roll out the History of Air collection. Ranging from 1987's original Air Max 1 shoe to the recently released Air Max 2003, the Swoosh readied the world for the all-new Nike Air Max 360 by bringing back the classics.
To add energy, an array of unreleased samples were seeded to celebrities. At the top of the list was Eminem, the red-hot rapper with a long-lasting love of Air Max. While Marshall Mathers rotated retro Jordans and other oxygen-assisted favorites at that time, Nike found it right to send Shady Records their own rendition of the coveted Air Max 97.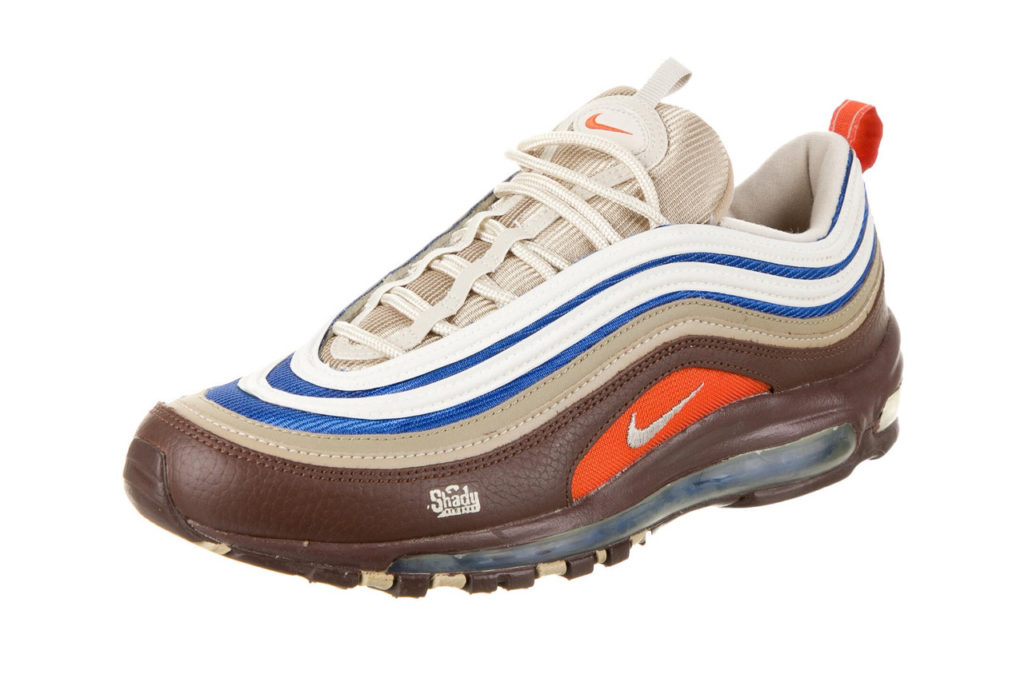 Blessed in brown tumbled leather with a taupe tongue, orange accents, and blue underlays, a run of only eight pairs featured Eminem's imprint subtly stamped on the toe box. In many manners, the earthy palette provides Nike ACG vibes, notably nodding to the Air Mowabb model.
Interesting enough, the original Nike Air Max 97 was designed by Christian Tresser who now works with Kanye West on the Adidas Yeezy brand.
Famously, this pair was a part of a "Charity Series" of Air Max retro runners designed with Eminem in mind. Though unreleased to the public, pairs were auctioned at the time with proceeds benefiting the Marshall Mathers Foundation.
Since hitting the Shady Records seeding list and auction block in 2006, only the savviest of sneakerheads have been able to see a pair in person, let alone buy them.
"Most people didn't even know they existed," veteran kick collector JD Beltran told Boardroom.
While Beltran once owned the unreleased Air Max 97s – and eventually tracked down the entire Marshall Mathers x Nike Charity Collection at that – he eventually sold his pair to take his cousins from Columbia to Disney World.
Though the altruistic attitude of the ultra rare shoes played out full-circle for Beltran, he's seen prices for Eminem exclusives skyrocket in recent years.
"Some of the pairs I bought had the original certificate of authenticity from the Marshall Mathers Foundation," Beltran shares. "At that time, the most someone paid was like $1,000. When I bought them, it was for as low as $300 and as high as $2,500. I made money off of all of them down the line, but it's crazy how much sneakers have appreciated over the last five to ten years."
Today, that proves pronounced as The Real Real has listed a size 10 of this Eminem rarity for sale at a very premium price.
Coming in at a whopping $50,000, the unwearable pair (due to old age, plain and simple) is the ultimate display piece for fans of Marshall and Air Max aficionados alike.
Beltran sees the pair going for a much lesser number, but notes an artist or athlete of the right esteem could cough up the coin for these incredibly hard to find shoes. Perhaps PJ Tucker?
While the size 10 won't fit the Heat forward, the shoes speak to the chase him and so many other purists live for. After all, both Beltran and Tucker know firsthand how hard it is to find any Air Max model or Air Jordan collaboration connected to the Detroit MC.
"At one point, the marketing director at Shady Records was like, 'Dude, you have more of Eminem's shoes than anyone who works here,'" laughs Beltran.
The only exception? Marshall Mathers himself.
Much like Em's exclusive Jordans worn on stage at the Super Bowl, this premium pair isn't one you'll see in stores anytime soon.
Sign up for our newsletter