After over a year of teasing, Drake's debut Nike sneaker arrives March 3. From its unlikely origins to its influencer-driven hype, let's explore all the pivots behind NOCTA's newest shoe collab.
Drake doesn't believe in off days.
Despite posting Instagram photos from exotic islands, the Toronto rapper remains grounded in the grind. His feet may be in the sand. His head may occasionally be in the clouds. But his mind is on the money and his heart is in the studio.
Boasting more slaps than The Beatles, Drake's 15-year run has been more so a never-ending sprint than a marathon. As Montreal-based blogger and advisor Nation once recalled, Drake turned in his magnum opus, Take Care, at the release party for his debut album, Thank Me Later.
It's rare for the artist-born Aubrey Graham to go quietly, and it's simply because he never stops working.
That's why the August 2020 release of "Laugh Now, Cry Later" was no surprise. Coming just months after Dark Lane Demo Tapes and weeks after a pair of DJ Khaled singles, it appeared Aubrey was officially in album mode.
What was surprising, though, was the setting of the music video for the assumed Certified Lover Boy appetizer: the Nike HQ in Beaverton, Oregon.
In the video, the rapper is dripping in commercial appeal. He doubled down on his Swoosh sponsorship by going one-on-one with Kevin Durant, running routes with Odell Beckham Jr., and most meme-ably of all, shutting down the infamous employee store.
Though the stacks of boxes and big-time athletes stole the show, the detail-driven Drake used the clip to sneakily preview his first formal Nike sneaker.
Certified Posterboy
The white shoes shown in the video are known as the NOCTA x Nike Hot Step Air Terra. The decidedly 2000s casual sneaker is right on brand with the two stewards of Drake's style.
NOCTA, Drake's signature Nike line, leans into Stone Island aesthetic through tasteful tagging and tactile fabrics. Previously released bright yellow bubble jackets are more Belly than ACG in flavor — branded bluntly and bold in hue. Conversely, the Hot Step itself elicits the vibes of the Y2K kicks copped at Foot Locker and often cozily paired with Sean John sweatsuits.
This same sentiment is shared by the creatives who cultivated the shoe. The Hot Step Air Terra is inspired by Drizzy's love of early-2000s Nike Basketball product.
While the Hot Step Air Terra affectionately looks like it's meant for the mall, it's actually suited for scary hours. GQ's Cam Wolf notes that NOCTA references Drake's nocturnal creative process, on par for the man who stays in the studio with the same focus that his athlete peers possess in the gym.
A semi-rugged outsole and 3M hits offer a slight sense of utility as a nod to NOCTA's mission of after-hours excellence across all climates. Recently, NOCTA's already angled Nike collections were tied to golf and outerwear.
With the first formal shoe, Drake's backers at Nike are relaying the same message of malleability expressed through relaxed nostalgia and meaningful wearability.
"The first signature shoe from NOCTA perfectly blends the ethos of the brand," teases Nike on their SNKRS platform. "The design effortlessly weaves together retro Nike familiarity, unparalleled comfort, functionality, and a minimalistic, yet subtly aggressive design. The mix of premium pebbled leather, 3M accents, and G-TEK traction technology make for an everyday staple that offers a comfortable ride and ample support."
And while Drake finds his footing at Nike, it's worth appreciating that the shoe and the partnership are actually the result of a famous misstep.
Pivot Step
As the legend goes, NOCTA was never supposed to become a Nike sub-label.
Drake had an Adidas deal on the table in 2018. Following the expiration of his Jordan Brand partnership, the T. Dot chart-topper was working with Kanye West on Scorpion while readying rollouts for both music and apparel. Infamously, secrets from Drake's personal life were passed on to the Kanye cohort and fellow Adidas endorser, Pusha T. Embattled in beef for years, Push dissed Drake in 2018's "The Story of Adidon" that publicly revealed Drake had a son. Taken all together, it deaded Drake's deal.
And rather than bring a Drake x Adidas Adidon line to life at the 2018 World Cup, the rapper took a swipe at his would-be sponsors on a bigger stage.
Cutting down the Three Stripes on Nike boy Travis Scott's massive single "SICKO MODE," Drake's declaration of "checks over stripes" was not only cutting; it was catchy. Quickly, Instagram captions became the place to present party alignments for fans of Drake — who had been converted by him to Nike — through his bold bar, destroying any idea of the Adidas Avengers that could have been.
While Kanye and Drake have recently reconciled, and both Adidas Yeezy and NOCTA Nike are earning, the Hot Step Air Terra ups the ante.
Taking inspiration from the same era that Jay-Z honored the Gucci Tennis 84, Drake too turns back the clock two decades with his first shoe.
At Jordan Brand, Drake released limited collaborations on retro models to much success yet never saw a signature shoe of his own. At Nike, he effectively receives that with the Hot Step Air Terra. Less loud than its contemporaries from Pharrell or Kanye at Adidas — or Nike and A Bathing Ape, for that matter — the aesthetic, simplicity, and star power see something closer to Hov's S. Carter line at Reebok.
As Drew Hammell notes, the Hot Step Air Terra lifts the hiking sole from the turn of the century Nike Air Terra Humara 2.
Registering as sub-surface as a Jon B sample, an archival Eastbay catalog cites the original Humara sole as "inspired by mountain goats." In 2022, the same sole graces the feet of rap royalty and elite athletes on stage and in-tunnel. For an artist who appeals to masses of millennials and Gen Z fans alike, the mix of nostalgia and novelty is on-brand.
However, how many pairs Nike produces and how many fans are willing to spend money is the true test.
Playing for Position
The NOCTA x Nike Hot Step Air Terra is built off juxtaposition.
While Drake claims the snowy terrain of Toronto as home, the shoe's campaign was shot in the hot streets of Jamaica.
In an industry run by bold statement products, Drake's first Nike release is simple, quiet, and versatile.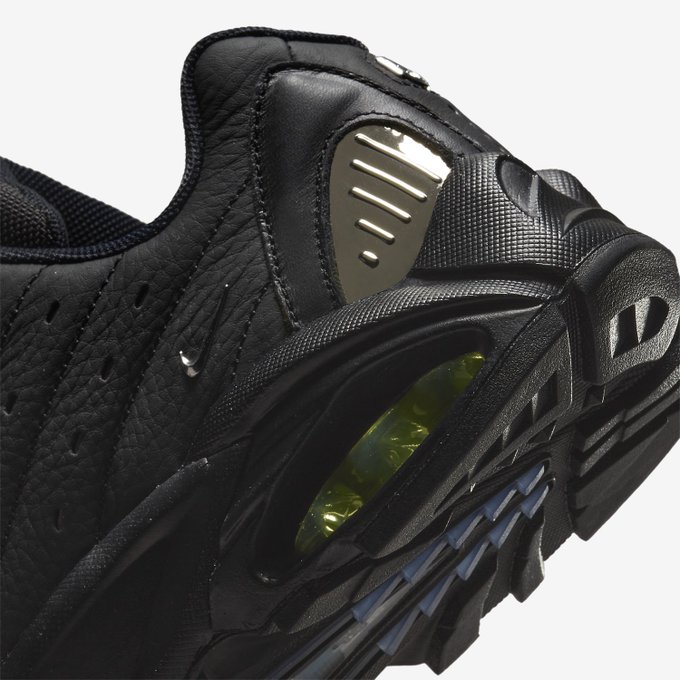 Where all this ideology comes to a head is the price.
The model's MSRP of $180 suggests a positioning play built off star power — and understandably so. Typically, a Nike sneaker with an Air Max heel unit, leather and mesh upper, and low top cut cost closer to $130. As HITC notes, Ye's comparable Adidas Powerphase Calabasas retailed for $120 just years ago. Both occupy a similar space in regard to branding and simplicity, with Drake having less clout in clothing but more tech to his shoe.
When it comes to apparel, friend-turned-foe-turned-friend Kanye has owned the space by bringing Boost to the masses at Adidas while audaciously selling t-shirts for $150 with single Pantone printing. Similarly, apparel from Drake's Nike NOCTA line is listed higher than your average Nike outerwear, yet possesses a more visible notion of function and luxury.
Based on both examples, it would appear comfort and collab cache are enough to succeed in this space.
Still, the understated nature of the NOCTA x Nike Hot Step Air Terra will be an interesting case study on how far Drake can move the needle in the footwear world.
On March 3, the execs at Nike will find out when both triple-black and triple-white pairs are released.
The sneakers are slated for a Thursday launch as opposed to the coveted calendar spot of Saturday — an ironic choice based on Drake's enduring "working on the weekend like usual" line alone. The move suggests there's a good chance the brand is testing the market on the introductory pair. Nike's SNKRS platform will stock the shoe, as will top-tier boutiques around the world.
Since debuting almost 18 months ago in the "Laugh Now, Cry Later" video, the Swoosh-stamped Drake visual has amassed over 365 million views. Much like the music video, celebrity co-signs and powerful platforms will propel the popularity of the shoe before they even hit SNKRS.
"Laugh Now, Cry Later" co-star Durant has already received and worn his pair.
To viral success, DJ Khaled has showcased his seeded pair on Instagram through an array of hilarious videos and ice-adorned galleries. Fashion, footwear, and hip-hop outlets have reshared the posts — jet-fueling the marketing for a man too big for a budget.
Beyond the promotion from Drake's fellow A-listers, Nike is betting on Drake's following of over 130 million fans on Instagram alone to support the NOCTA line as it crosses categories and debuts in footwear.
It feels like a guaranteed win. Because when has Drake ever lost?
Sign up for our newsletter