For decades, golf has provided Michael Jordan with a refuge far removed from his highly publicized professional life. Recently, it's become a growing revenue stream for his esteemed Jordan Brand.
Michael Jordan has always had an affinity for golf.
Whether popping up at PGA events as a spectator or talking about his love of the links with fellow superstar Stephen Curry, MJ is living proof that the Scottish sport is the ultimate challenge to the most competitive people on the planet.
"From a competitive standpoint, to me, it is the hardest game to play," Jordan told Curry.
Better yet, the green still provides a place for both play and business.
Though Jordan himself is famous for his fairway bets, Jordan Brand will use 2022 to cash in on golf's monster market for footwear due to MJ's well-known association with his favorite pastime.
Sign up for our newsletter
Teeing Off
Michael Jordan's early encounters with golf took place in North Carolina at the same time television cameras began to follow him.
First, it was putting contests in the dorm room hallways with Tar Heel senior David Mann, a radio, TV and motion picture major, who helped chop up game film for the rising star.
By his sophomore year, golf became a refuge for the shooting standout. Some say the flame grew after MJ's squad was ousted by the Georgia Bulldogs in the 1983 Elite Eight. All agree that later as a pro, it provided private moments of joy and competition amid his increasingly public life.
As Roland Lazenby notes in Michael Jordan: The Life, an amateur MJ got the golf bug by joining teammate Buzz Peterson, coach Roy Williams, and Carolina colleague Davis Love III on the links and driving ranges around campus.
"Buzz and I rounded up a set of clubs and some balls and got him started," Love said of Jordan's introduction to the game in Lazenby's book. "We kind of created a monster."
While Peterson and Love laced Jordan with a grab bag of golf gear, neither could have foreseen the day when Michael would be outfitting them with golf shoes.
The Turn
Over the course of his basketball career, Jordan balanced his day job of being the best player in the NBA by becoming a good golfer in his off time.
At the same time, MJ turned the dial on the world of athletic endorsements — once only reserved for individual athletes who played country club sports — by signing a blockbuster deal with Nike, only to form his own entity under the Swoosh umbrella years later by way of the Jordan Brand.
Though Michael made more money than anyone could have imagined through footwear, rarely did spectators see his Jumpman logo stamping the side of his own golf spikes.
Over the course of the late 2000s and early 2010s, that notion changed as promo pairs of Air Jordan-inspired golf cleats began to pop up on the feet of His Airness as well as longtime endorsers such as Ray Allen.
While these one-off's intrigued fans, they evaded them, too.
The seeds for change would sprout in May 2010, when then-Nike CEO Mark Parker announced a revenue target of a whopping $27 billion by the end of fiscal year 2015. This would require Swoosh subsidiaries such as Jordan Brand to extend their output to new categories.
In Beaverton, the pressure was on and moves needed to be made.
In 2014, then-Jordan Brand GM Daric Ashford made the move to become President of Nike Golf, foreshadowing an inflection point where MJ's two favorite sports would soon align through product.
This proved true in 2015 with the introduction of the Jordan Flight Runner Golf, quickly followed by the Air Jordan 6 Golf only weeks later.
Appealing to collector culture and a lifestyle love of retro, the Air Jordan 6 Golf was limited in numbers and sold out instantly, proving the potential for this dual-category crossover.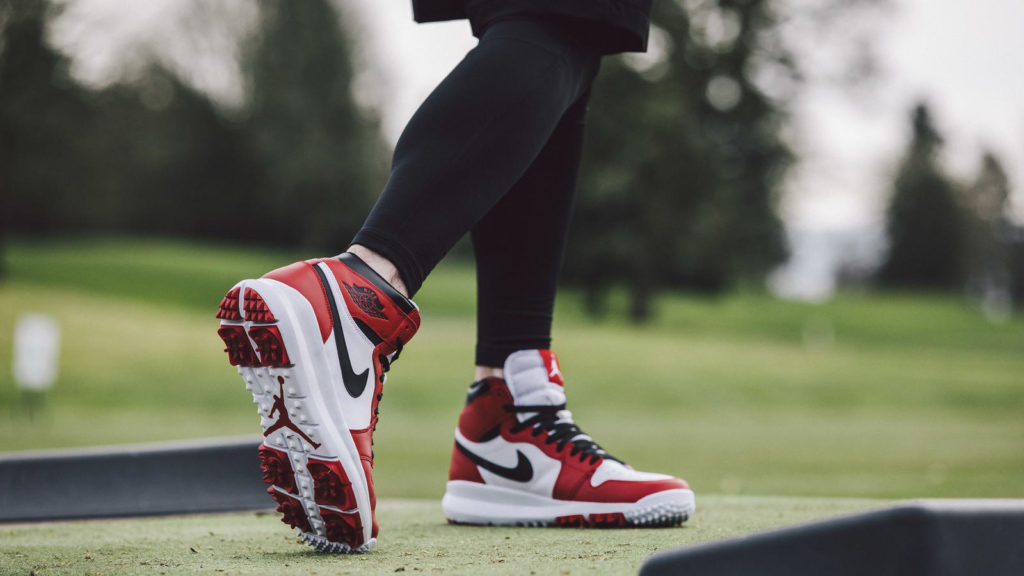 In the years to follow, Jordan Golf cleats would become a statement piece on the greens and a cash cow off of them.
Famously in 2017, Jordan Brand launched the Air Jordan 1 High Golf "Chicago" — an homage to the model and city-centric colorway worn by MJ in his famed rookie season. By retooling the silo that was already red-hot as a retro on the lifestyle market with rubber screw-in spikes, the worlds of sportswear and streetwear swept golf with this iconic launch.
"The Air Jordan 1 was the first sneaker that really pushed the limits on what was acceptable," Jordan recalled in a 2017 press release for the AJ1 Golf shoe. "It's like being a young kid, when his parents say he can't do something but he wants to do it. I felt like I wanted to be different."
Quickly, it was clear that even in golf, which has long been defined by stuffy dress codes, many amateurs and pro players felt the same way when it came to the Air Jordan 1 High Golf.
How can one be so sure? Well, despite retailing for $200 when released in 2017, pairs of the coveted "Chicago" colorway currently fetch thousands on aftermarket sites such as StockX.
This success sparked Jordan Brand to release more models tying retro hoops to the game played on grass, with Air Jordan 3, Air Jordan 4, Air Jordan 5, Air Jordan 9, Air Jordan 11 and Air Jordan 13 models reinvented with sport-specific traction patterns.
A New Approach
In 2022, it appears Jordan Brand is going back to the sport that hooked MJ, and the shoe that started it all by way of the Air Jordan 1 Low Golf.
Seen in "Chicago" styling much like its 2017 counterpart, this 2022 take sports a below-ankle build that's more commonly associated with cuts worn on the greens.
More malleable than its predecessor, the AJ1 Low Golf implements a nubbed forefoot on the model's traditional traction pad, avoiding screws and spikes.
Noting the lifestyle lens that golf is now seen through, this allows the latest "Chicago" colorway to seamlessly transition from sinking the putt on the 18th hole to ordering a round of beers at the pro shop.
While a firm release date surrounding the Air Jordan 1 Low Golf "Chicago" is yet to be set and could likely leap around due to COVID-related shipping delays, one would expect recent Jordan Brand endorser Bubba Watson to pop up in a pair in PGA action.
In the meantime, here's to hoping Buzz Peterson and Davis Love III get sent their sizes soon.
Sign up for our newsletter