The Billionaire Boys Club website boasts a digital experience hand-crafted for its fans, while Pharrell's company will also be selling commemorative shirts.
Artist, producer, and songwriter Pharrell Williams is celebrating the 20th anniversary of his lifestyle brand Billionaire Boys Club with a digital experience hand-crafted for his fans.
Along with an interactive experience, the brand is also releasing a BBC20 shirt that reveals a new logo to celebrate the past two decades. For the web program, the page will spotlight the brand's history, outline the successes, and highlight memorable moments.
"It's amazing that we've continued to evolve and inspire and create all these years and still remain true to the brand. I get so much inspiration from the world and the amazing artists around me and that's what has fueled a lot of our designs and collections," Williams told VIBE. "My eternal thanks to our community of creatives and those who have supported BBC for the last 20 years."
Sign up for our newsletter
Pharrell and his co-founder Nigo started the brand in 2003 with the goal of bridging the gap between streetwear and luxury. Billionaire Boys Club has grown into something that leads fashion through the lens of streetwear being considered purposeful fashion.
"We raised the bar in terms of what was possible and guided consumers to good taste and a deeper understanding of living in style," said Joseph Au, creative director for Billionaire Boys Club. "Nigo and Pharrell were and continue to be the pioneers. They energized and inspired a whole generation through the creation of the Billionaire Boys Club and ICECREAM in 2003. Today, we continue that trajectory and maintain that energy from the foundation of what our brand was built on."
As Williams celebrates a major milestone, he will partner with artists to collaborate on re-releases of limited-edition merchandise. The BBC20 tees are available to order on March 30 at the BBC Icecream locations in New York and Miami.
More Fashion Stories: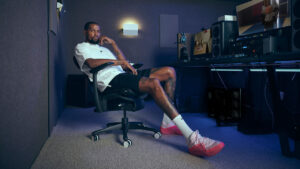 Anthony Edwards and LaMelo Ball join Durant and Curry — as well as musician Enisa — in the campaign, launched in tandem with Foot Locker's The Heart of Sneakers platform. …