Josephine & Billie's, the LA dispensary where Beatty serves as CEO, honored Black History Month with its Black Box Project — and they're only getting started.
Among the precious few events curating safe, celebratory environments in 2021, the joyous launch party for Los Angeles cannabis dispensary Josephine & Billie's stands out.
For one, the speakeasy-inspired dispensary harkens back to the "tea pads" of the 1920s and '30s, honoring traditional cannabis-infused meeting places for Black and Brown communities in a modern way. The glamorous September grand opening held just as much substance as it did style, revealing shelves stocked with a broad representation of minority-, women-, and LGBTQ-owned brands priced at affordable levels for all communities.
Three months into business, Founder and CEO Whitney Beatty is proud to report that Josephine & Billie's is already seeing regulars return for the product — as well as the welcoming vibe.
"It's not just that we feature great offerings, but we're conscious of price points that make sense," Beatty says. "Eighty percent of our store is under $50. We want people to have regular access to quality products. We know that women are more prone to stress and anxiety than men. Black women and women of color are more prone to stress and anxiety than white women, and [have] less access to medical care. That's why I think access to plant medicine in our communities matters."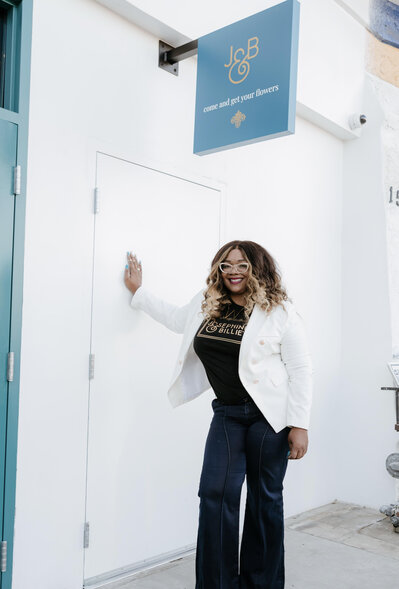 Education is also a major element of J&B's offerings. Both Beatty and COO Ebony Andersen experienced serious physical repercussions of untreated anxiety before they understood how to use cannabis as medicine, and now that it's helped them take back their mental health, they want to help others access not only the medical science of the plant but its deep cultural roots.
"I did not grow up using cannabis. Nancy Reagan told me to say no to drugs, and I believed her," explains Beatty. "It was actually my doctor who first made an off-hand comment to me about trying cannabis. I was shocked, they might as well have suggested that I try crack. But that kicked off this journey in research. where I not only learned about cannabinoids and identified my own ideal THC/CBD ratio, but I examined the discomfort I'd had toward weed and where that conditioning came from."
"I went down the rabbit hole of the War on Drugs, realizing how its effects on my 1980s Detroit neighborhood colored my perceptions," she continues. "I learned about Harry Anslinger and the racist roots of cannabis prohibition — how it was more widely used than Tylenol before that period. It changed the game for me. Cannabis became a part of my life, and it's forgotten history as medicine is an important part of our history."
Beatty and Andersen hope that J&B can be a shortcut in that cultural and botanical education, exposing customers to historical figures connected to cannabis such as Josephine Baker and Billie Holiday, and using terpenes to organize their offerings to help them better understand how to gauge different effects.
"I had to hunt down that knowledge," says Beatty. "It shouldn't be like that."
Beatty and Andersen are proactive, so it will come as no surprise that when Andersen realized Black History Month was on the horizon, she sprang into action.
At the same time, the long-awaited opening of equity licensed retailers is finally happening in Los Angeles. After actual years of legislative bottlenecks and lengthy application processes, new minority-owned stores are going live. It made sense to Andersen that a BHM effort could support their openings while drumming up more business for all.
"We wanted to do something truly meaningful for Black History Month—for the Black community, from the Black community," explains Beatty. "We often see lip service this time of year. You might see some brands put kente cloth on something, but it's not actually driving resources to the Black community. We asked ourselves if there was a way we could show solidarity with these new licensees, as well as support Black-owned brands. Ebony and I knew things were coming together really last minute, so we split up a list of people and started dialing. Every brand, every dispensary — our competitors, technically — said yes. But they aren't our competition. I want to see all of us survive."
Once they had people in place, they knew they'd need additional support to pull things off in time. Beatty reached out to a contact at Weedmaps, and they were happy to sponsor the whole project. Gorilla RX and both of Sixty Four & Hope's L.A. locations joined as Black-owned retailers carrying the Black Box: a curated assortment from seven Black-owned brands that are available for a bundled price of $49 (total value of approximately $200).
The goal was to expose customers to new products they might love and get them to visit shops they maybe haven't visited before. In other words, to generate support all the way up the supply chain.
Weedmaps' sponsorship included a dinner for all participating brands. The experience provided an unexpected — but very welcomed — facet of community-building for these entrepreneurs.
"It was amazing because we've never spent time like that together," Beatty recalls. "Sure, we see each other at industry events, but to be at this table together, 20-plus strong, in the middle of this influential cannabis city — it felt very special to be sitting at that table. It's not easy being a CEO of color in this space, and everyone at that table was able to resonate and offer sincere support. I think it will remain a very powerful, meaningful moment for all of us."
How are those boxes selling, you ask? They aren't — not anymore. Every single Black Box sold out before 5 p.m. on the first day.
"Here's the thing: There are so many great products out there run by incredible brands that just need to be given a shot. Let this show that if you stock them, they will sell," emphasizes Beatty. "And if you, as a customer, want to try something you don't see, ask that dispensary to carry it. That's what changes who you see on dispensary shelves."

Follow Josephine & Billie's on Instagram to stay tuned with their equity efforts and more curated box concepts coming soon.
Visit Weedmaps for more information and education on cannabis and to learn more about its Together For Change initiative.
Sign up for our newsletter