The Bone Yard Huskyz Club, featuring UConn men's basketball, is believed to be the first-ever college NIL project with player NFTs. The collection will drop in February.
Connecticut men's basketball already leads the Big East in blocks. Now, the Huskies are ready to lead college basketball onto the blockchain.
Openlocker announced on Wednesday that the Bone Yard Huskyz Club is poised to be the first-ever NIL project with player NFTs and exclusive PFPs — digital avatars for use as social media profile pictures.
The non-fungible tokens will drop in February and reside on Dapper Labs' Flow blockchain.
"We are excited that all eligible members of the men's basketball team have signed individual licensing agreements with OpenLocker to engage with fans through this project," founder of OpenLocker Brian Klatsky said in a press release. "Building a community around their digital collectibles allows athletes to maximize their NIL earnings while at the same time provide fans with enhanced engagement with their players and teams ."
Owners of a BYHC NFT will earn access to the club, which includes an exclusive Discord channel and opportunities to interact with athletes, celebrity alumni, and sports analysts. They will also be invited to VIP events and have early access to future NFT drops surrounding UConn teams, according to the release.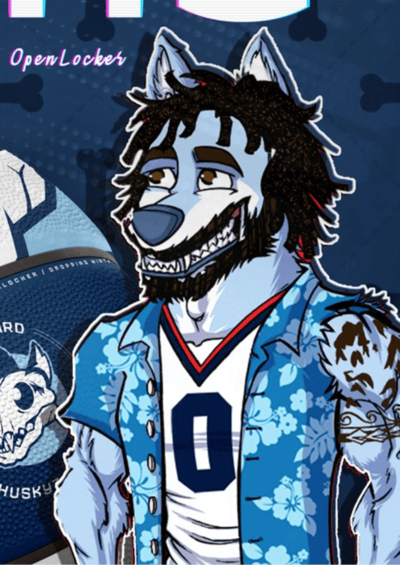 Openlocker says it will give the players the majority of proceeds from the NFT sales, as well as royalties from trading on a secondary marketplace. Each athlete will also receive their own token, which they are free to keep or sell.
Team-wide deals aren't rare; we've seen dozens of examples of group licensing since the name, image, and likeness era began in July. But turning an entire team into NFTs and selling them to fans is new, and it will be a test to see whether fandom extends far beyond the stands.
(One day, maybe even into the metaverse.)
If the illustration of Connecticut guard Jalen Gaffney pictured here is any indication, the NFTs will present the players as anthropomorphized, unkempt Huskies — and, honestly, what kind of fan wouldn't want to be part of that?
While the UConn women's team has made NIL waves over the past months, with Paige Bueckers signing with Gatorade and StockX, and Azzi Fudd inking deals with Stephen Curry, Chipotle, and TikTok, the men have been quieter. They are enjoying their best season since 2014, complete with a top-20 ranking and a win over No. 1 Auburn.
On Feb. 22, the same day the team hosts rival Villanova, fans will be able to purchase their favorite players' NFTs, throwing them a few bucks in the process.
Interested fans can join the Bone Yard Huskyz Club here.
Sign up for our newsletter