The New York-based streetwear titan has linked with MLB for a range of Timberland Field Boots inspired by their hometown Yankees.
With Opening Day months away, New Yorkers aren't playing or watching America's pastime right now, but that doesn't mean they can't wear it.
Bridging the gap between winter snowstorms and Spring Training, Supreme has teamed up with Timberland and MLB for a collection of Field Boots likened to the New York Yankees.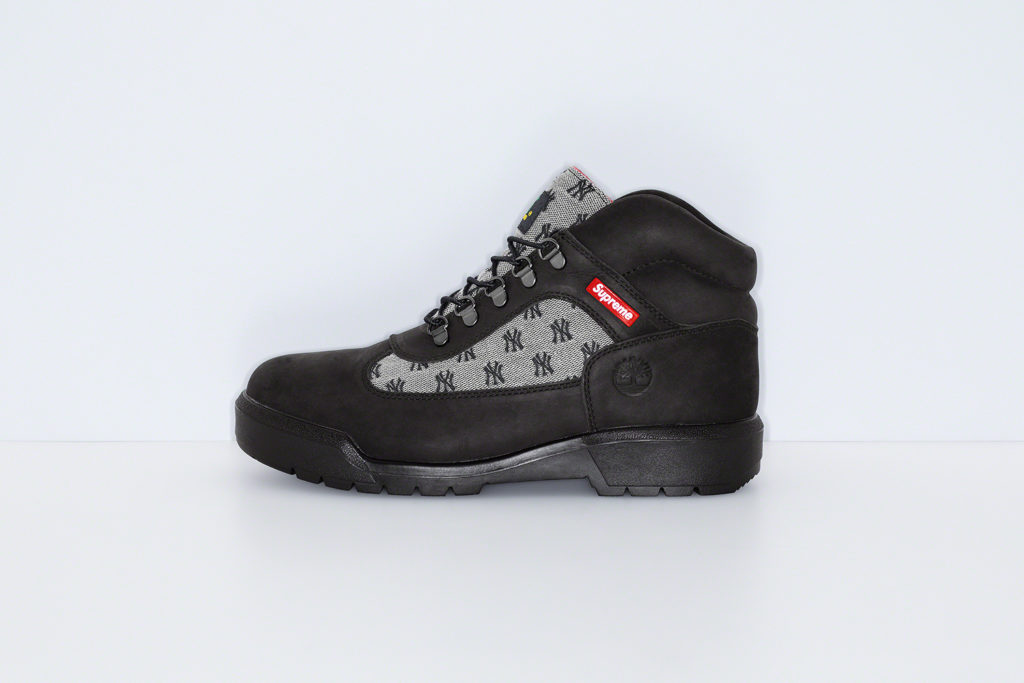 Established in 1994 by founder James Jebbia, Supreme came into its own the same year Nas dropped Illmatic and Paul O'Neill claimed the AL batting crown.
By that point, Timberland's Field Boot had been on the market for 11 years, offering an alternative to their famous 6″ style by living in a space that was closer aesthetically to a sneaker than that of their traditional construction boot.
Sign up for our newsletter
While all parties play ball on the Field Boot, this isn't Supreme's first at-bat with the Yankees.
Over the years, the New York City skate brand and boutique has shown love to the Bronx Bombers by way of five panel hats, blue and grey box logo shirts, and even leather varsity jackets.
By closing 2021 with an on-foot homage to the iconic franchise, Supreme is uniting three staples of NYC fashion in a manner that's authentic and nostalgic.
In 2021, the Field Boot, the Yankees, and Supreme are all iconic in their own right and in the ethos of New York street culture — a domain the skate brand understands, well, supremely.
As for their tri-take on the Field Boot, red, brown and black nubuck versions are far removed in blocking from the pinstripe uniforms Roger Maris or Derek Jeter donned on the diamond. However, they still speak to the connected fabric of a city that roots for its teams passionately without having to look like the teams themselves.
The Field Boot itself is as New York as it gets, amped up and brought to life by bold branding. Supreme's famous red box logo stamps each ankle collar, with canvas underlays baring a repeating Yankee logo that's jacquard in composition but Dapper Dan in spirit.
Effectively, Supreme is bringing archival brands like Timberland and MLB to their world and doing so unapologetically.
While Supreme won't say sorry for doing things the way it's always done it, it won't let you line up or camp out for these.
Look for pairs to release online at Supreme on Dec. 30.