The First Lady of Texas Longhorns football speaks with Boardroom about how she came to start her own business, Loreal Luciana
While Loreal Sarkisian's husband Steve is the head coach of one of the premier college football programs in the country, she's working to build a juggernaut business of her own.
A Tallahassee native and All-American hurdler at North Carolina A&T, Sarkisian initially parlayed her success on the track to coaching. She shined as a volunteer assistant coach at Florida before becoming an assistant at USC in 2013.
Her husband, Steve Sarkisian, took the head coaching job at the University of Texas in January following two seasons as offensive coordinator and quarterbacks coach at Alabama.
And with that, a new adventure began.
When the Sakisians wed in 2020, the couple decided that Loreal would take time away from coaching to try stay-at-home life in support of her family. She soon realized the role didn't necessarily feel like the right fit.
"Coaching allowed me to give back and that's huge for me. I grew up seeing my parents give back all the time on different levels," Sarkisian said. "I wanted to be able to continue to help people be the best version of themselves, 'okay, you're not coaching. So, how else can you do that?'"
That's when her business — Loreal Luciana — was born.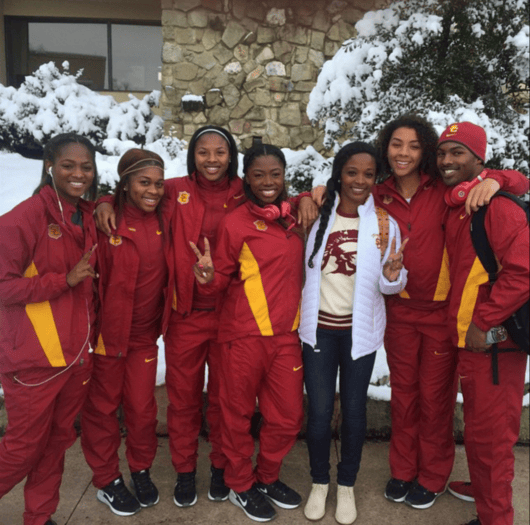 Through Loreal Luciana, Sarkisian works as a personal stylist. Duties range from pivoting personal style, closet cleanups, and buying and selling clothing items to even helping clients pack efficiently for trips.
Sarkisian's clientele includes both men and women. Some are individuals needing everyday looks, while others are high-profile figures looking to shine on red carpets and at exclusive events.
Sarkisian was touched by styling at a young age. Her mother, Loretta Smith, is a seamstress with a love of fine art who tapped into her creativity and taught her about different types of fabrics.
"Growing up, she sewed all of our clothes," Sarkisian said. "If she could've sewed my shoes, she would have."
More than that, Sarkisian said the valuable lessons from her mother left an impact that she carries with her to this day. Smith instilled that you didn't have to have on the newest or best clothing, you just needed to have on clothing that was best for you.
"She taught me that I should always be presentable. No matter where I'm going, you never know who you're going to meet, and you want to make sure you're a good representation of yourself," Sarkisian said. "I've just always kept that with me."
Starting a company came with many realizations for Sarkisian, one being that she initially placed importance on featuring other people that she styled or assisted in styling across her social media. What she'd soon learn is that people who wanted to work with her were mostly drawn to her personal style, and that would pay dividends for the styling business.
"For me, I actually just got a new client based on my style — not based on any work that I've done, but because of how I'm presenting myself," Sarkisian said. "I'm finding that they want me because of me."
Much bigger than her goals in the fashion world, Sarkisian, who says her faith is most important to her, hopes to continue to grow and utilize her platform to help those in need.
"I just want to give back," Sarkisian said. "If I can continue to do that, globally, that would be amazing."