Boardroom exclusively spoke with the proud Maryland native about her new position as Executive Director and her passion for philanthropy.
NBA players are revered for entertaining us on the hardwood. At times, we get a glimpse of their lives off the court when they show how lucrative salaries furnish their lifestyles. However, plenty of them give back by reaching for their own checkbooks to donate to charities, fund disaster-relief initiatives, sponsor scholarships, and bolster their alma mater.
Just like the National Basketball Players Association functions to protect and support the rights and talents of our players, the Foundation side of the NBPA works with these stars to strengthen their communities and create meaningful change worldwide.
It's been nearly a year since Stephanie Rawlings-Blake was named Executive Director of the NBPA Foundation, and Boardroom got to speak with the Baltimore native about her time as mayor of Charm City, the power of partnerships, and various ways players are tapping into their philanthropic side.
Sign up for our newsletter
VINCIANE NGOMSI: How did your Baltimore upbringing and work as a public service official help prepare you for this role as the Executive Director of the NBPA Foundation?
Stephanie Rawlings-Blake: When I think about it, it's really so much informed by my experience growing up in a working middle-class family. My dad grew up in the projects – the first projects that were built in the country were co-homes in Baltimore. My mom grew up one of nine, and both of my parents' families really valued education and instilled that in us. I got the benefit of a nuclear family, a beautiful home, an incredible extended family, and a wonderful neighborhood.
Even having all of those things, I saw peers and some family members who succumbed to drug addiction, battled homelessness, and did not have the wherewithal to be fully functioning, thriving adults. I really grew up with a sense of obligation to use my skills and talents to try to fill the gaps for families and communities that didn't have all I was blessed with so they could be able to thrive.
I was given the chance to live my best life to decide what I wanted to do. Now I'm trying to use my skills and talents to make communities better. It's global because about a third of our players are international. I feel very blessed to be able to continue the work but on a much larger scale.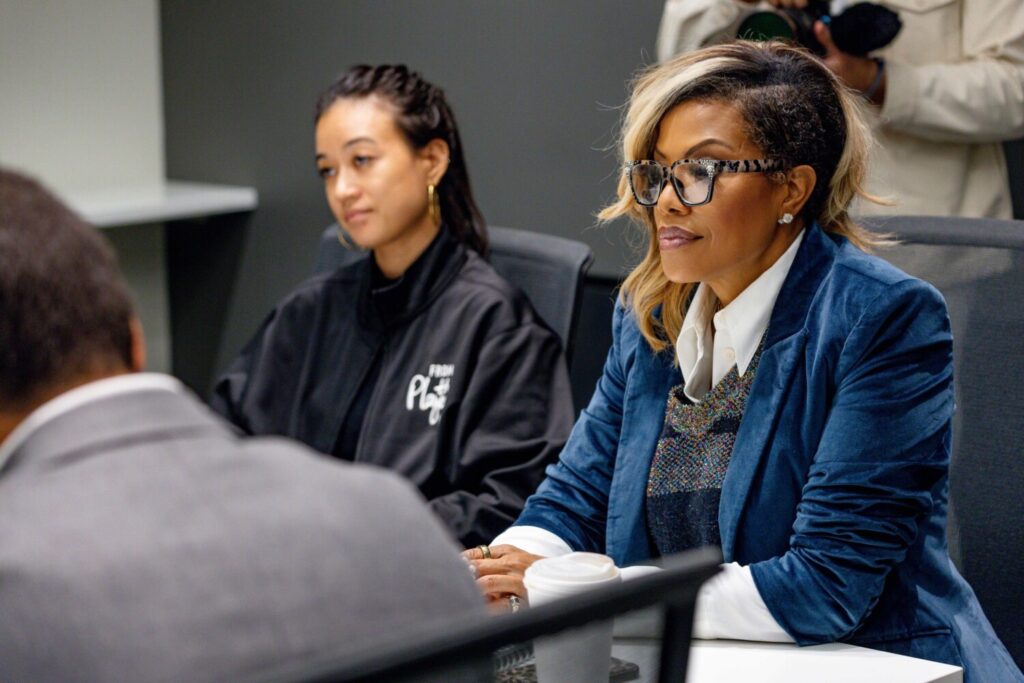 VN: What are some key takeaways that you learned from being the mayor of Baltimore that have now helped you in this new role?
SRB: I think one of the main things I found that translates from being a mayor to my current role is the power of partnership. As mayor, even though the buck stopped with me, I knew that without strong partners, I couldn't get what I needed to get done. So I established a partnership with, I called it, our anchor institution.
I brought colleges and medical professionals together to say that you are collectively the largest employer in the city. When you thrive, we thrive. How can we find a way that we're thriving together? This means a focus on more local hiring and more local sourcing for the things that these institutions use, making it very intentional to build from our strengths.
With the Foundation, one of the first things I noticed was there was a tranche of funds dedicated to disaster relief. I know that when disaster strikes, it's not the time that you want to be scurrying around trying to figure out where can you donate. So we created a partnership with Team Rubicon, a veteran-led organization. We're also working on a partnership with the American Cancer Society, and others.
VN: We've been preaching for so long that they're more than just athletes, and the most important thing is also ensuring the work they're doing is executed to the best of their ability.
SRB: It's also understanding that part of this is discovering their legacy. I'm proud of the work that we're doing. We did a program at UCLA for players and the people who help manage their philanthropies. It's called 'The Business of Giving' where we talked about best practices in philanthropy, the power of storytelling, and went over how to create sustainable partnerships and make meaningful sustained investments in your organization. We do that because it's working to help them just discover how they want to show up in their communities, but a lot of men haven't explored that and I'm really there to help open their eyes.
VN: Klay Thompson mentioned before that a lot of investing he does is heavily influenced by organizations the NBPA aligns itself with, and I have to believe that philanthropic pathways are similar. Do you feel the pressure of wanting the select really good allies or make sure that whatever the organization is accomplishing mirrors the athletes' interests?
SRB: It is my charge every day and I feel very responsible for protecting our players by making good choices. That could mean having a tough conversation when they may want to partner with an organization that does not meet the standards we hold for them. We have to do that because we have to protect their legacy. Too many people have worked too hard to get players where they are. We have to protect that.
VN: With how international basketball is, do you find yourself looking to work with organizations overseas as well to mirror efforts the NBA is doing to attract fans on a global level?
SRB: Yeah, our global philanthropy is very proud of that work. For me, I feel like we're just getting started as far as understanding what's possible globally. We're working to bring the players from Africa together to brainstorm ways to collaborate around things they care about. When I met Wemby [Victor Wembanyama] and his mom, they expressed interest in projects that involve water infrastructure. It's looking for those synergies. I'm excited about what we are doing internationally and I am super excited about what I know is possible moving forward.
VN: Out of the players you've got a chance to meet with so far, what are some personality traits that stand out about their desire to give back?
SRB: I would say curiosity. They're very curious about all of the work the Foundation offers and the union in general office. I'd also add commitment. They understand they're here on this earth for more than basketball.
Is basketball the primary way they are showing up in the world? Yes. However, that's not the only thing and I can say that's something that impresses me and encourages me. I don't have to convince anybody to do the work. It's just a matter of how and what; not why.
VN: What are some of the qualifications that you look for in any organization before moving forward with a partnership? What about the players?
SRB: I'm looking for more national organizations, but players want to show up in their communities. What we look for are non-profits that have the capacity to do the work they say that they're doing. Again, this is about protecting the investment of our players. It's one thing to say it and there's another thing to do it.
When players say they're on their philanthropic journey and establish their foundations, we make sure through our coaching and our support for their foundations that they're doing what they're saying. The organizations they want to do matching grants with, we want to make sure they have the capacity to use the funds given to them.
VN: What was it about sports, whether it was at an early age until now, that motivated you to make this career transition?
SRB: I played tennis growing up, which can be individual but also can be a team sport. I played on teams while I was in high school and college a smidge. Having an appreciation for what it means to be a team, having an appreciation for the dedication that it takes to be an elite athlete, I have a lot of respect for that discipline, that drive, that passion. I have a lot of respect for the possibilities for the player's influence.
I've come out of a world of politics and public service, and I also know that right now the players have so much more influence than almost all politicians. How do we harness that for good? That's the important thing because young people aren't looking at mayors or senators as their role models. They just aren't. Whether they should or shouldn't is neither here nor there, but the people they do look towards have a lot to give and a lot to offer. That's the space where I find myself, and that's a space where I really want to show up for the guys.
Read More:
Breaking down the 10 highest paid coaches in U.S. sports, led by championship winners Bill Belichick, Sean Payton, and Gregg Popovich….