As changes come fast and furious to hobby, soccer cards are among the best and hottest investments in the sports card market.
Soccer, the world's most popular sport, is the most overlooked in the trading card hobby, but it has the best value when it comes to ripping wax and the chances of getting high-value players. Soccer may be a bit foreign to both new and old investors accustomed to US-centric sports like football, baseball, and basketball, but there are similar rules as it relates to finding the higher-value players and making decisions about which specific sets to buy.
Time to establish some ground rules for getting into collecting the Beautiful Game.
Sign up for our newsletter
Which Soccer Sets to Buy
Luckily for collectors and investors, soccer isn't exclusive to one brand as a sport. It's only exclusive based on leagues. Panini has the rights to Premier League, La Liga, Serie A, and the FIFA World Cup. Topps has the rights to Bundesliga, MLS, and UEFA Champions League.
Let's say you're a Chelsea fan. You can find your favorite players in either a Panini set or Topps because Chelsea is typically in the UEFA Champions League. (In fact, they're the defending champs.)
Topps
Arguably the best and most valuable soccer cards you can find come from Topps. The company approaches soccer similarly to its baseball series — for the most part, you're looking at Chrome and Sapphire. New for 2021 are the UEFA Champions League Stadium Club Chrome and Merlin Chrome sets.
You can get 2021 hobby boxes of these sets for under $400, with the exception of the higher-end Sapphire, which is around $800. That's a phenomenal value compared to the other sports, considering how there's a wealth of rookies and vets who can easily match the value of the box, including low-numbered variations.
There are also sets like Museum Collection and Tier One out there, but those should be considered higher risk, higher reward.
Panini
Expect Panini to go all-in on soccer over the next few years after losing their exclusive rights to the NFL and NBA to Fanatics. At the moment, Panini has two really nice entry-level soccer sets: Premier League Prizm and Chronicles. Chronicles includes players from Serie A and La Liga in addition to the Premier League.
Out of these two sets, the best bang for the buck is with Chronicles, which includes card variations from Spectra, Select, Optic, and National Treasures.
Rounding out Panini's catalogue are two higher-end sets: Immaculate and Obsidian. Both of these will set you back a bit, and notably, they're riskier from an investment return perspective. Panini has more soccer sets than Topps, but its retail prices tend to run higher, something collectors will need to take into account from a wax-ripping perspective.
Whom to Buy
It's a valid question for those who prefer to buy singles over wax. Just like any sport, you're concerning yourself with three tiers: hot rookies, respected vets, and all-time legends.
The Hottest Phenoms
In 2021, perhaps no youngsters have been hotter than Youssoufa Moukoko and Jude Bellingham of Borussia Dortmund and Pedri of Barcelona. Other rookies rounding out the class with hype are Jamal Musiala of Bayern Munich, Xavi Simons of PSG, Jérémy Doku of Rennes, and Eduardo Camavinga of Real Madrid.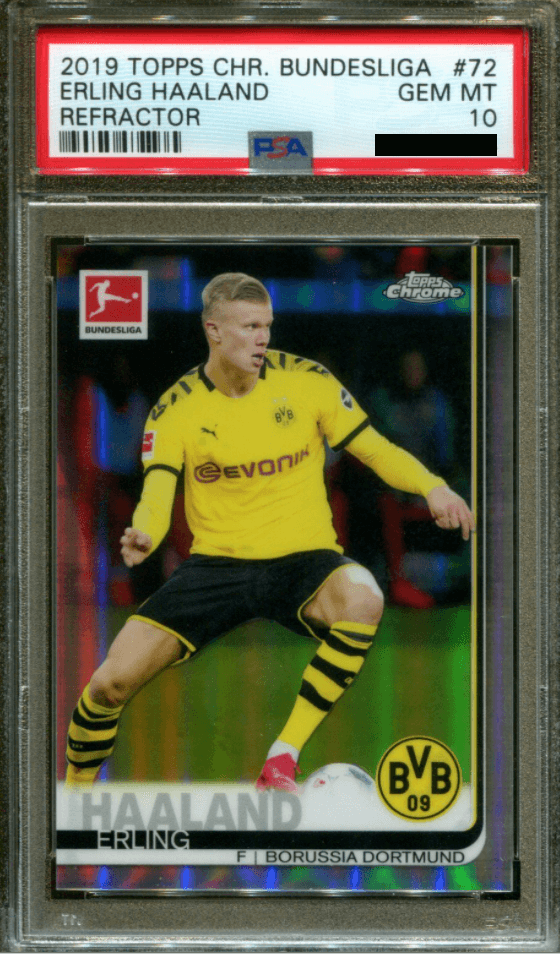 These rising stars are hot mainly because they're midfielders or forwards and that have a lot of opportunities to score and assist goals — and they're not just young, but super-young in many cases. Moukoko is only 16, Doku is 19, and Musiala, Camavinga, Pedri, Bellingham, and Simons are each 18.
And their respective card values are only going to go up once they play more games at the international level during major competitions, as well as when players like Moukoko, Doku, and Bellingham transfer to bigger clubs.
All About Haaland
If there is an American sports comp for Erling Haaland in the hobby, it's probably Zion Williamson. The 21-year-old Dortmund striker is the subject of incredible hype thanks to his natural goal-scoring prowess, and is a leading candidate to set the sport's all-time transfer fee record if and when he leaves his current club.
The value of the Norwegian's rookie cards is astronomically high — and not only because of his skillset, but because of low print runs. Haaland's 2019 UEFA Champions League Topps Chrome PSA 10 pop is only 518; Zion Williamson's Prizm Rookie PSA 10 nears 20,000.
Haaland's selling for around $500, while Zion goes for a bit under $400. With all this in mind, Haaland's prices are only going to rise, especially if he transfers to a juggernaut club within the next couple of years and/or guides Norway, a country that has only participated in three World Cups, into the 2022 tournament in Qatar.
He's going to the moon. There's no time like the present to get on the Haaland train.
Do Vets Hold Value?
When it comes to soccer cards, there are typically one or two vets at each major, global club that hold decent value. Low-numbered cards for Robert Lewandowski (Bayern Munich), Gareth Bale and Vinicius Junior (Real Madrid), and young American Giovanni Reyna (Dortmund) can fetch close to a couple hundred bucks, while their autos can easily fetch $100 or more even without being numbering.
So, what about the GOATs? Autograph cards featuring Lionel Messi and Cristiano Ronaldo can sell for close to four figures if not numbered and upwards of $1,000 for numbered editions and rarer variants.
Take Messi's2004 Panini Sports Mega Cracks Barca Campeon auto, which tends to go for around $8,000 a pop for a PSA 10, as an example:
Other legends' autographs that can fetch a pretty penny out of modern sets: David Beckham, the late Diego Maradona, and Brazilian legend Pele. Celebrated Soccer vets hold serious value due to having such a wide international audience and fewer sets in circulation.
Players to Avoid
While it's harsh to say "stay away from Player X," there are positions that new investors and collectors should not waste their time with if they're looking to maximize their investments. Defenders and goalkeepers have the lowest value of any position for the obvious reason: a lack of scoring opportunities. There are some exceptions, like Germany and Bayern Munich's Manuel Neuer, but even his values aren't especially high for someone who's one of the greatest ever at his position. You can get a high-end Neuer auto for under $200 right now on eBay.
But for a sport in the hobby that's been overlooked, the big takeaway is that soccer is poised to boom in the coming years. Panini and Topps lost the rights to the MLB, NBA, and NFL, and both of those companies will need to find ways to stay competitive once Fanatics hits the scene with their own NFL, NBA, and MLB offerings — the only major professional sport they'll have left is soccer. Fortunately, the opportunities are vast.
So, if you're looking to get into the world's most popular sport at what remains a tremendous value, now is the time to collect and invest.