The annual R&B and soul music festival drew 46,000 attendees this year, with performances from Kehlani, Brent Faiyaz, Ella Mai, Joey Bada$$, Chlöe, and more.
When Sol Blume debuted in 2018, the Sacramento-based R&B and soul music festival attracted 6,000 locals to enjoy a day of performances from the likes of Jhené Aiko, The Internet, GoldLink, and Sabrina Claudio.
Since then, the local independent musical festival has become a national name, led by core masterminds executive producer and COO Chaez Boswell and founder Fornati Kumeh, with the help of Northern California-based concert promotion and event planning business ENT Legends.
Brent Faiyaz and Kehlani headlined Sol Blume 2023, with additional performances from Ella Mai, Jessie Reyez, Chlöe, Joey Bada$$, Sabrina Claudio, Coco Jones, Mahalia, Teyana Taylor, and more, split across the Blume and Bless stages. To make it easier for guests, there were short grace periods in between each performance so they could catch everything with no overlap.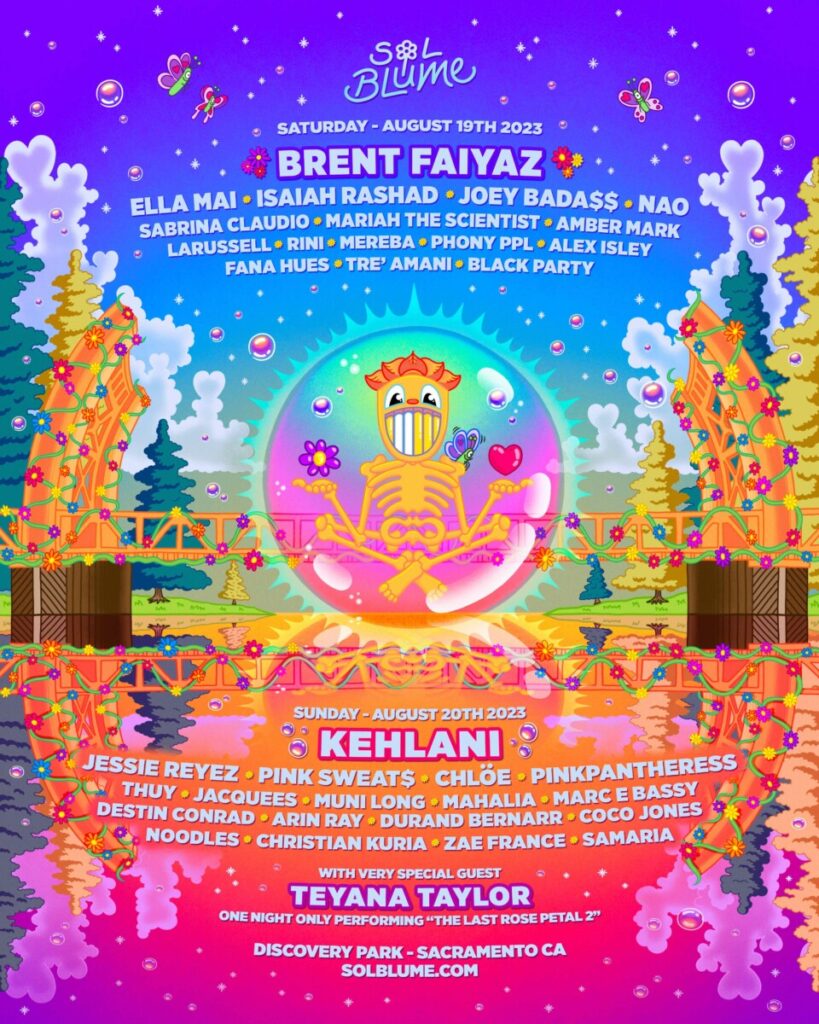 "My agent came to me with the opportunity, and it looked tight. This is the first time I've heard about it," Joey Bada$$ told Boardroom about how he got connected to perform at Sol Blume. "This is more of an R&B-leaning festival, which is probably why I didn't hear about it before, but I'm glad to be accepted here. I feel like when we sit down as artists, and we create, the ultimate manifestation of that creation is sharing it with the world, and the highest level of that is performing because it's like you live with them. I hope [fans] walk away feeling like they want to see me again."
Sol Blume 2023 was a first for Joey Bada$$, and he told Boardroom he wouldn't mind returning. Artists like Kehlani, Sabrina Claudio, Noodles, Arin Ray, and Jessie Reyez are legacy Sol Blumers, having performed at previous festivals. When it comes to assembling the lineups, event organizers are intentional about how performers flow together.
"If you look at the lineups from the biggest name to those who are still up and coming, it's very fluid, and it works together, right? It creates the entire picture," Boswell said. "There are a lot of big names on there, and we get it. No sweat to anybody else, but I think we have a different approach, like carefully curating, and Furn is amazing at doing that. He's very in tune with the music, and that gives us an advantage."
Sign up for our newsletter
Sol Blume's Flow
Sol Blume 2023 marked the festival's fourth installation, drawing 46,000 worldwide attendees over two days, packed with a star-studded lineup, local food and entertainment vendors, activations from spirits sponsors, and more.
Though the festival was originally slated for April, organizers pushed Sol Blume to August after the historic rainfall and flooding across Sacramento this spring. Boswell told Boardroom in an exclusive interview at the festival that Sol Blume issued refunds for roughly 25% of the original crowd. Still, attendees traveled from 48 states and 15 international destinations, including Canada, England, Germany, Japan, and France to California's capital to attend Sol Blume 2023. Sacramento mayor Darrell Steinberg and city council members who have never seen the event in action before even made appearances.
"With the first one, we had no idea what we were getting ourselves into. We wanted to do something big in Sacramento, and we knew we had a team that was dedicated to making something happen," Boswell, who considers himself the "idea guy" behind it all, told Boardroom. "This year, the difference is that we know we have a brand and a community. Now, we just really focus on upping the experience."
The inaugural Sol Blume took place at Sacramento's 2.5-acre Cesar Chavez Plaza. This year's festival expanded to the city's iconic Discovery Park, a 302-acre recreational ground. Event organizers took about eight days to construct the festival playground. The whole thing consisted of two large stages, an exclusive VIP section, a wellness village and market, tarot readings, endless food vendors and food trucks, hydration and charging stations, and immersive spirits activations. Sol Blume brought back its notable Butterfly House, where fans could interact with butterflies in a dome-turned-greenery-oasis with expert butterfly handlers on site.
"It's definitely not an easy process, but when you're working with the right people, and they know what they're doing, and everybody plays their part, it comes together pretty quickly," Boswell said.
At Sol Blume, Chlöe Bailey hit the stage to kick off the second leg of her In Pieces tour, her first official headlining tour as a solo artist. Sol Blume also marked her first performance since breaking her foot in June. Chlöe told Boardroom in an exclusive interview that she wanted to provide a special performance for Sol Blume attendees while also leaving some surprises for her upcoming tour.
"I feel incredibly grateful. I was really happy to be out there on stage again," Chlöe said. "The vibe and the crowd were great. Seeing all their beautiful faces — there were so many people out there — but it was fun picking specific ones to sing to."
Local Brands & Connections
Chef Cecil Rhodes of Nash & Proper has been a food vendor at Sol Blume since its inception in 2018, and in the past two years, has helped bring more local food vendors and food trucks to the festival. Rhodes told Boardroom that the festival means so much to small businesses in Sacramento, especially since it's an event put on by natives who know and love the city. He said he often came across customers who just "vibed out while waiting to get delicious food," bringing the good and calm energy that Sol Blume is all about.
"Many businesses like mine wait all year for this festival to come around and highlight the Farm to Fork cuisine that Sacramento is known for," Rhodes said. "I do festivals all along the West Coast, like Coachella, BottleRock, Aftershock, and Stagecoach. Sol Blume is well on its way to being as prominent as one of those festivals."
Some of Sol Blume's notable spirit partners include Jack Daniel's, D'USSÉ, Tito's, Pacifico, and Coors Light. Red Bull, IZZE Sparkling Juice, Exotic Plans, and SABA (Sacramento Area Bicycle Advocates) were also partners for this year's festival.
Sol Blume 2023 may be in the books, but Boswell said ENT Legends is already planning next year's festival, with a major announcements coming soon. Sol Blume is scheduled to return to the springtime in 2024, so fans won't have to wait long for the next rendition.
"I want attendees to walk away feeling loved," Boswell said. "We're definitely feeling the love and support, and that makes us want to go even harder at providing a better experience. Our ultimate goal is always to create the best experience possible, and we lead with that."
Read More:
Following the announcement of the In the Mix star's Super Bowl Halftime star turn, Boardroom rolls through the best-selling Usher albums to date by RIAA certification. When discussing just what it means to be…