Before he took a swing in the bigs, investors bet massively on No. 1 MLB prospect Wander Franco of the Tampa Bay Rays.
Another day, another record-setting trading card sale. But this time, it's not a Hall of Famer or even a guaranteed first-ballot guy: It's a 20-year-old from Baní, Dominican Republic.
Rays organization shortstop Wander Franco, Major League Baseball's consensus No. 1 prospect, set a record for any player with zero MLB experience when his Bowman Chrome Auto Red Refractor /5 prospect card in PSA 10 gem mint condition sold for $198,000 over the weekend at Goldin Auctions.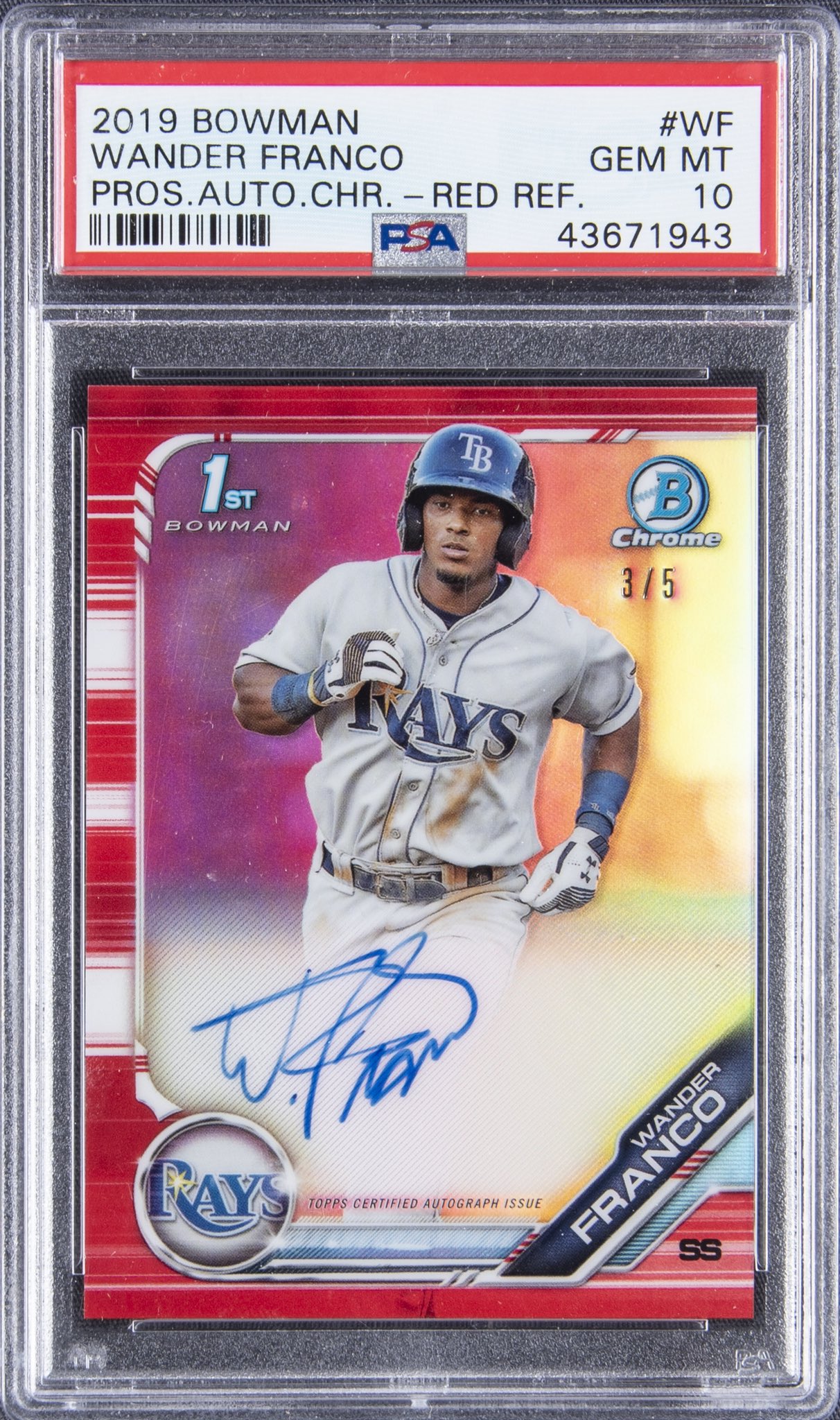 Franco is minor league baseball's No. 1 up-and-comer for good reason. He's consistently been one of the youngest at every level he's played — the average age in Triple-A is about 28 — but that hasn't stopped him from being a .329 career hitter across the minors with an impressive .929 OPS. He now finds himself at the highest level of the minors with the Durham Bulls just a stone's throw from the bigs.
His call-up is coming. But even for such a talented player, there are no guarantees.
That's just as true for career success as it is for card investments.
Franco's near-$200,000 sale is far from the most expensive prospect card on the books, but it sets itself apart in terms of risk given Franco's utter lack of MLB experience. Yankees top prospect Jasson Dominguez, who hasn't yet registered a single professional at-bat at any level, has seen his Bowman Chrome Auto cards sell for over $20,000 a pop, but that's an order of magnitude below Franco's latest high watermark.
In the search for the next Mike Trout — whose 1-of-1 Bowman Chrome Auto SuperFractor sold for $3.94 million last year — it's worth wondering if this trend is sustainable.
To his credit, Franco is as well-rounded a prospect as the game has seen in some time, and many expect him to produce at the level of stars like Mike Trout and Mookie Betts one day. A switch-hitting shortstop who hardly strikes out, hits for power, and has above-average speed is the kind of player scouts would generate in a lab if they could.
If history has taught us any lessons, it is that potential and performance can sometimes be mismatched. Success is a tender combination of skill, mental toughness, durability, and so much more.
Even the safest prospect comes with very real risk. Nobody can be truly considered can't-miss.
At $198,000, Franco's Bowman Chrome Auto Red Refractor /5 is already outpricing the vast majority of MLB All-Stars' most expensive cards. With that in mind, how good would the phenom need to be to see a return on investment? The answer is likely Hall of Fame-caliber. Consider when Zion Williamson's 1-of-1 card sold for $750,000. For that card to yield a return on investment, the Pelicans star likely needs to be one of the greatest ever to play the game when it's all said and done.
Rendering such high value early in a career sets athletes up for disappointment in the eyes of investors if they fall short. A really solid career could technically be a disappointment in the eyes of hobby enthusiasts who pile onto each sport's brightest young names in the hope of cashing in big down the line. It's just a fact of life that the fear of missing out on those hypothetical future stars can drive occasionally wild demand and inflate prices.
So, how does a collector protect themselves from disappointment over lack of return? It's simple: invest in players you like and have fun with the cards.
And if Tampa Bay is your team but 200 grand isn't quite within your budget, there are other Rays in the sea.
Sign up for our newsletter