Boardroom spoke to the leading ladies of Queen Charlotte: A Bridgerton Story about stepping into their roles in the prequel series.
Queen Charlotte: A Bridgerton Story amassed over 22 million views in its first few days on Netflix, and the numbers keep climbing.
The Paley Center for Media in New York City celebrated the new six-part series from the Bridgerton world with an exclusive panel discussion featuring the leading cast members and executive producers behind the show. Queen Charlotte: A Bridgerton Story takes viewers back to Queen Charlotte's teenage years and outlines her love story with King George. It feels like the prequel series was a win before it even hit the screen, not only because it's an extension of Bridgerton, but because it intimately celebrates Black women in a way many haven't seen before.
"I think the biggest thing about this season is that fans will see this character that they know and love and where she came from," Golda Rosheuvel, who plays Queen Charlotte, told Boardroom exclusively on the red carpet ahead of the panel discussion. "[Queen Charlotte] is strong in who she is, and she's strong in her Black womanhood. That's a layer that I have in Bridgerton that I can now show in a series to do a deeper dive into this character."
Sign up for our newsletter
Series creator Shonda Rhimes was inspired to expand the Bridgerton universe to tell Queen Charlotte's origin story after seeing the many layers that Rosheuvel brought to the beloved character. Viewers have been a fan of Queen Charlotte since the start, so when Netflix Co-CEO Ted Sarandos called Rhimes and told her that his mother-in-law was itching to see a prequel about Queen Charlotte, the renowned screenwriter and producer began building a script and cast right away. Once all of the roles were cast, Rhimes said the characters started to write their own stories, in a way.
"I had a story I needed to tell based on the characters that we already had," Rhimes said on the panel. "We're writing into history that which has been erased…trying so hard to make sure we're showing, reflecting, and celebrating Black hair, Black beauty, Black intellect, Black love, so that we're bringing a full-circle experience to that."
Rhimes said she often refers to Queen Charlotte as the Beyoncé of Bridgerton, so it was only fitting that the popular character got her own show. But she's not the only one in the limelight in this series. India Amarteifio, who plays young Queen Charlotte, had big shoes to fill as she entered the Bridgerton universe to take on a role Rosheuvel already made her own. But that was the beauty in it, Amarteifio said on the panel, because she was able to focus on defining how Queen Charlotte evolved into the character Rosheuvel portrayed.
One of Amarteifio's biggest goals stepping into her role as young Queen Charlotte is to show young Black girls across the world that anything is possible. She said she didn't imagine ever landing a role like this, but since stepping into it, she's even more confident in herself now.
"Anything you've ever thought, forget it. I was in that position with period pieces and being a leading woman. I never thought I would ever be in a period drama, and if I were to be in one, it wouldn't be in a position of power or status; it would be of subservience," Amarteifio told Boardroom. "No dream is silly, no ambition is too far because mine felt like that, and here I am."
An overarching theme of the panel was about Black women feeling seen in Queen Charlotte: A Bridgerton Story. The leading ladies in the show connect in various ways and are of different statuses, but they all seem to support each other in one way or another. Rhimes could have written this series any number of ways, but the path she chose, addressing race and Black womanhood, flowed so authentically with the storyline. From young Queen Charlotte wearing a natural afro on her wedding day to young Lady Danbury earning her status by doubling down on her worth, all of these tidbits were intentional to show Black women are worthy of it all.
"I think there is something really inspiring about the fact that there is a Black woman who created this, and she's telling the story of Black women and how easily we are seen in this. There is a reason why Black women should be writing for Black women," said Arsema Thomas, the actress behind young Lady Agatha Danbury. "There is something so inspirational about seeing us Black women work together because I think a lot of the world tries to isolate and divide us. That's how you oppress people."
Read More: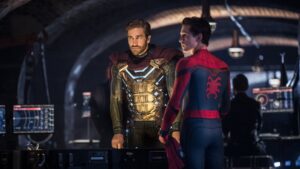 Boardroom ranks the highest-grossing Marvel movies based on global box office success since Iron Man dropped in 2008. …