Opendorse's new report on the first five months of the NCAA's name, image, and likeness era details compensation and total NIL opportunities by conference, sport, gender, and division.
We're not even five full months into the NCAA's name, image, and likeness era, but trends are already starting to emerge. And that goes beyond just the biggest deals from the best teams in the "revenue sports."
Opendorse, a platform that has been helping athletes monetize their personal brands since 2012, has played a major role in the NIL era, guiding more than 50,000 student-athletes through an uncertain period in college sports. Opendorse released a report this week on the first five months of NIL to show exactly who is benefiting.
Click here to read the full report.
Sign up for our newsletter
The most surprising trend that Opendorse CEO Blake Lawrence came away with is that a much higher volume of student-athletes are signing NIL deals than he expected.
Though we're still in the early stages, it appears the worry that only a select few athletes would be able to benefit was overblown.
"There's certain institutions where nearly 75% of their student-athletes have received at least one NIL deal since July 1," Lawrence said. "So for those that believe that NIL is simply for the top 10% of student-athletes on campus, that's simply not the case. Athletes that want to earn NIL income have a clear path to doing so."
Opendorse allows those student-athletes to do just that through Opendorse Deals, a platform that serves as a marketplace for them to post what NIL opportunities they are interested in and for brands to come in and shop around.
The company used Opendorse Deals and Opendorse Monitor, where athletes could report earnings from outside the marketplace, to compile its data.
Top-line Trends for Name, Image, & Likeness
Football is king: Football players have accounted for more than a third (34.3%) of NIL-related activities on Opendorse. No other sport accounts for more than 8.6% (men's basketball). Making it even more lopsided: Opendorse reports that 63.8% of all compensation for its athletes have gone to college football players spanning Divisions I, II, and III.
Total NIL activities, which range from autograph signings to major brand sponsorships, average a payout of over $1,000 for student-athletes across sports, gender, and NCAA division.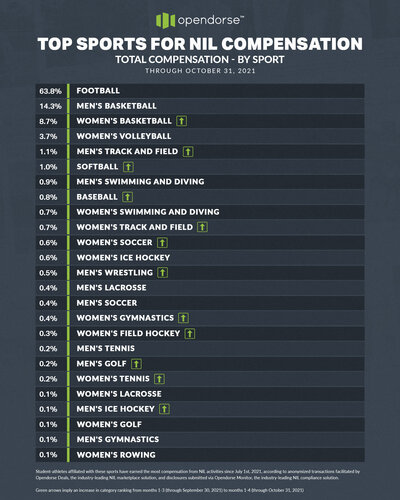 Basketball is next in line: With college basketball season tipping off this month, the men's game comes in second to football at 14.3% of total compensation with women's basketball right behind at 8.7%. That's a change from the previous month's data, where women's volleyball, which was already in season, ranked third.
Donors looking to support their schools have played a major role in basketball and football's dominance, according to Lawrence. If that sounds like this may be bordering on a compliance issue, that's something that Opendorse has considered and is part of the reason why it provides its athletes with as many tools as possible to properly report where and how these deals come about.
"The true importance of technology in the NIL era is compliance," Lawrence said. "It is to ensure you are protecting athletes because this is new for everyone in the college space."
While women's basketball ranks third in total compensation, it is seventh in total NIL activities by sport, suggesting that while fewer athletes have been targeted for partnerships, those individuals have earned more money on a deal-for-deal basis.
The power of social: As anyone with a Twitter or Instagram account can attest, social media has dominated the NIL landscape. Opendorse reports that 86.1% of its athletes' deals have come from posting content. That's also where athletes have earned the most money, with posts accounting for 28.6% of all compensation. Autograph signings were the only other category to top the 25% mark at 25.4% of total compensation.
NIL by Conference
The Power 5 may have a stranglehold on the College Football Playoff, but don't assume the same for NIL deals.
Yes, the Big Ten leads the way in total compensation by conference, but the Big East ranks fourth, ahead of the Pac-12 and ACC. The American Athletic Conference is sixth, which also out-paces the Pac-12.
In terms of total NIL pacts, the Power 5 is more comfortably on top, which makes sense considering each of those conferences sponsors football. The Big East, among others, does not. The Power 5 also has a disproportionate number of state flagship schools, with over 60% of them across all 50 states.
Notably, there are also a few non-Division I conferences that deserve some recognition.
Out of the top 25 leagues ranked by NIL compensation, four do not play Division I athletics. The Division II MIAA leads the way for those schools at 15th overall, producing more. compensation for its athletes than the Horizon League, Southern Conference, and Atlantic 10, among others.
Gender Disparity in Athlete Earnings
With football dominating the NIL landscape, male athletes have earned far more than woman athletes. In fact, 82.9% of all compensation to Division I athletes went to men. In Division III, it's a 74/26 split.
Division II is the outlier. Women have earned 56% of all compensation there, compared to 44% for men. That doesn't change the overall trend, however, which is that across divisions, men have earned 82.6% of all compensation.
In sports where the NCAA sponsors both men's and women's divisions, this disparity does not always stay consistent.
Yes, more compensation has gone to men's basketball players than women's. The same could be said for track and field and also swimming and diving. But women's soccer players earned more than their male counterparts. So did softball players versus baseball players. Women's volleyball has a huge lead on men's volleyball, it's important to note that there has not been a men's volleyball season since the NIL era began — they play in the spring, while the women play in the fall.
NIL in 2022 and Beyond
Lawrence does not expect the first five months of NIL data to perfectly reflect what to expect in the months and years ahead. Part of the reason, in the immediate term, is that these rules went into effect in the middle of the summer.
"2022 NIL spending will look incredibly different than 2021 and it's because the rule changes went into effect on July 1 and college athletes reported to campus for fall sports on August 1," he said. "It gave the brand and sponsor community one month to try and get started and that's unrealistic."
But now that brands have a fall sports season under their belts, the future may be easier to navigate.
"There will be more activity in 2022 because brands are now aware of the rules, sponsors are now aware of the rules, and they have a much longer runway to plan their NIL campaigns," he said. "There will be a lot more spending, more diverse spending, and that's what we expect to see in 2022.
Sign up for our newsletter