Omar Bailey talks to Boardroom about his experience leading the Yeezy Footwear Innovation Lab and what inspired him to launch his own sneaker prototyping venture.
Omar Bailey, former head of the Yeezy Footwear Innovation Lab, spent his childhood drawing sneakers in the back of the classroom.
Now, he's using technology to bring them to life in new ways.
Bailey is the co-founder of FCTRY LAb, a tech-enabled sneaker creation lab that helps creators across entertainment, sports, and business elevate their brands through footwear. The LA-based design studio doesn't just design any type of sneaker, though: FCTRY LAb leveraged 3D printing with traditional knit and footwear development processes to cut down the product development time from 8-12 months to 1-3 months.
By bringing more advanced technologies intentionally into the footwear manufacturing fold, FCTRY LAb can avoid overseas supply chains, an industry Bailey knows all too well from his experience working overseas with factories and vendors.
"I always believed that true innovation and design starts on the factory level, and what I mean by that is, you can sketch and draw a shoe or product on a piece of paper, but there is only so much you can do on that paper. It's a great start, but eventually, that needs to transition into something real," Bailey told Boardroom in an exclusive interview.
"When that transition happens, what's on paper doesn't always look as good as you thought it did. Anything that I've ever created or designed that was meaningful to me or other people usually changed between the point of it being drawn on paper and it actually being made. That's what I mean by true innovation."
Bailey's footwear prototyping startup closed a $6 million funding round in December 2022 to kickstart its business. What he's doing in this space is intriguing on its own, but his journey to this point is a noteworthy story in itself.
So, let's get to know Bailey — Boardroom sat down with Bailey to discuss his career wealth of experience, break down what he's building at FCTRY LAb, and how he's positioning 3D printing in his business plan for the long haul.
Sign up for our newsletter
Bailey's Backstory
Bailey is a first-generation US citizen from New York, but he grew up in Florida. His parents immigrated to the US from Jamaica in the early '70s and later settled in Florida in the '90s. Bailey made his way back to Brooklyn before moving to LA roughly four years ago.
"I like to say I'm a New Yorker and Floridian," Bailey told Boardroom. "I bounced all over the place before I left Florida to go to college. I went to school in Detroit, then transferred to a school in Ohio. I've lived in Boston, Texas, India, China, and all these random places before ending back up in New York before moving to LA."
Bailey was first drawn to the sneaker world in the early '90s when there was a lot of violence and crime around the Air Jordan brand because there was so much demand and not enough supply. He vividly recalls reading a Sports Illustrated issue back then boasting a cover stamped with the phrase "your sneakers or your life." The feature article detailed the violence and murders surrounding Air Jordan access during that era.
Bailey said this infamous story scared his parents, so they vowed never to buy him Jordan-branded sneakers.
"It was really the first time we were seeing the sneaker revolution take shape. It was happening in the '80s, but when we saw Nike and Jordan come together, that just hit a little bit differently," he said. "The beginning of that created this frenzy that I don't think anyone had really expected."
Since Bailey couldn't get his hands on some Jordans during his adolescent years, he began drawing sneakers instead. He intricately studied shoes down to their weight, leveraging information from sneaker giant Eastbay. Bailey told Boardroom he's kept all of his sneaker drawings since the '90s.
"If I couldn't have the physical shoes, drawing them on paper was the way to manifest what I wanted. That was satisfactory enough for me," Bailey said. "Over the years, I just kept doing it because that's what I was good at."
What started as a hobby eventually grew into a passion. Bailey didn't know there would be a pathway for him to work with sneaker brands, but he always envisioned working in the sneaker market. As he went on to attend an art-focused school in Detroit called the College for Creative Studies, Bailey began turning his passion into a career.
"That's where I learned what industrial design is for the first time," Bailey said. "They showed a portfolio of past students' work, and there was a shoe in it. It immediately caught my attention."
Before coming across the College for Creative Studies, Bailey said he didn't think his grades were good enough to go to college. He said he did the best in his art classes but didn't often get good grades in other subjects because he wasn't interested in them. This institution inspired Bailey to continue his education past high school, which he said excited his parents. Bailey started upping his portfolio to include diverse art pieces, including self-portraits and still-life drawings.
Bailey got a bit emotional when he detailed how he landed a scholarship to attend the College for Creative Studies because he didn't imagine this would be his future. After high school, he packed up and moved to Detroit, where he met his four best friends, who were also all into sneakers.
One of those close friends, Jason Mayden, interned with Nike the summer before and was working on the Air Jordan 17 design at the time. This was when NBA legend Michael Jordan was playing for the Washington Wizards in 2001, and Mayden was helping tweak the final touches for the Air Jordan 17s before they dropped in February 2002, Bailey said.
"He brought the shoe back to school. … It was the first time I ever seen anything like that, and I was a freshman. Just thinking about nine months earlier, I didn't even know I was gonna go to college and drew sneakers all the time," Bailey said. "Now, all of a sudden, I'm in Detroit, Michigan, with this guy Jason who just came from a Nike internship working on the Air Jordan 17s that no one has seen yet, and I'm sighting here holding them. I'm like, I'm in the right place."
The path was clear for Bailey was clear after that. He studied at the College for Creative Studies for two years before transferring to the University of Cincinnati for an internship program that synced him with opportunities to learn at New Balance, K-Swiss, and Adidas.

Sign up for our newsletter
Career Milestones
After his internship experiences, Bailey said he quickly learned that he wanted to work for himself eventually. Bailey met someone who was running a footwear design consulting company in LA and was interested in embarking on a career path like that to interface with multiple brands. He took some small business ownership courses, grew obsessed with entrepreneurship, finished school, and moved to New York to start doing his own thing.
Bailey has nearly two decades of professional experience working across footwear design, local and international manufacturing practices, and global product development. He is a design engineer connoisseur who really got his feet off the ground in his career when he moved to China to continue his footwear design consulting work overseas. He took on a few high-profile clients, including former MLB outfielder turned sports agent Gary Sheffield and former NBA shooting guard Allan Houston, that led him to China, where he learned about new cultures, how the factory side of footwear manufacturing works, and what it's like to interface with vendors.
"The information has been gatekept for so long by the big brands, and I was right in the thick of it," he said. "I became obsessed with it. That was the moment when my career made this transition from just a designer to more of a hybrid designer, product engineer, and developer."
From here on, Bailey's career is a bit of a whirlwind in all the best ways. He's worked with and designed footwear for notable figures, including Jay-Z, Terry Crews, Karim Benzema, Lady Gaga, and T-Pain. Outside of his internships, Bailey has worked with many respected brands such as Timberland, Rocawear, HP, Supreme, and of course, Yeezy and Adidas.
"I continued to follow the breadcrumbs and let the opportunities take me wherever they were going to take me," Bailey said.
Innovation at Yeezy
Bailey was working in India as the creative director for the Italian sneaker brand Lotto in mid-2018 when he realized he was on the verge of a significant transition, deciding whether to move on to his next opportunity or move to India for good to expand in the position he was already in. He was feeling burnt out, so he decided to work on a few other things before returning to the US.
Adidas later approached him with the opportunity to lead the innovation lab for Yeezy. As the head of the Yeezy Footwear Innovation Lab, Bailey was tasked with working alongside West and a team of designers and engineers to build the prototypes for all of the rapper's visions.
"[West] was tired of waiting for prototypes and samples to come from China, which could take a lot of time. There was also a disconnect when you're trying to push the boundaries on shapes, forms, and designs and the factory wanting us to go back to the guaranteed things they know work all the time," Bailey explained. "It's very difficult to push factories to do things outside of their comfort zones, and the lab allowed us to take Kanye's ideas as is and turn them into shoes."
After building prototypes, Bailey and his team would use that information to inform the factories and scale production. That was the genesis of Bailey's work with Yeezy and Adidas, a collective effort he says was an amazing experience that led to the creation of classic shoes like the Yeezy Foam Runners and the Yeezy 450s.
"He was always very good to me from Day 1," Bailey said about his experience working with West. "I remember the first time I met with him. He embraced me, took me in, and has always been very sweet to me. Even when he would see me and my wife at Sunday Service, he would be very gracious and kind with his time. I've never had anything bad to say about the dude because of how he's treated me, and I've had the opportunity not too long ago to tell him that."
Bailey worked in this role from May 2019 to May 2022, and while it was an incredible experience, he said it was often up and down, but that's what he signed up for, and he loved that environment. Bailey said watching West work through his thought process when designing inspired him on his own. He was creatively searching for something different throughout his time at Yeezy, though, which led him to launch his own venture.
"When starting at Yeezy, my goal from day one was three to five years. That's the limit. I'm not going beyond that," Bailey said. "I knew that I wanted to get back into the private sector, and my intention at Yeezy was to go in and do the best job I could. At the same time, I'm going to learn and add to the toolbox I already have so that when I make that next move, I'll go back to the private sector locked and loaded."
Building FCTRY LAb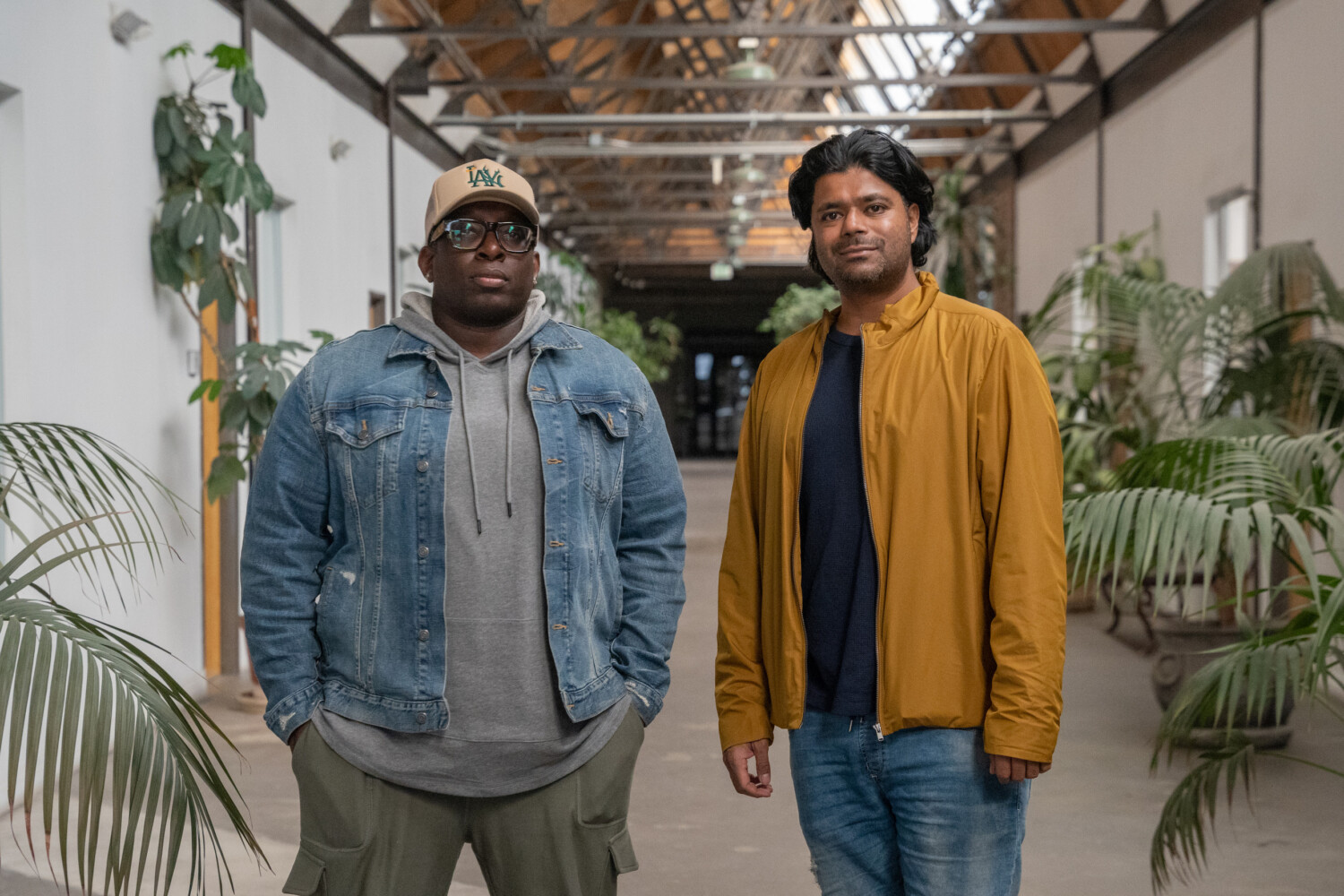 Landing the Flagship Investment
Bailey left Yeezy mid-last year to launch FCTRY LAb, a sneaker design lab that brings together all of his passions and expertise. He said he felt like he had accomplished everything he set out to do at Yeezy, so it was time to take that leap back into entrepreneurship.
Being a Black founder is one thing, but being a Black tech founder raising venture capital is a different ball game. Bailey said he and his founding counterpart, former private equity executive Abhishek Som, actually raised more funding than they originally set out to.
Like most businesses, FCTRY LAb started as an idea that became a pitch deck after a venture capitalist told Bailey and Som that they had a "fundable" idea and needed to put it on paper. They did just that, pitched it to a portfolio of investors, and ultimately, LA-based venture firm Slauson & Co. led the first funding round with additional investments from Aurelien Capital Partners, Relay Ventures, the Los Angeles Dodgers ownership group's private equity arm Elysian Park Ventures, Level One Fund, Fog City Capital, Time Zero Capital, and more.
Bailey and Som's venture goal was $2 million to $3 million — they secured $6 million.
"We probably had 80 meetings, or maybe close to a hundred, and 98% of them were all positive," Bailey said. "We were fortunate enough to focus on the investors we felt were very strategic to our business and what we were building."
Building Out the Tech & Products
FCTRY LAb's mission is to bridge the heavy lifting between product creation and large-scale manufacturing. The startup partnered with industrial 3D printing manufacturer Stratasys to implement its 3D printing tech into FCTRY LAb's design process. Bailey told Boardroom that the specific printer it uses from Stratasys costs around $700,000, but the 3D printing manufacturer gifted it to FCTRY LAb after Bailey pitched his vision, and the company wanted to double down on its support.
Aside from 3D printing, FCTRY LAb also develops 2D and 3D designs, leverages direct-to-fabric 3D printing, and the startup even runs deep performance testing on its products.
"We're combining technology and innovation with traditional shoemaking methods to create the lab part of this," he said. "FCTRY LAb is a Black-led footwear innovation lab that is here to empower creators and show them that there is a path to build and create their own brands. We also want to make that barrier of entry into footwear, which has historically been a difficult space to break into, much easier to get into."
FCTRY LAb dropped its first product, classic Knight Rnr in black sneakers, earlier this year before restocking them for a limited drop and in-person pop-up shop at SLAM in NYC in mid-May. The design studio initially displayed some of what it has been working on during the 2023 NBA All-Star Weekend, which is where Boardroom first caught up with Bailey. FCTRY LAb will continue to host sneaker drops as it continues to develop new products.
It might sound cliché, but Bailey said his company's products are designed for everyone. FCTRY LAb is hyper-focused on the design and development process to create products that are truly unique from other footwear makers on the market. For that reason, Bailey isn't too much worried about direct competition when it comes to those big-name brands like Nike, Adidas, Puma, and New Balance.
"We plan on competing with them by not competing at all," Bailey said. "We really believe in what we're doing, and our goal is to create cool and innovative products, and the people that resonate with our mission will see that and respect that and hopefully buy our products as a result of that."
Elevating to the Next Level
FCTRY LAb will continue to use 3D printing technologies for the foreseeable future because Bailey believes it's easier to make creative decisions and iterations of a product through the design process.
"If we're really trying to push the boundaries and build something that's never been done before, it's really important to be able to go through that iteration process and feel comfortable with what you want to put out in the world," Bailey said.
Right now, FCTRY LAb operates in a development facility, but Bailey sees his business extending to add a manufacturing arm in the next five to 10 years to encompass more labs and production facilities.
"In the future, I see us building a facility that's more representative of all the methods of making footwear," Bailey said. "Ultimately, I'm just taking it one day at a time, listening to people, learning every day from people on my team who are a lot smarter than I am, and just making good, informed decisions moving forward to make this a behemoth of a company."
This footwear tech startup barely has a year in business under its belt, but it's clear we'll be seeing more from the emerging brand in the future. Boardroom will be keeping up with FCTRY LAb and all that Bailey has planned, so stay tuned for more updates.
Read More:
Interview
From lifelong sneaker collector to refined tastemaker, the evolution of Devin Booker can be simply seen in his first signature sneaker. …