Sneakers have become the go-to IRL manifestation of your favorite athletes' NFT collections. Below are Boardroom's favorite customs from the 2021-22 NBA season.
When celebrities started to acquire a variety of NFTs last year, they began looking for ways to physically show off their most recent digital purchases. One of the immediate trends became a fitting status symbol of social currency — updating account avatars across social media platforms such as Twitter. 
But once that wave subsided and this season got into swing, yet another trend emerged: customized sneakers. 
All season long, across both the NBA and NFL, players of all positions, ages, and NFT communities have been spotted highlighting their multi-ETH crypto cops atop their footwear.
We've even seen several related virtual deals come about for NBA players. Wilson Chandler's CryptoKickers deal helped raise funds for his hometown-geared foundation. Ron Artest's partnership with BlankSoles launched 450 NFTs of his own virtual sneaker, and both Kyle Kuzma and Nick "Swaggy P" Young launched their own NFT footwear with Space Runners.
Before signing with 361 Degrees, Spencer Dinwiddie unveiled his final K8IROS branded sneaker in a virtual capacity, auctioning off the "Crypto K8IROS" to raise money for his foundation. Mike Bibby even auctioned off the physical Air Jordan XIX PEs that were initially made for the 2004 All-Star Game that he wasn't named to, along with an NFT edition of the shoe.
Sign up for our newsletter
The ability to land deals and partnerships touting new footwear ventures in the metaverse is one thing, but showing them off in-game is another. Here's a running log of the best NFT-related footwear sightings in action in the past year.
Terry Rozier // Puma Clyde All-Pro "Scary Terry"
On the NBA hardwood, Scary Terry is a trendsetter, donning a pair of Pumas last spring that were also converted and minted into being a matching NFT available for bidding on OpenSea. The winning bidder won the NFT, along with the other 1-of-2 customized "Scary Terry" kicks, marking the league's first NFT on-court activation in the sneaker space. 
Robin Lopez // Nike Zoom Freak 1 "Mad Rabbits"
After draining a three from the top of the key on Feb. 8, longtime league leader in quirkiness Robin Lopez hit his signature "Tea Time" sipping celebration. Tacking onto the celebration was the Mad Rabbits Riot Club Twitter account, pointing out that RoLo was cashing out jumpers in his MRRC edition custom Zoom Freaks. Made up of a series of 7,500 unique NFTs, Lopez's sneakers featured two unique Rabbits on each shoe — one a top-hat-wearing shocked Rabbit, the other a space-suit-wearing Rabbit with futuristic Star Trek-esque glasses.
Tyrese Haliburton // Nike Kobe AD "Bored Ape #8409"
In November, pre-game trash talk took a new turn when then-Pelicans guard Josh Hart tweeted at then-Kings guard Tyrese Haliburton what was likely one of the more tame taunts between NBA players:
With the Bored Ape-beef fueling the matchup, Hart eventually had an off night from the field, while Haliburton sparked a late run to lead the Kings to a 112-99 win with 20 points.
More importantly, the tech-savvy playmaker broke out a pair of custom Kobe sneakers that night featuring his own pink and blue #8409 Bored Ape for the occasion. Judging by the trading activity of what is likely the rising NBA guard's account — the screenname is @TyreseHaliburton, after all — the #8409 Ape was transferred a month ago. 
Stephen Curry // Curry 9 Flow "Genesis"
After making his first splash in the NFT space last summer with his highly covered $180,000 entry into the Bored Ape Yacht Club, Stephen Curry and his Curry Brand became the first brand to launch a signature shoe as an NFT.
In celebration of his record-breaking 2,974th career three-pointer at Madison Square Garden in December, Curry Brand launched a series of five unique designs totaling 2,974 NFTs, each depicting the shoes worn that nigh — a royal blue and gold accented edition of the Curry 9 Flow.
Much like the fanfare and anticipation leading into Curry's record-setting game, the interest in the NFT series in the aftermath of the record was equally frenzied: 
The collection sold out in nine minutes, netting Curry Brand more than $999,000 in profit, 100% of which will benefit organizations that support access to sport
Customers from 19 different countries purchased the NFTs
Dedicated microsite, www.2974.currybrand.com, received 25 million visitors in just four days
At least 4 million consumers attempted to buy the 2,974 limited mints of Curry's historic "Record Breaker" NFT shoes
One of the NFTs sold for $56,000 on the re-sell market
PJ Washington // Nike Kobe 6 "Chibi Dinos"
When Hornets forward PJ Washington hit the court in a vibrant neon pink and green pair of Kobe 6s last month, most simply thought it was a fresh custom. A closer look revealed a customized cartoon dinosaur — a nod to the "Chibi Dinos" NFT collection that the Charlotte big man has partnered with consistently throughout the season.
An open-mouthed blue Dinosaur donning Washington's No. 25 uniform number is part of a series of 10,000 hooping Dinos that has built out a budding community since launching. Washington recently added to the community's batch of giveaways, with five Twitter contest winners each coming away with a $100 Nike gift card.
Malik Monk // Nike Kobe 6 "Gutter Cat Gang"
With the Lakers set to play on Christmas Day in the franchise's first game at the newly re-named Crypto.com Arena, shooting guard Malik Monk saw the perfect opportunity to launch "Gutter Kicks," the first footwear NFT from the Gutter Cat Gang community.
Monk was already a Gutter Cat NFT holder, with his #870 Cat appearing along his Kobe 6 customs, styled in a "GANG GANG" traditional Christmas sweater for the occasion.
Just as the game tipped off, an auction launched, grouping the unique Gutter Kicks NFT with Monk's physical game-worn jersey and custom sneaker for the winning bidder. All proceeds from the auction benefitted a web of families in Monk's home state of Arkansas who had recently been impacted by a wave of tornadoes in the region. 
Andrew Sendejo // Nike Vapor Edge Speed Cleats "Bored Ape #4247"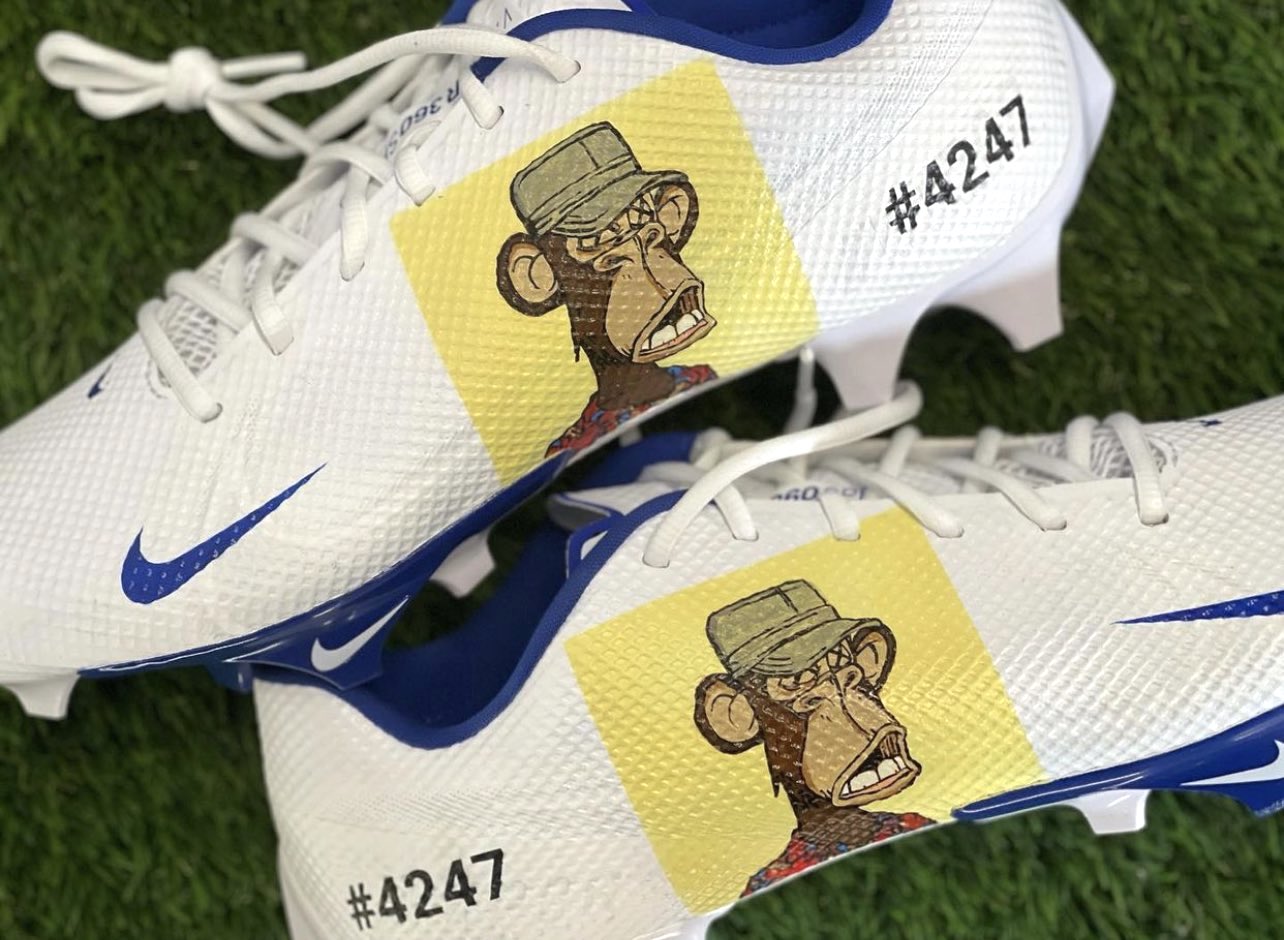 Last November, Colts safety Andrew Sendejo became the first NFL player to turn his non-fungible purchase into footwear, as he highlighted Bored Ape #4247 along the sides of his low-cut Nike Vapor cleats thanks to the precise handiwork of customizer Mache.
Just four days prior, Sendejo ponied up 57 ETH — around $238,000 — for his Bored Ape featuring a rare mix of yellow background (13%), Hawaiian clothing (3%), X eyes (2%) and an army hat (3%). He took a straightforward approach to the concept, slapping the full yellow block graphic and edition number directly onto the cleats.
Kevin Durant // Nike KD 14 "Light Cult Crypto Club"
When artist Ron English released his latest NFT collection, the "Light Cult Crypto Club," the series was thought to be a run of 10,006 unique digital lightbulb expressions with varying colors, characteristics and details throughout.
Then, a size 18 sneaker hit the Barclays Center court, with Kevin Durant's newest edition of the KD 14s depicting English's artwork along the upper and a lightbulb design along the inner midfoot strap — a nod to the "Bulbheads."
While most sneakers highlighting a specific NFT are custom painted in a matter of days, this collaboration with Ron English has been in the works all year long, with KD lacing them up for a 53-point outburst against the Knicks earlier this month, and even donning a few player exclusive pairs in alternate colors.
Sign up for our newsletter