Bracketology is synonymous with March. But how did it all start and what does it truly mean in 2023?
You can credit Steve Nash for the existence of Bracketology.
At least that's how Charlie Creme, ESPN's women's basketball bracketologist, tells it.
It was 1995, and Creme was sharing a cramped office with Joe Lunardi, now ESPN's men's bracketologist, as the NCAA Tournament selection show was airing. The two were working on the Blue Ribbon Yearbook's NCAA Tournament preview edition, due to hit the printer as soon as the bracket was set so that it could get to fans well in advance of Thursday's First Round games.
The editor Lunardi, Creme, and a team of freelancers around the country had written close to 100 team previews, accounting for every team they knew to be in the field and thought could make it as an at-large selection. But as the two watched CBS unveil the bracket, they were caught off guard when Santa Clara, led by the junior Nash, made the cut. And then when the Fran Fraschilla-led Manhattan Jaspers followed.
"It's one of those proverbial 'bleep' moments," Creme said. "Joe says 'I'll take Manhattan, you take Santa Clara,' because we had to crank this out. Everything had to be at the printer by I think 8 or 9:00 and the [Selection Show] is at 6."
So the pair got to work, dumbfounded that the committee placed into the bracket two teams they were unprepared for.
Neither knew it at the time, but those frantic two hours, with old desktop computers clacking and fax machines whirring (they needed information on these mystery teams from school SIDs), soon gave rise to one of the most influential movements in the history of college sports media.
Sign up for our newsletter
The Birth of Bracketology
Lunardi knew even before that Selection Show debacle that he could better optimize his and his staff's time. This was a 64-team tournament and there should not have been any reason to prepare 30-something team previews that would never see the light of day.
"There's got to be a way to whittle down the number of teams we're doing," Lunardi recalled thinking to himself. "That essentially involved understanding the selection process so that maybe I could assign 80 or 75 or 70 [previews]."
To decrease the amount of work while increasing his staff's productivity, Lunardi needed to determine how exactly the committee assembled the bracket. Remember, this was the 90s, before NCAA Tournament procedures were readily available online.
Lunardi doesn't quite remember who he called, but it must have been someone at the NCAA, because they sent him a photocopy of the committee's selection and bracketing procedures. He got to work studying it, not as a way to ultimately make a living, but just to make sure his publication would be better prepared for any surprises in the 1996 selection show.
"Back then, it was very cloak and dagger," Creme said of the selection process. "The committee didn't really give you much after those [television] interviews [after the selection]. They were very evasive."
That wouldn't fly for a publication on deadline, and so out of necessity, what we now know as bracketology was born.
Taking it to the Masses
Lunardi and Creme remember what happened next a little differently, but shortly after Lunardi began "messing around [with the bracket] on legal pads," as he puts it, he started his own website, bracketology.net. In true late-90s Internet fashion, it was a rudimentary website, full of unnecessary fonts and without anything that actually resembled a bracket.
But the content was good. It showed his projected teams, where he'd place them in the field, and which teams were on the proverbial bubble.
Around that time, ESPN.com — then ESPN SportsZone — was getting off the ground and Lunardi pitched putting his bracket projection on their fledgling website a few weeks before the tournament started. It was a way to promote Blue Ribbon, with an 800 number at the bottom of the projection for people to order the postseason edition.
"People were really into these projections of the field," Lunardi said, "It wasn't anything like it is now, where people understood why certain teams can't play in certain places or against other teams from their league or why is Georgetown always out west and whatever."
Soon, Lunardi became better known for his bracket projections than for his work at Blue Ribbon. One projection a few weeks out became several. That became weekly, and it eventually evolved to a year-round job for the man they call Joey Brackets.
Lunardi had been at ESPN for a few years already when they asked him if he'd be willing to add women's tournament projections to his to-do list. But between his men's basketball responsibilities and a full-time job in the Saint Joseph's athletic department, he just didn't have the time to double his bracket workload. So he turned to Creme, a guy who had seemingly been preparing for the moment his entire life.
Literally.
In 1979, when he was just a kid, Creme cut a blank bracket out of the newspaper the morning the field was announced, hung it up on his wall, and started filling in teams as they came in. After that, he started to make his own brackets with construction paper, a ruler, and a pencil.
"My teachers probably wish I was as neat and orderly with my homework or schoolwork I did back then as I was with my bracket," he said. "I don't know, just, I love college basketball."
In 2003, he traded in his ruler and construction paper for the back end of ESPN.com, and he's been at it with the Worldwide Leader alongside Lunardi ever since.
Everyone's a Bracketologist
Bracketology isn't just about which teams are good and which aren't. It's about who those good teams might play on the sport's biggest stage, where they might play those games, and what juicy matchups could work out depending on how the theoretical bracket unfolds.
Every time a bracketologist creates a bracket — and check Bracket Matrix, there's no shortage of so-called experts — they create a possible fantasy March Madness world, full of possible Cinderellas, upsets, and buzzer-beaters.
Perhaps that's what draws so many people to the practice; it's a chance to put your team in an ideal March scenario, setting them up to cut down the nets on the first Sunday or Monday in April.
For Megan Gauer, who does women's basketball bracketology for Her Hoops Stats, it's her love of numbers.
"I'm a big data person," she said. "Bracketology is a lot of data and I've always been interested in how it works. I've gotten more into it recently because in the women's game, there's not a ton of people doing it."
There's another element too. Bracketing an NCAA Tournament field is, ultimately, a puzzle. One has to put 68 teams into a bracket while avoiding a number of pitfalls:
Teams from the same conference can't play each other in the first round
Teams need to be placed into the field in order and by geographic preference
Each region's top four seeds must be from different conferences if at all possible
Each region needs to be somewhat balanced so no one region is significantly stronger or weaker than any other
It's a daunting task, but one that keeps bracketologists coming back for more. Take Chris Dobbertean, SB Nation's resident men's bracketologist, for example. He started building brackets in 2003 when he was in grad school, based on a friend's suggestion. Though he admits his first attempt wasn't great, he soon got better and says that before long, he was predicting the field with more accuracy than Lunardi himself.
Much like Creme, Dobbertean is still going strong after two decades.
"It just mixes all sorts of things that I really love," he said. "Data, putting together a puzzle and trying to follow all the rules, geography. Those are, really, I think the three things that brought me to it besides the love of the sport."
The craze has even extended to some coaches, as Creme says former Texas A&M women's coach Gary Blair tries to predict the field himself, then compares his results to Creme's.
"It's kinda cool to hear that he's still involved," Creme said. "He still has this love for bracketology that he carried into retirement."
Bracketology, the Business
For most, bracketology is a hobby — albeit a time consuming one — particularly in March.
For a select few – with Lunardi and Creme leading the way — it's a way of life. Tune into ESPN during a men's college basketball game in February and you're sure to see Lunardi pop in from the "bracket bunker," which is really just wherever Lunardi happens to be, as long as he has access to a camera.
From the bunker, Lunardi will explain how the game currently airing impacts his projections or talk through a team's resume. Critics might call it a gimmick, but if it is, it's a gimmick that people crave.
Not just fans, either. As he details in his book, Bracketology: March Madness, College Basketball, and the Creation of a National Obsession, coaches have asked him for advice related to scheduling — namely, how they can build an ideal at-large resume.
Creme is acutely aware of how coaches pay attention to his work. He knows when they cite him in a postgame press conference, campaigning to him specifically in order for a more favorable draw in his next projection.
On the surface, that sounds insane; no bracketologist has any say whatsoever on what the committee does. But the higher up Creme has a team on his seed list, the more ESPN pundits will discuss them. The more a coach can say to a potential transfer, "hey, Charlie has us as a 4 seed for next season. Come on board and we can move higher."
"They reach out," Creme said of coaches. "They politic to me, or they'll quote me and say 'hey you know, Charlie's got us as a 10 seed, we have more work to do.'"
It's not just coaches. Lunardi says the suits at ESPN also ask for his advice. It's easy, before the season, to know that Duke vs. North Carolina should be on national TV. What's harder to figure out, however, is what game the network should put on ESPNU on a Tuesday in December. That's where Lunardi can help, pinpointing which games may have bubble implications or are resume boosting opportunities for at-large teams.
"I'm not doing any matchmaking," Lunardi said. "I'm simply giving rankings to the people who do. No matter what I say, Kentucky is gonna be on 20 times because they move the needle. I'm simply giving them the menu, if you will, of what [the landscape] looks like in June or July."
It makes bracketology a year-round endeavor, and one that can even lead to opportunities outside of basketball.
The most bizarre has to be a campaign Lunardi ran with Purina ahead of the 2016 Westminster Kennel Club Dog Show, aptly dubbed "barketology." Lunardi broke down various dog breeds, helping fans fill out their "barkets" to predict the winner.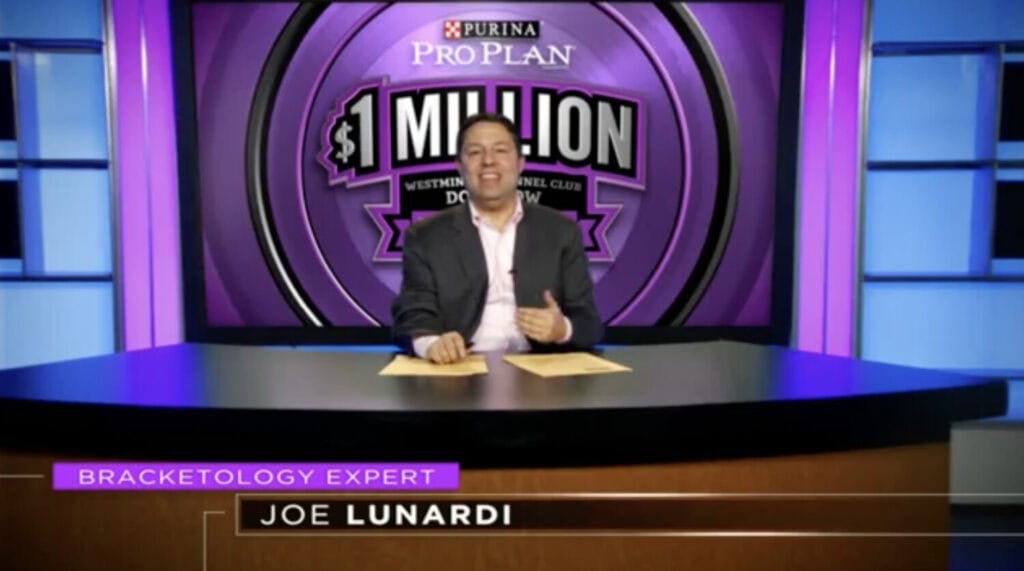 "I thought I was a dog person," Lunardi said. "It's not close. These people are really into it. But it works. 35,000 people filled out a dog bracket."
Such opportunities don't come along often for Lunardi, but he does do the occasional paid social post or speaking engagement.
A Year-Round Effort
Creme hasn't had the opportunity to do any dog brackets just yet, but his impact on the bracketology business is just as pronounced, particularly in women's basketball, which still fights to earn the coverage it deserves. The men's and women's college games are both victims of the calendar, playing the bulk of their seasons up against the NFL and college football. It leads some to view college basketball as a month-long season in March. What Creme and Lunardi have done is extend the excitement of March Madness beyond the month itself — doubly important for the women's game, which is operating almost a half-century behind the men's.
"It's another section of the sport that fans can clamp onto," Creme said. "It's absolutely extended March Madness. People started saying last week 'oh wow, this is your time. This is your busy time.' I wanna grab them by the throat. Are you kidding me? I've been busy with this stuff for months."
For proof, check the mentions of any bracketologist from November to March. It just doesn't stop.
"People want to make cases for their team on the bubble and all that," Dobbertean said. "I'll take criticism, but remember that what I want to do, what everybody else wants to do, doesn't matter. It matters what the committee is thinking."
And that's what bracketologists of all sorts agonize over. The men's and women's committee change by a couple members every year, so there's no true consistency. We get hints of their thinking through the annual seed reveal previews in February, but those are merely breadcrumbs.
Being able to predict the bracket itself remains the holy grail. Lunardi, Creme, or someone else may nail all 68 tournament teams, but the odds of getting the exact right seeds, matchups, and game locations are miniscule.
It doesn't matter. It's still fun to chase. And that's regardless of whether it's July, February, or in March while Steve Nash ruins your evening.
More March Madness:
A deep run in the men's NCAA Tournament means a big payday for that team and its conference. For now, that's not the case in the women's tournament….
Sign up for our newsletter