A cheat sheet for sports card collectors and investors ahead of the the 2021-22 NBA season
We're finally here: the start of the first "normal" NBA regular season in what feels like eternity. The Association will celebrate its 75th season in 2021-22 with a full 82-game schedule featuring fans in the seats the whole way through, and even though the COVID-19 pandemic still presents challenges, the sports trading card hobby is especially eager for this campaign to commence.
During the pandemic, no professional league's card benefited more than the NBA. And as prices are beginning to plateau, investors and collectors are in an interesting spot.
With that in mind, let's identify some of the young players around the league poised to increase their cards' values with ascendant performances this year, as well as a couple of rookies to keep an eye on for the long haul in hopes of becoming the next LaMelo Ball.
Sign up for our newsletter
The Singles-first Approach
I'm starting to sound like a broken record, but investors really must take a singles-first approach. Panini will certainly increase production for these next couple years and not only to meet demand but to maximize revenue — If you don't recall, this is the first NBA season since Fanatics announced its future trading card partnership with the NBA and NBPA scheduled to begin in 2026.
If you have the capital to buy hobby and retail boxes, more power to you, but it's more advantageous for a collector or investor to wait a week or so after a product releases, then buy the singles they're looking for.
Example: 2021 Rookie of the Year LaMelo Ball's Optic base was selling for $200+ after release, but you can get one now for around $35.
Breakout Candidates for 2021-22
Those who invested heavily in Julius Randle before his All-NBA season with the Knicks saw some of the greatest returns on investment in the basketball card hobby. In November 2020, you could get Randle's Panini Prizm Base PSA 10 rookie card for about $28. At its peak, when Randle was named to his first All-Star Game, that same card was selling for $500.
That's a 1,785% increase, folks.
In the new season, these three players will each have their chance to be the next Randle.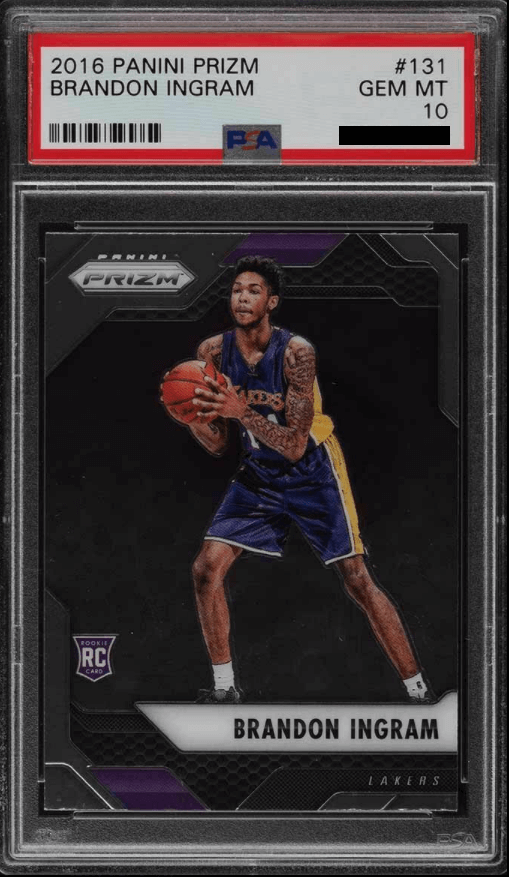 Brandon Ingram
Last season, Ingram put up nearly identical stats to his 2019-20 All-Star campaign while sharing the ball with Zion Williamson. Zion's injury status is up in the air for at least two weeks, which means New Orleans is Ingram's team to lead. Ingram's price peak last season was $750 for his Base Prizm PSA 10 rookie card.
At the moment, you can snag this one in auctions for barely over $100.
With ZionWilliamson out for an unforeseen period of time, BI offers legitimate potential for sizable return on investment if he keeps playing at an All-Star level.
Collin Sexton
Yes, Collin Sexton! Make no mistake — Cleveland's Young Bull took a fine step forward last year, finishing 18th in the league in scoring at 24.3 points per game. His prices have fallen since their earlier peak, but with a promising group of young players around him, he's poised to take another step. He may not become an All-Star right away, but he's just 23 years old and clearly on the come-up.
After going for over $100 bucks a pop as recently as late July, you can now get Sexton's Prizm Base PSA 10 rookie card for under $70.
De'Aaron Fox
De'Aaron Fox remains one to watch, as he brings an exciting style of play and comes off his best season to date as a shooter and scorer, finishing 15th in the league at 25.2 points per game. His Prizm Base PSA 10 rookie card goes for around $120, and if he's able to make the All-Star Game in a league loaded with exceptional guards, his prices could double or even triple the current value.
And if he leads the Kings to the playoffs? That only makes things sweeter.
NBA Rookies to Watch in the Hobby
One of the biggest questions going into every NBA season is which rookie will catapult to stardom? In 2018-19, it was Luka Doncic and Trae Young. In 2019-20, it was Zion Williamson and Ja Morant. Last season, it was Anthony Edwards and LaMelo Ball. There are a few rookies from the 2021-22 class that are certainly worth investing in.
Jalen Green
This kid has it all: charisma, skill, and an exclusive trading card deal with Panini. The Houston Rockets shooting guard will team up with Kevin Porter Jr. and Christian Wood, so he won't be left on an island — one of the reasons he's the betting favorite for NBA Rookie of the Year.
Due to his exclusive trading card deal with Panini, Green could end up in a LeBron James and Michael Jordan Upper Deck-like situation after Fanatics takes over. That presents an intriguing wild card as it relates to his market in the hobby.
James Bouknight
You're probably asking yourself, "why would I invest in a rookie guard for the Hornets?" It's a fair question considering they have Ball and Terry Rozier, but James Bouknight is electric and makes the most of his time on the court.
The only other guard the Hornets have in their rotation is veteran Ish Smith, so you can definitely expect to see Bouknight get crunch time minutes as a rookie.
And did you see his dunk from preseason? That dunk?
The NBA season is a long one, and there certainly are other rookies to keep an eye on. Scottie Barnes looks to be a fantastic all-around prospect up in Toronto. Trey Murphy could see some prove-it minutes for the Pelicans early, especially while Zion is out. And of course, there's Cade Cunnigham, the No. 1 overall pick for the Pistons.
Keep it simple. If a player emerges that you legitimately believe in, watch the markets for their singles.
But most importantly, have fun. Basketball is back. That's what matters most.