By most standards, a clothing line can be awful business to start from scratch. The overhead is expensive, it's a highly competitive and crowded industry and on the surface there appears to be little potential to establish one's brand amongst the longtime standard bearers. If the old running joke about athletes opening up restaurants just to lose money is true, you'd have to imagine a clothing line would be right behind that.
But over the past two decades, NBA players have found themselves at the forefront of fashion. Whether it's their tall, slender bodies tailor made for runways and showing off the finest of garments, or the keen and daring fashion sense they display on a nightly basis, fashion is as much a part of the NBA now as squeaking sneakers and popping nets. Now, players are carving out a niche in the fashion industry, not just as models of the latest trends, but as designers and businessmen capitalizing on their influence and making impact with their own brands, outfitting stars and creating waves for themselves.
If anybody was going to take their fashion acumen and succeed in the industry, it was always going to be Russell Westbrook or Nick Young. Their melding of streetwear and high fashion became a trend unto itself, and the daring risks they continuously take displays the willingness you must have to truly evolve and push fashion forward. Westbrook and Young turned the walk from the car to the locker room into their own personal runways, making that moment must-see TV and viral content nightly. They were the inspiration for the League Fits account and movement, and deservedly the faces of the fashion-forward reputation of the NBA. 
For Young, his expression manifested itself into his MostHated brand, causing GQ to dub him "the first pro athlete with his own merch" back in 2017. Last year Young told Complex he dreams of MostHated becoming a Supreme-like brand, multi-purpose streetwear with an element of timeliness. The line, which began with a few t-shirts with "Most Hated" written on them in 2016, is littered with trendy, retro stylings, and has formed a foothold in the market with their thigh-high shorts embossed with the Larry O'Brien trophy that first came to prominence when he donned a pair during the Golden State Warriors 2018 NBA Championship parade. The shorts have become a championship mainstay, with Anthony Davis and Dwight Howard rocking pairs after the Lakers won the 2020 title, but that's not all the line has to offer. Nick's brand has found itself onto the likes of Odell Beckham, PJ Tucker and  models like Karrueche Tran. Now, over two years since he last took the court in an NBA game, it's Young's reputation in fashion that has maintained his mainstream relevance and keeps MostHated in the NBA's pregame runways.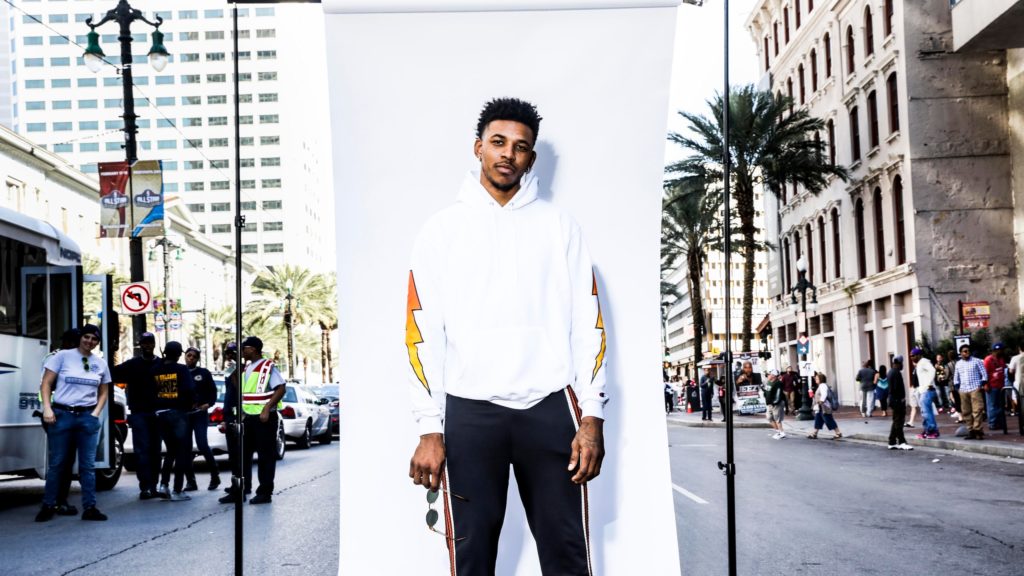 Westbrook has Honor The Gift, similarly rooted in vintage aesthetics with Los Angeles sensibilities. Launched a day before his 29th birthday in 2017, the hints of Russ' fashion sense are evident with HTG, a capsule of faded hoodies and t-shirts feels especially modern, another capsule of paint splattered items including a painter's jumpsuit is the type of risky but oddly fashionable piece you'd expect to come from the mercurial point guard. Last year, during the period of civil unrest after George Floyd's death at the hands of Minneapolis police officer, the National Basketball Players Association commissioned Russ and Honor the Gift to "create a collection of shirts that allow us players to shed light on social injustice, and honor the victims and families of those who continue to inspire us." 
But of all the brands created by current and former players, it was a more muted line from a player further from the spotlight that Westbrook and Young often sought as inspiration when pushing their fashion sense forward. After a trailblazing burst to start his career, Brandon Jennings eventually settled into a role as a bit of a journeyman during a nine-year career with the Bucks, Pistons, Knicks, Magic and Wizards. While he didn't become a star like Westbrook and Young, he did share LA roots with them, and a sense of style.
Jennings has turned that into Tuff Crowd, a brand that firmly plants itself into a mix of solid, primary colors and black, with small hints of white accents. Instead of relying on screen prints and bold imagery, Tuff Crowd strips itself down to a minimalist series of designs that instead maximizes fit, textures and the art of putting an outfit together rather than screaming out brand names. Tuff Crowd basks in the glory that is a turtleneck or an exaggerated color, and the simplicity of a black backdrop with white branding. Seen on the likes of Kevin Durant, Jordan Clarkson, Dwyane Wade, Chris Brown, Jaden Smith, Christian Combs and more, Tuff Crows seems to be the brand primed to explode and further pave the way for NBA fashion gurus to carve a niche for themselves in this overcrowded space.
For Jennings, a smaller profile as a player might be a blessing in disguise for his burgeoning brand. That's not to say he lacks in celebrity. Back in 2008 when he decided to forego a year of college basketball and play professionally in Italy instead, it was worldwide news. He provided tabloids with fodder when he dated singer Teyana Taylor and actress Lashontae Heckhard. But that pales in comparison to the profiles Westbrook and Young developed throughout their careers, and those profiles can have a way of enveloping their brands. Where Honor the Gift and MostHated have gained notoriety as the brands formed by Westbrook and Young, Tuff Crowd seems to exist as its own entity, helping to establish the brand as more than a novelty cooked up by an NBA star.
What's clear in all three cases is that NBA players are capable designers, crafting and pushing a brand into relevance. In choosing to be more than just a model for someone else's brand, players are taking charge and capitalizing on their reputations as some of the most fashionable men in America, not just athletes, and making themselves figureheads for their own movements. It takes time to turn a clothing brand into a mainstay alongside the likes of Nike, Gucci, Supreme, Bape and other legacy brands, but Honor the Gift, MostHated and Tuff Crowd are off to promising starts. Supreme was once just a skate shop in the middle of Soho, and Nike was once just a track coach making running shoes with a waffle iron. Short shorts at a championship parade seems like a fine enough origin story for a legacy brand one day.