Wemby is a Nike athlete & Scoot signed with Puma, but what about the rest of the bunch? Let's break down this year's NBA rookie class by shoe deals.
Early on, the 2023 crop was pegged as one of the deepest NBA Drafts in recent memory, with multiple top picks projected to be future All-Stars and a depth of promising players to be selected thereafter.
With a range of wings and guards throughout the first round and a 7-foot big man in Victor Wembanyama who clearly defies all convention at his size, it could also become one of the more impactful drafts of the last decade from a marketing standpoint.
Below is a full rundown of NBA rookie-class shoe deals — from the Swoosh to Puma and everything in between.
SIGN UP FOR BOARDROOM'S SNEAKER GAME
Nike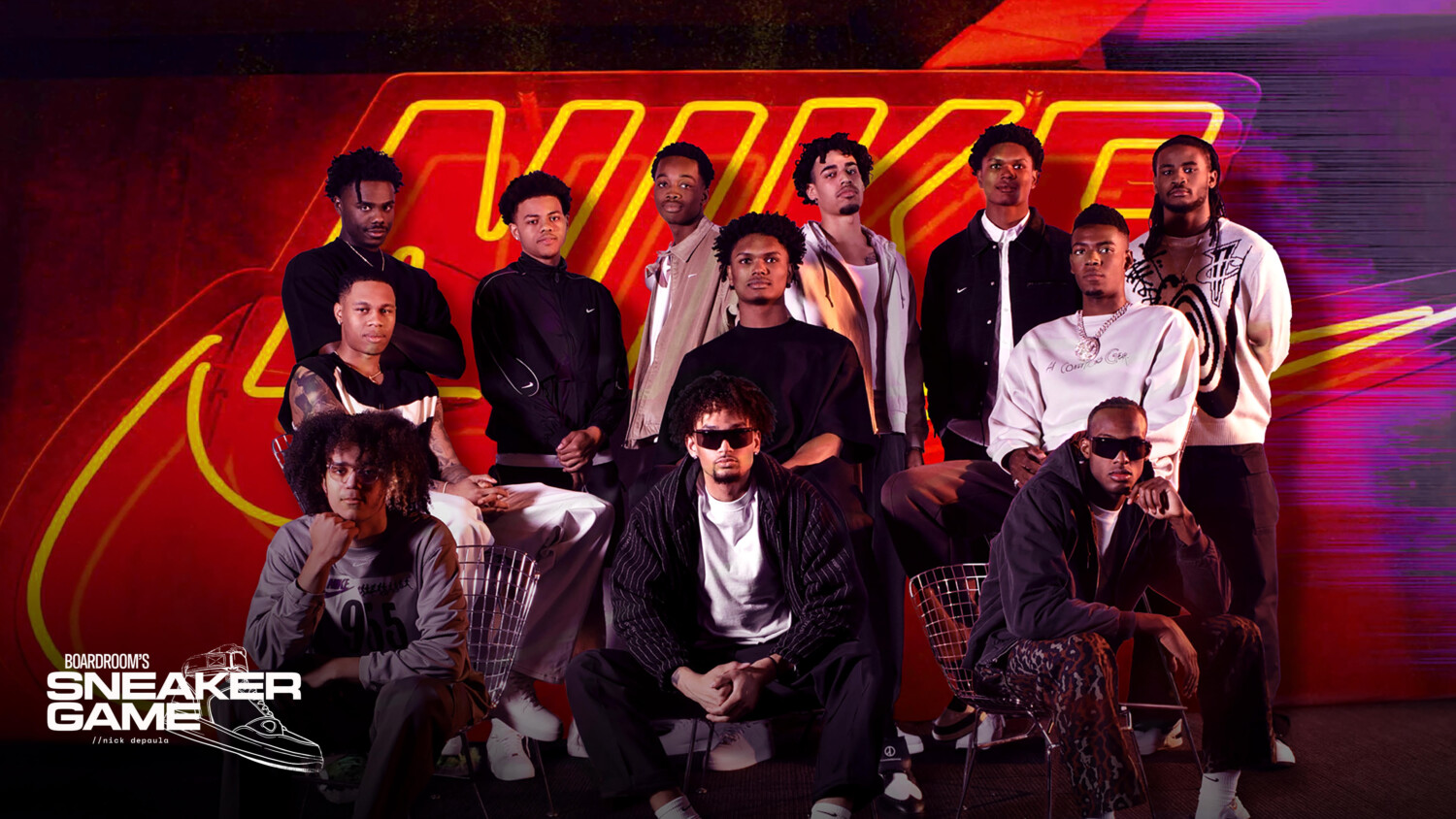 Victor Wembanyama, San Antonio Spurs 
Brandon Miller, Charlotte Hornets
Amen Thompson, Houston Rockets
Ausar Thompson, Detroit Pistons
Anthony Black, Orlando Magic
Kobe Brown, LA Clippers
Bilal Coulibaly, Washington Wizards
Keyonte George, Utah Jazz
Jordan Hawkins, New Orleans Pelicans
Dereck Lively II, Dallas Mavericks
Olivier-Maxence Prosper, Dallas Mavericks
Julian Strawther, Denver Nuggets
Cason Wallace, OKC Thunder
With nearly 70% of the NBA signed to the Swoosh since becoming the league's official uniform manufacturer in 2017, Nike has cast a wide net in every draft since, landing nearly a dozen draftees in each class thereafter. This year, the haul is undoubtedly headlined by Wembanyama, who, in just a handful of preseason games, is already proving he just might live up to the lofty hype early on.
Landing the Thompson Twins, who had huge interest from competitors as they looked to achieve their childhood dream of "getting a shoe company," was a massive win. Anthony Black's court vision alongside reigning ROY Paolo Banchero should make the Magic a League Pass favorite, Brandon Miller is a natural-born-scorer, and Keyonte George could prove to be the steal of the draft for the Hazz.
In all, the Swoosh did well.
Jordan Brand
Jett Howard, Orlando Magic
Cam Whitmore, Houston Rockets
Jaime Jaquez Jr., Miami Heat
Marcus Sasser, Detroit Pistons
Jordan Brand always refers to their athletes and endorsers as "family," so it was only right that each of their rookie signings had a pre-pro connection to the brand already in place.
Jett Howard, son of longtime NBA vet Juwan Howard, played for his pops at Jordan-sponsored Michigan, former UCLA forward Jaime Jaquez Jr. laced up in Lukas and Zions while in Westwood, and Marcus Sasser was at Jumpman-branded Houston during his four collegiate seasons. Rockets rookie Cam Whitmore even played for Carmelo Anthony's Jordan-sponsored AAU squa, Team Melo, way back in middle school.
"It's super dope to be signed to Jordan Brand after being at a Jordan Brand school," said Howard. "In college, I wanted this to happen."
New Balance
Nick Smith Jr., Charlotte Hornets
Since their NBA re-emergence in 2018, which began with intern-turned-future-first-rounder Darius Bazley, New Balance has almost exclusively signed veterans as endorsers in the handful of years since. Nick Smith, a 6-5 point guard out of Arkansas taken 27th overall by the Hornets, changes that, bringing some youthfulness and, well, balance to the NB roster.
Adidas
Gradey Dick, Toronto Raptors
Jalen Hood-Schifino, Los Angeles Lakers
Trayce Jackson-Davis, Golden State Warriors
Kris Murray, Portland Trail Blazers
Max Lewis, Los Angeles Lakers
Jalen Wilson, Brooklyn Nets
Jaylen Clark, Minnesota Timberwolves
While perhaps a lighter Three Stripes class than in years past, I attribute a lot of the shift in draft strategy to the fact that Adidas is already locked in with five signature athletes and prioritizing the launch of Anthony Edwards' killer debut model this fall.
Like Jordan, the brand largely kept things in the family, landing Adidas powerhouse college stars like Kansas' Gradey Dick and Indiana's Jalen Hood-Schifino – both of which had Adidas NIL deals while in school – to lead their rookie class.
Under Armour
Jarace Walker, Indiana Pacers
The No. 8 pick in the 2023 NBA Draft just might be one of Under Armour's most familiar signings upon entering the league. The Baltimore native in UA's backyard played for Team Thrill on the brand's AAU circuit for four years while also attending UA-sponsored IMG Academy during High School before bringing things full circle as a pro.
Puma
Waaaay before Scoot Henderson heard his name called by Adam Silver this past June, Puma was already locked in. The brand originally signed the explosive point guard to a shoe deal during the summer of 2021, when the Marietta, Ga., native was just 17 years old and had signed with the G-League Ignite.
Fast forward a year later, and Scoot was starring for the Ignite and facing off against Wemby in Vegas. The game had so much buzz, and Puma felt so strongly about Scoot's 28-point showing and star power that they pressed go right then on a signature shoe for his rookie season.
As a result, the brand took a more measured approach to the draft and the fall sneaker agency windows, with both LaMelo Ball and Scoot locked in as their signature athletes going forward.
Want More Sneakers?
In the era of the entrepreneurial athlete, Ant-Man is standing on business by doubling down on his game. Will it all culminate in building an empire with Adidas?…