After serving as nightly billboards during arena entries for some of the biggest brands in the world, players are now taking an even more active role on the business side of the fashion industry.
As longtime NBA stylist and fashion director Kesha McLeod frames it, the platform created by NBA fashion took a turn in the mid-2010s. She had met James Harden during a New Era photoshoot in 2015, and a year later, there was a new formula at play.
"I remember being in Miami, getting a FaceTime from a random number. It was James, and he goes 'Yo, this is Kesha?'
'Yeah.'
'I'm going to Paris in two weeks. Adidas is sending me there, but I want to go to fashion shows too. I wanna do it all — so let's set it up!'"
NBA stars like Dwyane Wade, Carmelo Anthony, Amare Stoudemire and Tyson Chandler had attended fashion shows in the years prior, but in the chapter just after, there was even more of a focus and strategy at play, centered around building partnerships within the fashion industry.
Towards the middle of the decade, players were taking a more active role in the process of fashion, a role that's now reaching a peak across brand deals, equity investments and a thirst for industry knowledge. In taking a look back at this offseason's slate of Fashion Weeks, we examine the ways that NBA players are taking steps towards expanding their fashion IQs alongside some of the industry's most exciting events.
Sign up for our newsletter
Transitioning from the Tunnel to the Front Row
In Paris, McLeod and Harden linked up with frequent Adidas collaborator Stella McCartney to map out looks, and worked with Valentino and Versace to create a custom wardrobe for the future MVP. Not long after, Harden was stamped as one of the more fashion-forward — and at times, risk-taking — players in all of sports.
In each of the seasons that followed, he and teammate PJ Tucker's off-court profiles took on an entirely new trajectory during their contending Houston Rockets run. Arriving together, Harden was often clad head to toe in designer, while Tucker single-handedly began the trend of hand-carrying in sneakers from his prolific collection.
Tucker has since designed his own footwear collaborations with Nike, Converse and even Dolce & Gabbana. Similarly, Harden has had a non-stop flow of opportunities in the space ever since.
"I'm on the board of Saks," Harden now smiles. "I'm a very fashionable guy, and I invested in Saks … We obviously know how huge fashion is — not just in basketball or the culture — but in general."
In the years since that trip to Paris, the concept of the tunnel arrival outfit has exploded leaguewide. The roughly six minute walk from the player parking lot to the locker room has created a spectacle across not only the game broadcast, but in real time across team accounts and the endless spectrum of social media accounts dedicated to covering the nightly fits.
The best approach, according to McLeod, is to simply stay within a player's natural aesthetic and create looks specific and nuanced for each individual.
"You can always tell when somebody's overly styled," said McLeod. "You can tell their stylist is a part of their process and it doesn't look like something natural, something that's them."
As the interest in tunnel style has continually ramped up, there's even now a 208-page book chronicling the history of NBA fashion, since the inception of the league.
Launched just ahead of this month's New York Fashion Week, Fly, described as "the story of the extraordinary intersection of high fashion and basketball," is the comprehensive work of Pulitzer Prize-winning writer Mitchell S. Jackson.
"NBA fashion has evolved so much over the years," Tucker says in Fly. "Now with social media and the game being so global, everyone sees everything. NBA fashion has never been bigger."
SLAM's LeagueFits account on Instagram has also led the way in showcasing player fashion. The fan favorite account launched just three months after the entire LeBron James-led Cleveland Cavaliers roster donned Thom Browne-styled suits during the 2018 NBA Finals.
With nearly a million followers in the five years since, the account's annual All-LeagueFits Awards have become just as coveted as some of the league's on-court accolades.
According to Meg Roxas, Brand Partnerships Manager at SLAM, the celebration of apparel in the Association has never been stronger.
"The two have become synonymous with each other and have allowed players to show off another side of themselves that the world rarely gets to see," she told Boardroom. "I think that is why Fashion Week is so exciting for the players. It gives them another opportunity to express themselves and people can see them outside of just a uniform."
Since the foundation of more individualized fashion dating back to the days of Allen Iverson and Dennis Rodman in the 1990s, and the polarizing point of the introduction of the Dress Code during the 2000s, the league's looks have now evolved to an open-ended mix of expression.
"It's real loose now," Rodman told me last spring. "You can wear anything you want. But I think more now, if you really pay attention to it, I think it's more a brand thing."
Rodman isn't wrong. (He also officially launched his own Rodman Apparel line.)
Just like in 2016, Adidas once again invited several of its top athletes to Paris for Fashion Week this summer, as the brand readies for Jerry Lorenzo's upcoming imprint on its Basketball category. Signature athlete Damian Lillard attended for the first time, along with style stars like Jerami Grant and Jalen Williams.
In recent years, players have become even more pro-active in taking advantage of the rush of visibility that's come in tandem with the tunnel walk, becoming owners of their own brands.
Brandon Jennings launched his luxury streetwear brand Tuff Crowd. Russell Westbrook founded Honor The Gift, which now boasts an LA storefront. Kyle Kuzma leverages his shoe deal with Puma to promote his own brand, Childhood Dreams, through exclusive collabs.
"It is the most fashionable era of the NBA," added Tucker. "No era has ever had this much attention toward fashion and what people are putting on."
Creating High Fashion Hoops
As Fashion Month recently kicked off in New York, Utah Jazz star Jordan Clarkson took things a step further, launching his own collection of apparel with Lululemon at a launch event in partnership with LeagueFits entitled "Time And Space." The assortment of tanks, tees, hoodies and pants in base shades of black, tan and olive spoke to the 4-time All-LeagueFits 1st Teamer's love of versatile athleisure gear.
"Everything is functional," said Clarkson. "You're able to work out or you're able to go grab a drink and go somewhere."
With a space-inspired, mirrored photobooth on hand, the event represented the exact intersection of culture and style that LeagueFits has led with since launching.
"I think Jordan has really been this generation's impact athlete in fashion," added Roxas. "That's what made bringing this partnership to life with the Lululemon team so exciting for me and everyone at SLAM."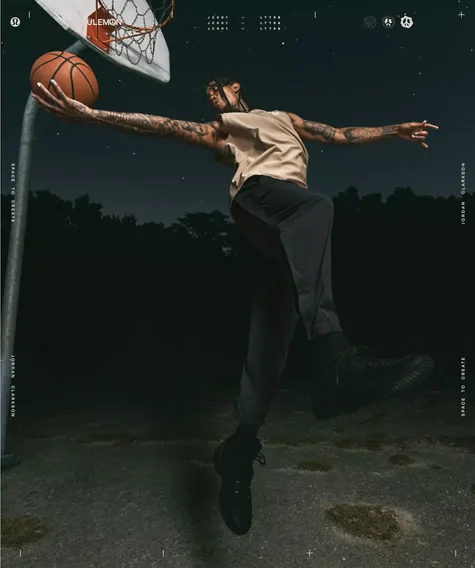 Since landing his Lululemon deal in late 2021, Clarkson has been featured in brand campaigns, on website banners and even in flagship storefront displays throughout the world, all leading up to the Fashion Week launch event on Tuesday night.
Despite the frenzy of the shuffling schedule, Clarkson still made sure to stay sharp on the court, arriving early to The Summit NY's gym on Monday and Tuesday morning in midtown for 9 AM workouts with leading NBA skills trainer Chris Brickley.
"I think the players who are serious about their games come to NY with plans to get their work in," said Brickley. "Most of the players that are here for Fashion Week have busy days running around the city, and the ones who are serious about their craft will get in early morning workouts."
Clad of course in his new Lululemon collection, Clarkson went through an array of dribbling drills with Brickley's signature weighted Wilson basketballs, before splashing jumpers from all over the court and mixing in his trademark driving floater.
"With the season less than three weeks away, the level of the workouts are high intensity," added Brickley.
In just a frantic 48 hours, Clarkson's careening carousel through New York City gave a perfect snapshot of how players today can represent the pinnacle of sport, fashion, style and versatility — all at once. The brand partnership between athlete, apparel company and media platform couldn't have been a more natural fit.
"He has become the face, to put it simply," framed Roxas. "Jordan's relationship with SLAM and LeagueFits is super close and for good reason. He became a tunnel fit icon and our audience couldn't get enough."
Attending a Masterclass in Milan
Earlier this summer, several other LeagueFits regulars also took things a step further in their interest in fashion, heading to Italy and taking part in "One Court Milan" during Milan Fashion Week.
The full-scale, 72-hour intensive business school curriculum is put on by the National Basketball Player's Association and held at the SDA Bocconi School of Management's sprawling campus in Milan. The graduate university was recently ranked by the Financial Times as one of the world's top business schools.
Tunnel style constants like Myles Turner, Jarred Vanderbilt, and Patty Mills were among the nearly 20 in attendance. Throughout the week, the league's PA hosted a rotation of some of the world's leading business executives from the fashion and beauty industry for interactive classes.
"It's a tailor made masterclass, only for them," describes Matteo Zuretti, NBPA Chief of International Relations and Marketing and one of the key creators of the program.
As interest and intrigue in the fashion space has continued to increase, the PA created the program to power its players with a bevy of tools and insights.
"Everyone has always told players, 'Build your brand. Build your brand.' Well, what is a brand? Do the guys know?" Zuretti continued. "They've been hearing it since they were 12, but we want to provide them with the understanding of what it takes.
"The game is global, but you need some soft and hard skills to actually capitalize on the opportunity."
In the five years that the PA has hosted the program, 65 players with combined negotiated salaries totaling more than $4 billion have attended. At this year's session, the average player age was 25-years-old, with many also bringing along a significant other or business partner to take in the experience.
"The vibe is essentially like going back to school," joked Mills. "It's an exciting school to be at."
Seated along a web of dual-seat tables, with notebooks and pens in hand, players listened intently as executives from Dolce & Gabbana and Off-White presented overviews of their brand strategies and business structures.
Marketing and Communications Directors from Off-White explored the impact of building community and inclusivity for a brand's customer base.
Dolce & Gabbana executives discussed the importance of conveying their consistent brand message and beliefs through any product category that they're offering to consumers. Giovanni Micucci from fashion parent company FAY shared a look at how to identify localized influencers on social media, that can offer up valuable product co-signs through branded posts.
In past years, players heard from Stone Island, Common Projects, Moncler, LVMH, and Versace execs, and even visited the Lamborghini and Ferrari corporate offices and production factories.
"Not to buy a car, because they probably already have one," laughed Zuretti. "But to hear their 5-year plan."
The program is part of the PA's push to provide players with offseason experiences that key in on the insight to "Travel With Purpose."
Zuretti is hoping the "One Court" program can hit on three key pillars each summer.
"One is their personal growth, and how we're planting the seed in terms of their understanding of branding, and the soft skills required to operate a brand," began Zuretti. "The second one is we want to create community with them. It's an opportunity for the players to really understand how the PA can support them. And third, it's the offseason, so we want to make it fun."
Several of the participating players on hand have already started their own brand, like former two-time All-Star Isaiah Thomas, who founded a clothing and media company Slow Grind. Players like Thomas also made sure to still slip in workouts during the busy slate.
"There's a gymnasium on campus, so the guys were going to get shots up early in the morning before class," said Zuretti. "The setting was perfect."
Along with his wife, Patty Mills is active in creating products and initiatives that have an impact element through their foundation. The 14-year veteran took in the Fashion Week experience by visiting shows through the evening, and locking in during the daytime sessions at the school.
"I was looking to learn about not only how to run a business, but how to work with brands and how to build different kinds of brands, and the strategy behind how to pull off certain things," he said. "That was the most intriguing thing to learn about. At the end of the day, you want to work out how you can be most impactful, given the platform that you have."
An example of how hands-on players have become in the creation process of fashion, Mills will also often look to celebrate and highlight his Aboriginal Australian heritage, whether that be through products like his recent accessories collaboration with Bellroy, or through detailed colorways of his player exclusive Under Armour sneakers.
"Any chance that I can continue to educate people on Australian culture and where I'm from, in a cool and unique way, is really fun," said Mills. "I've been doing it now with Under Armour for ten years, and it's one of the things that I appreciate the most with them. They really celebrate my background."
From veterans like Mills and Thomas, to the inquisitive younger crop led by Turner, Vanderbilt and Terance Mann, the experience in Milan provided a path to give players the tools to take their interest in fashion to another level of understanding and action.
"You can go to Fashion Week as a talent and have fun, but here, we are really helping players to build yourself as a businessman," closed Zuretti. "You can go into interactions that happen at Fashion Week, and actually have them lead towards something more than just getting free clothes and a nice photoshoot."
As players like Jordan Clarkson, PJ Tucker, James Harden and others have shown, NBA fashion has never been bigger. The opportunities now available to players to create products, establish brands and take on equity investment stakes in companies have allowed for that longtime love of expression and style to become even more tangible, empowering and owned.
Want More Fashion?
Drake's boutique label-turned-brand has partnered with five NCAA schools for a range of co-branded apparel….