"As long as there's need out there, I'm gonna continue to try to affect as many people as we can," the Pacers guard tells Boardroom.
Through his groundbreaking Hoops4Humanity arm of his Brogdon Family Foundation, star Indiana Pacers guard Malcolm Brogdon helps bring tens of thousands of people each year across Kenya and Tanzania the access to clean water they need to survive by raising money to build clean water wells.
He's gotten plenty of NBA and WNBA players on board to join the cause, including Kyle Lowry, Joe Harris, Kevin Huerter, DeAndre Hunter, Diamond DeShields, Donte DiVincenzo, Garrett Temple, Betnijah Laney, Anthony Tolliver, and Tim Frazier. Brogdon takes yearly trips to Africa to track progress and meet the people who live in the communities the projects are impacting.
His foundation helps demonstrate very real needs in East Africa, but makes a point to showcase all the beautiful things that are there to be seen in that part of the world.
Sign up for our newsletter
Earlier this month, Brogdon visited the region for eight days and shot a video diary for Boardroom chronicling his amazing adventure. It was the first time he'd ever done something like this on the ground in Africa, the 28-year-old said, allowing him to stop and take in what he saw.
"It allowed me to sort of stop and take in what I was experiencing," Brogdon told Boardroom. "In the past, I feel like I was moving so fast. There's so much going on. You're moving a lot when you're there, whether it's by car or in the air, that I'm not able to take in as much. [This time], I was able to stop and really process, think about and articulate what I was doing, why I was doing it, and where I was. And now looking back, I think it's gonna be incredibly fruitful to be able to look back on these videos and reminisce and remember."
Joined by Grizzlies guard Tim Frazier on the trip, Brogdon said that his perspective changes with each successive Africa visit, and that he notices different things every time he goes back.
From a young age, the Atlanta native was able to travel to West Africa, to Ghana, and later with his grandparents to Malawi and South Africa. He increasingly noticed how poverty fundamentally impacts people's lives and communities as a whole.
From then on, Brogdon said, a fire was lit under him. And it's only grown brighter with the passing of time.
He went on to earn a master's degree in public policy from the University of Virginia, getting his No. 15 retired by the Cavaliers before winning NBA Rookie of the Year in 2017. Through the Brogdon Family Foundation's Hoops4Humanity and the JHA Education Project — named after his grandfather, John Hurst Adams — Brogdon is constantly working to determine new ways to help transform the lives of people in need, whether through clean water, literacy programs, or mentorship initiatives.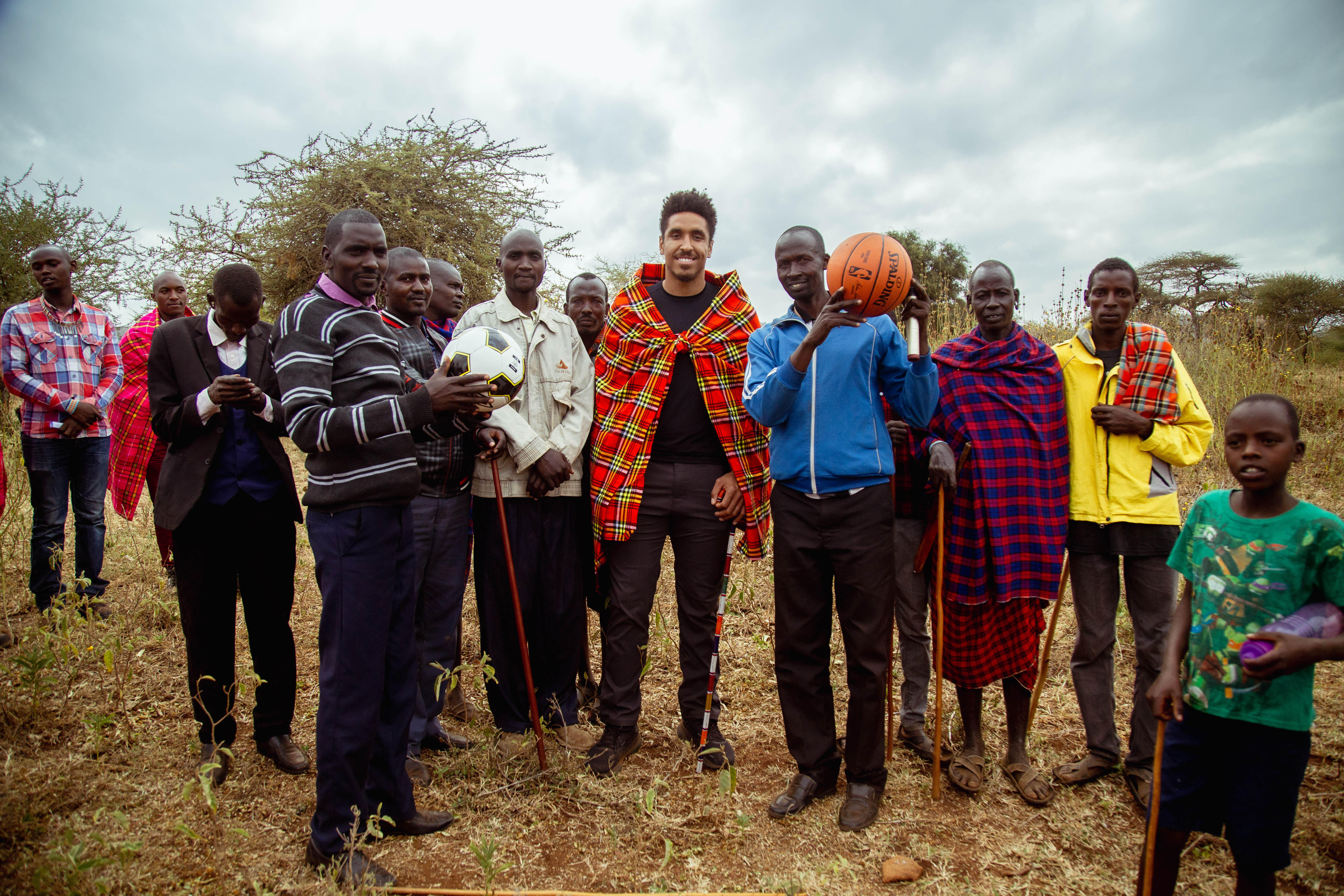 Although Brogdon certainly got to experience Africa's breathtaking beauty this summer, seeing animals on safaris and making an eye-opening visit to Dar es Salaam, Tanzania's largest city, he especially treasured his time in the small villages and towns where he's helped build wells.
"Every time you're in the communities and you see the impact that the water has on the people, and you see the smiles, and they explain to you all the different ways that it's changed their lives, that's what I really enjoy the most," Brogdon said. "We put water projects in elementary schools, too, and you get to see the impact it has on little kids, the next generation."
"That's the stuff that's hard to articulate that to other NBA players and donors, the people who want to help. It's something you have to go there and see. It's incredibly fulfilling."
Brogdon wants to share this experience with more NBA and WNBA players over time so they can see the work being done on the ground. If they see the real-world impact of Hoops4Humanity and how many lives the program has the ability to improve, they may discover their own passions for this vital kind of work. That's what's going to take the organization to the next level, Brogdon believes.
Though he's now back in the United States and the jet lag has worn off, Brogdon knows how much need there still is across the African continent, and how much work still needs to be done to bring clean drinking water to under-served, overlooked communities.
But after this latest expedition, his motivation is as strong as it's ever been.
"I don't think this is a mission or a journey that really ends for me," he said. "I think it's you impact as many people as you can in one country, and then you go to another one and you continue to spread your impact. But as long as there's need out there, I'm gonna continue to try to affect as many people as we can."