Lenny Santiago, widely known as Lenny S. (or @KodakLens) speaks with Boardroom about what it takes to endure in the music industry.
Lenny Santiago has an ear for musical talent, an eye for photography, and countless stories to tell.
The ascension of "Lenny S." to music power player status — he's a Senior Vice President at Roc Nation — has been fueled by relationships.
Growing up in the Bronx, Lenny's passion for music went beyond simply listening to the artists he loved. He wanted to help push the music, and by extension, messaging that could really shape culture. Eventually, Lenny landed at Bad Boy Records in street promotion. But around Jay-Z's release of "In My Lifetime," Lenny latched on with Roc-A-Fella Records as it was launching. He served in promotions for a year before Jay opened the door for him in A&R.
Twenty-plus years later, Lenny is still by Hov's side. His knack for word-of-mouth promotion has translated into the art of conversation. He has an air-tight reputation for bonding on a genuine, personal level with his roster of A-list artists (think DJ Khaled, Fabolous, and Vic Mensa) and colleagues and friends throughout the industry.
And the central location for most of those soul-bearing exchanges? His signature gold couch.
He transported the famous furniture piece — it even has its own Instagram account — from his New York City office to Cleveland for NBA All-Star Weekend, where he spoke with us for the latest edition of "Boardroom Spotlight."
Sign up for our newsletter
The couch represents what Lenny considers the gold standard, and it's no coincidence that it has a reputation for bringing out the best in whoever sits upon it. It's even less surprising that it attracted hundreds of fans during All-Star Weekend, as enthusiasts worldwide have let Lenny know on social media that it was their goal to make it to the couch one day.
"I want everybody to feel comfortable and cool," Lenny said. "People were coming [to my office] and outside of business meetings, they were telling me their stories and telling me how they started and how they got to the point they are."
As he continued: "The couch kind of became a thing of like, let me just get people to come through because I admire what they do, I admire who they are, I admire what they've done in life. And then, I'll feature them on the socials, take some pictures of them, put 'em out, and kind of tell people their story in a short form."
But the gold standard extends well beyond the gold couch.
"It's a mindset. It's a lifestyle," Lenny explained. "It's for people who are ambitious. The people who have determination. The people who figure it out. The people who turn nothing into something. The people who I admire, who I aspire to be. The people who motivate me. And that's anybody from a barber to a designer, to a director, to an athlete, to an artist, to a publisher — anything you do."
Lenny gestured to a wall full of framed photos behind him, also transported from his office and a small glimpse into his endless archives as the photographer known in the digital world as @KodakLens. The shots showcase memorable people who have sat on this couch with him, each pushing the other forward.
Witness Kevin Hart. He's "still the same person as when I met him 16, 17 years ago," as Lenny tells it.
Witness the recently-signed A$AP Ferg, whom Lenny calls "my brother," and one whom he often calls to brainstorm new paths forward.
Lenny's Roc Nation colleague, Rich Kleiman — who co-founded Thirty Five Ventures and Boardroom alongside Kevin Durant and now serves as co-CEO — left a mark on him, too.
"Most of my encounters with Rich Kleiman, who is one of the smartest and dopest people I know, they're insightful," he said. "He has always been smart and always given me a different perspective on things when I didn't understand them. When I'm unclear on certain things happening in the industry, I'll ask him."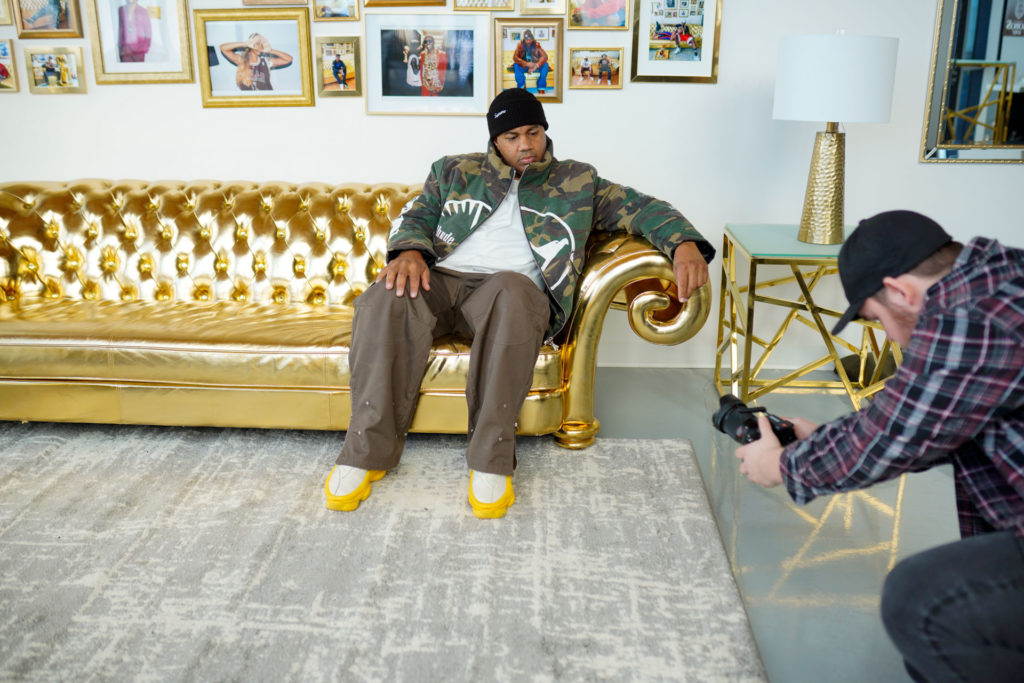 The way Lenny described his peers illustrates what keeps him from getting complacent after decades of high-level success.
"I have to keep creatives around me," he said. "I'm not as creative or as smart as any of the people I keep around me. Everything I see them doing, it motivates me. It also inspires me to just take a chance or move. If somebody comes to me and they're like, 'Yo, I just found these new materials and I made this shirt and it's never been done,' all of those things motivate me to be like, 'Well, I could probably do whatever I want to do.'"
And Lenny makes sure to pass on that same sense of empowerment to the next generation of hungry fans who are dreaming of running in exclusive inner circles such as his. In his eyes, there is one key that everyone should keep in their back pocket during the journey:
"One key thing to surviving the game is to remember you don't get what you deserve; you get what you negotiate. I think in this business, you create relationships, and you do things that can sort of seem transactional. You kind of feel like, 'Oh, I did these things for them, I did these favors for them, I did this job for them, and they'll repay me with what's fair.' And that's not the case. If you don't step up and say what you want — and by the way, you don't have to want something back, but if you do and it is sort of maybe transactional, you have to negotiate that up front.
"Too many people do things for people expecting them to return the favor in time. And it doesn't always happen. And then you end up becoming, or you can end up becoming, a little bit bitter. To avoid that, I think if you're just upfront and you're honest. Me, I don't have the problem too much 'cause whatever I do, I do outta love. And if I'm not doing it, then it's just because it's not a situation I wanna be in. But my shit is not transactional. It's out of love. I wanna see people win."
The next scheduled wins for Lenny are his two books to be published through Roc Lit 101, Roc Nation's partnership with Random House. One will be a coffee table book chronicling Lenny's behind-the-scenes photographs throughout his storied career.
The other, of course, is titled The Gold Standard.
Sign up for our newsletter