League One Volleyball has raised $35 million in Series B funding with investments from Lindsey Vonn, Candace Parker, Jayson Tatum, Kevin Durant and Rich Kleiman's Boardroom Sports Holdings, and more.
While no one can predict the future, athlete and celebrity investments are a pretty good barometer for what could be the next big thing in sports.
League One Volleyball (LOVB), the largest brand in youth volleyball and the first professional full-season volleyball league in the country, announced on Wednesday that it has raised $35 million dollars in Series B funding. Among those backing the firm, which was led by Left Lane Capital with participation from Ares Management Funds, is a roster of famous faces revered for their own accomplishments in athletics and entertainment. Those names include Olympic gold medalist Lindsey Vonn, two-time WNBA MVP Candace Parker and her daughter Lailaa Williams, Olympic volleyball gold medalist Jordyn Poulter, actress Amy Schumer, 1991 FIFA Women's World Cup champion Amy Griffin, Fenway Sports Group Partner Linda Henry, and Boston Celtics star Jayson Tatum.
Sign up for our newsletter
Capital raised in the Series B round follows initial support from LOVB's existing Series A investors like Kevin Durant and Rich Kleiman's Boardroom Sports Holdings and comedian Chelsea Handler, all of whom endorse LOVB's special community-up ideology.
Saying this is "volleyball's era," co-founder and CEO of League One Volleyball Katlyn Gao spared no excitement for this latest multimillion-dollar development.
"At LOVB, we are creating an all-new narrative for women in sports, including in this round which again captured over 50% female investors," Gao said. "Unlike other leagues that take a top-down approach, we are involving all stakeholders at different levels and propelling the growth of our sports fandom. To us, this is the only way to build a sustainable and successful league in 2023, and if the excitement from some of the most well-known and admired trailblazers across sports, entertainment, consumer, and business in our latest round is any indication, it's clear, LOVB is onto something big."
LOVB will use the funding to strengthen both pro and club operations. Among its priorities, LOVB will:
Hire more athletes, coaches, and trainers
Build out its branding
Identify and book arenas for sold-out crowds
Improve training facilities in the run-up to the preseason
For now, the pro league will start with clubs in six markets: Atlanta, Houston, Madison, Omaha, Salt Lake and one more to be announced later this year. For the first time, LOVB plans to give club players the chance to learn from and cultivate relationships with fellow icons in the sport.
"Together with LOVB, I'm thrilled to help bring major league volleyball to the U.S.," Vonn said. "With over 200 million girls involved in the sport globally, this is a huge opportunity to continue providing a platform for young women to excel, both athletically and personally, far beyond high school. It's about empowering the next generation of female athletes and fostering a strong sense of community within the sport."
"We couldn't be more excited to invest in a league that is focused on community and unlocking new opportunities for women in sports," Parker and Williams added. "LOVB is leading the way in a sport that is close to our hearts and creating a larger platform for volleyball to be more visible year-round."
Play is scheduled to tip off in November 2024 with the LOVB preseason, followed by the regular season in January 2025, and concluding with the LOVB Finals in April.
Read More: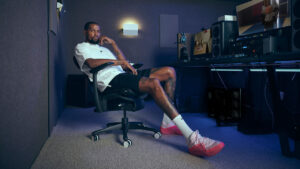 Anthony Edwards and LaMelo Ball join Durant and Curry — as well as musician Enisa — in the campaign, launched in tandem with Foot Locker's The Heart of Sneakers platform. …