ESPN's senior writer joins Boardroom Book Club to tell tales of the 1990s' most competitive sport: rap. Hear how the Biggie biographer intertwined hip-hop history and American politics to unearth information about the iconic MC.
"What do I tell people about Biggie Smalls that they don't already know?" Justin Tinsley asked himself in the latter months of 2019. Tasked to tell the story of Christopher Wallace by way of an e-mail ask he first thought was spam, the Andscape author racked his brain and started putting the pen to the pad.
The answer wouldn't be in the ether of the Internet but rather in the borough of Brooklyn, cities along I-95, and in the sunny-yet-dark spots around Southern California. Flights, hotels, and interviews were booked for the spring of next year, unaware of the looming worldwide shutdown that was about to take place. Curtailing his travels to later dates, Tinsley swam where couldn't fly, diving deep into the cultural climate, local laws, and societal stigmas that shaped not just The Notorious BIG, but his birthplace of Brooklyn across the 70s, 80s, and 90s.
To make a splash, Tinsley sought to write a book about Biggie that was bigger than just Biggie himself.
"If you're gonna write a book about somebody, it can't just be about that one person," Tinsley told Boardroom. "I knew I wanted to make this as much a biography as a social, cultural, and political examination of the elements around BIG."
This holistic approach, rooted in American history and the African American experience, birthed It Was All a Dream: Biggie and the World That Made Him.
We chopped it up with Tinsley to talk about the process of writing this book, Biggie's famous friendships with 2Pac and Jay-Z, the impact crack had on an entire generation, and an alternative universe in which Biggie plays an accountant on The Office.
IAN STONEBROOK: How does writing a book of this weight come about?
JUSTIN TINSLEY: I got an email in September of 2019 with the subject line: Biggie Book? I thought it was spam and almost deleted it. It turned out to be from my editor on the book and he was looking to commission someone to write a Biggie Smalls biography ahead of what would be his 50th birthday in May 2022.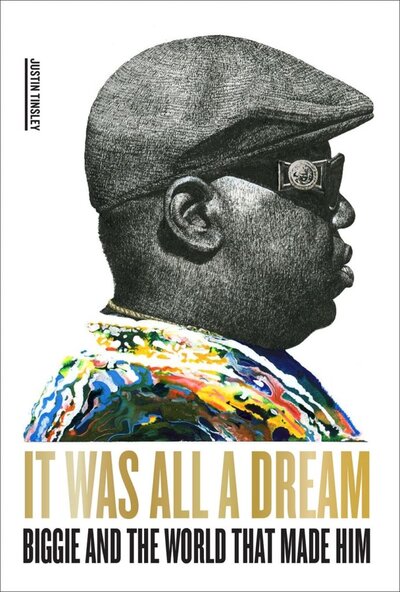 Fast forward to January 2020 and we finalized the contract. The first question in my head was, what do I tell people about Biggie Smalls that they don't already know? I booked travel to Brooklyn, Atlanta, LA, and Chicago in February 2020 and I think you can tell where the story goes from there. I had to stay in the house and my man Randall Williams helped me with a lot of the research in the early stages. The book is heavily researched; it had to be. I turned in the first draft in April 2021 and here we are now.
IS: What were the challenges of writing about someone who's so well-covered and so revered?
JT: That was the biggest hurdle — and not because of the work, but the mental hurdle. If I put my name on something, it has to be done at the highest level of my capabilities. I knew that Big did a lot in those 25 years of life and I had to hash out why he made the decisions that he made. I knew I wanted to make this as much a biography of Big as a sociocultural and political examination of the elements around Big, hence the title.
IS: We know so much about Biggie's fame in the 1990s. What was he like growing up in the '80s?
JT: He was very ambitious. He wasn't into school, but he was good at school. The moment he was put onto hip-hop, he knew that's what he wanted to do. The '80s were full of stuff like Reaganomics, over-policing in certain neighborhoods, and of course, you know, the crack cocaine era.
All of these things are going on around Big in the '80s and it's shaping this young black boy from Brooklyn into the man that he would eventually become. You can't tell Big's story without telling the story of what his neighborhood looked like, what it smelled like, what it felt like, what the stoop looked like that he had to sit on for so long. I always felt like that's just as important to the story as Ready to Die or Junior M.A.F.I.A., because you've got to tell the entire story. That was my hope, goal, and ambition in taking on this book.
IS: Who molded Biggie as an artist?
JT: What's wild about Big is he was so great at music but he never wanted to put it out in front of people. He had a fear of rejection, someone passing on him would've hurt him. But it was D-Roc who took him to Bedford and Quincy to hustle and listen to music. D-Roc introduced him to DJ 50 Grand, they cut on a beat in the basement, Big jumps on, and it's like, 'He can rap!' There's a difference between being 'neighborhood good' and 'there's something here.'
DJ 50 Grand introduces him to Mister Cee, who at that time is Big Daddy Kane's DJ. Cee listens and is like, 'Wait, he's rapping over Big Daddy Kane beats damn near better than Big Daddy Kane!' Mister Cee passes the tape to Matty C at The Source who writes the Unsigned Hype column, and that gets to Sean "Puffy" Combs. It was heaven-sent. The reaction Big got from everybody — whether it was an executive or a fan — was [that] this guy is incredible. He was addictive from the moment you pressed play and everybody understood that.
Sign up for our newsletter
IS: Who's an underrated character in Big's life and in this book?
JT: Chico Del Vec. He was one of the founding members of Junior M.A.F.I.A. and one of Big's longest and closest friends. We spoke for about five hours and it was the longest interview I had ever had in my life because at the beginning of the interview he had to feel me out, but he really opened up. The one thing that really stood out to me was he never once said "Notorious BIG" or "Biggie Smalls;" he called him "Chris" the entire time. While the world celebrated Big the rapper, he's still somebody's best friend.
If you see somebody like Chubbs with Drake, that's an apt comparison, somebody that this international superstar holds deeply because they were there before the fame and adulation. They know this person is going to be honest with them. Chico took this book to another level.
IS: What was your favorite story you learned that didn't make the book?
JT: Drew Dixon would talk about how Big would call her every time she got a new job promotion and leave a voicemail freestyling to congratulate her. She never saved the voicemails because she never expected to live in a world where Biggie wasn't here. No matter how famous he got, Biggie always made time to talk to her and she still values that relationship deeply. In ways, she's still grieving that death. She still remembers him as the 23- or 24-year-old Big.
A story that didn't make it? It's about Biggie and 2Pac. They're canonized in history as this rap beef, but I wanted to present them in a different light where their friendship is known. They had a beautiful and intense friendship when they were friends. There was one story where they were performing at Bowie State University in 1993, Pac was heading and he brought Big out to do "Party and Bullshit." After the show, Big and his crew almost got robbed and there was a shootout.
Out of nowhere, 2Pac comes like an avenger with guns blazing in the air! The crowd disperses and Big's like, 'I appreciate that man!' And Pac is like, 'C'mon man, you know I've got you!' I wish I would've included that because it's so symbolic of how much they had each other's back.
IS: Tell me about Brooklyn then versus Brooklyn now.
JT: In the '80s and '90s? Fulton Street was ground zero. That's where everything happened. Now, there are juice bars and high-end retail stores. Gentrification and legislation have changed a lot. I don't know what Big would say about Fulton Street had he lived to 50 years old, but he'd definitely recognized that it's changed. But that's indicative of so many cities around this country.
Gentrification has changed a lot, but it can't change that Biggie is Brooklyn incarnate and it's going to be like that for the rest of time. He is Brooklyn's favorite son and they will always miss him.
IS: The book reads like a lesson on Black history and American history. Why were those aspects important for the story and the reader?
JT: I knew if I painted that picture, it would make more sense to the reader why Big made the decisions that he did. You can't talk about Biggie Smalls without putting Black history in its proper context. Once you do that, somebody like Big's story that's already so well-known makes even more sense. An example in particular is that Ready to Die came out the same day the 1994 Crime Bill was passed.
When you think about it [and] what that bill is saying, the album is Big's answer to the Crime Bill. You're talking about it from DC; Big is talking about it from ground zero. Once I listened to that album with that piece of historical context, an all-time great album becomes even more so. I figured if I could do that with different points in his life throughout the book it would differentiate it.
IS: What does Big's life look like if crack never hits?
JT: If crack never hits, he never hustles and goes to North Carolina. There's a parallel universe where Big goes to school and becomes an accountant and is the funniest accountant of all time. I could see Big as a character in The Office because of his humor, he'd fit in perfectly. He would've figured out something and would've been successful at whatever he put his mind to.
IS: What does Big's career look like if he was born 10 years later?
JT: With that natural knack for storytelling, he'd always be successful. He might not meet Donald Harrison, who was the jazz player in his neighborhood who taught him the ins and outs of making music.
IS: What's his career look like if he never passed?
JT: I always had this game with Rob Markman of "what if Big jumps on that flight to London instead of staying in LA to go to the party?" The shooting never happens, Life After Death goes on to become the success that it was, but what if he actually got to go on tour for that album? What if he had just survived years later? Like, what does Big sound like on Neptunes production or early Kanye production? His flow was so vivid, it was like a chameleon, so he could rhyme in any pocket. I think if Big survives, he has a career somewhat parallel to Jay-Z in terms of out-of-studio endeavors and aspirations.
I think he'd still be rapping, but maybe not full-time. A Biggie verse in 2022 would be worth his weight in gold. I could see him recording with Drake and Kendrick. I think as an old head he'd be reminiscent of what Allen Iverson is in basketball: willing to show love to anybody who shows him love. He'd still be around, he'd still be making music. It would've been cool to hear Big on Pusha T's album.
IS: With that said, what does The Commission album look like had it happened?
JT: That would be the biggest joint album I could ever envision. They would've had DJ Clark Kent, The Neptunes, Dame Grease, and so many people. A Big and Jay album in '97? That would've shaken hip-hop to its core. They were genuine friends outside of the booth because The Commission would've been a moment. It'd still be cool to hear them on an album even as 50-year-old men.
IS: Any last words for Boardroom Book Club?
JT: If you've read the book, thank you so much. If you haven't read it, I implore you to read it because it'd make my grandma happy and I like making her happy. I thank you all from the bottom of my heart, for real.
---
It Was All a Dream: Biggie and the World That Made Him by Justin Tinsley is available now from Abrams Press wherever books are sold.
Sign up for our newsletter