Boardroom sat down with the past and future of the San Francisco 49ers to talk investing, nutrition, and their industry-shifting energy drink, G.O.A.T. Fuel.
Ask Jerry Rice about 'The Hill' and you'll get a reaction.
Rice credits the two-and-a-half-mile trail in Edgewood Park for his unearthly endurance. The daunting upward sprint helped Rice win three Super Bowls, make 10 All-Pro teams, and play for 20 NFL seasons. Introduced to Rice by fellow 49er, Roger Craig, "The Hill" has humbled Terrell Owens and received praise from Peyton Manning.
Eliciting expletives and emotions all these years later, "The Hill" was the not-so-secret weapon that helped Rice become the Greatest Wide Reciever of All Time. During the time Rice spent training on 'The Hill,' ascending as the GOAT both literally and figuratively, actual goats were having their own encounters with elevation.
Less famously, herders in the Himalayan mountains noticed an increased endurance in the wide-eyed livestock grazing their own hill. For these goats, their secret to success was not tactical training but rather eating Cordyceps mushrooms blooming on the mountain. In time, the functional fungi became heralded for their health benefits, finding their way into Chinese medicine, Hawaiian soup, and the greatest hands football has ever seen.
The latter link provides the origin story for where the two natural wonders plan to peak.
G.O.A.T. Fuel, co-founded by Jerry Rice himself, is an alternative sports energy beverage built off the same Ophiocordyceps sinensis mushrooms consumed by Himalayan goats. Designed to deliver more oxygen to the bloodstream, the natural energy boost combats both physical and mental fatigue for a smooth ascent when climbing hills of the athletic and entrepreneurial variety.
"We are on the path of doing something special," Jerry Rice told Boardroom. "It's a healthier energy drink and it had to have my core values. I was all about what I put into my body and how I performed on the football field. I wanted the fans to witness something special on that given day and I was able to do that without GOAT Fuel because I ate in a healthy way."
Co-founded with his daughter, CEO Jaqui Rice Gold, and his son-in-law, CMO Trevion J. Gold, G.O.A.T. Fuel is a family business inspired by science and Rice's regimen as a Hall of Fame player. Removed from the game but cemented in the record books, the GOAT wideout wonders what his numbers would've looked like had G.O.A.T. Fuel existed during his days in the NFL.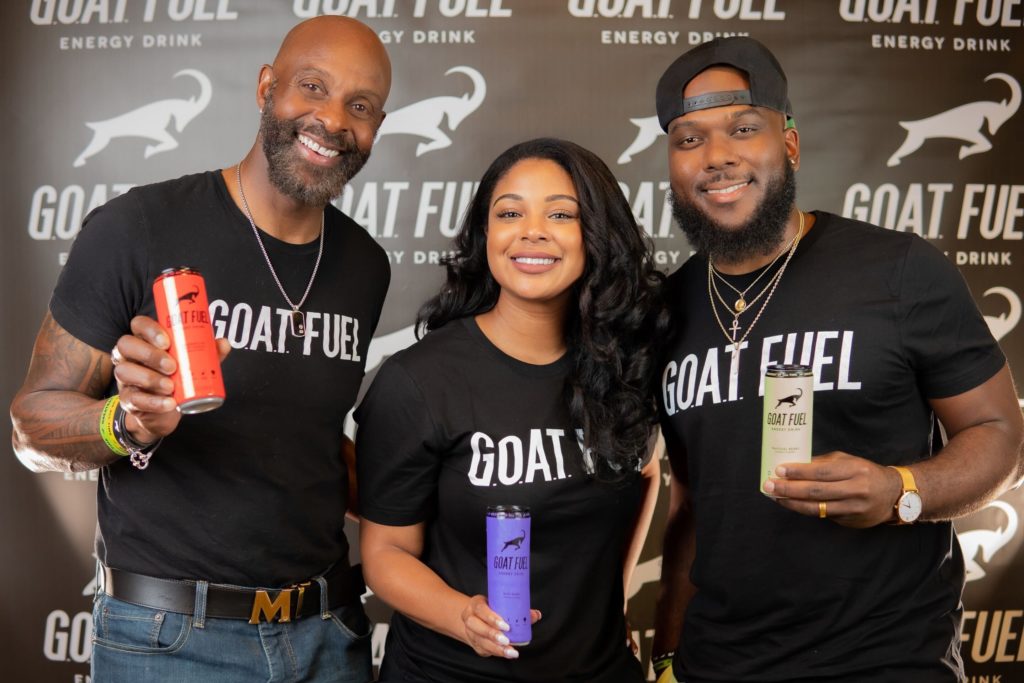 "If I had G.O.A.T. Fuel back when I played? The 22,895 yards? That might've been doubled. The 1,549 receptions? That might've been doubled. The 208 touchdowns? That might've been doubled," Rice said. "I'm the face of G.O.A.T. Fuel, but I want people to know that I really believe in what we're putting out there. I was there for the ingredients, the tasting, and the fundraising."
Rice may be the face behind the funding, but he's not the only set of feet looking to get G.O.A.T. Fuel off the ground. As he looks to conquer the hill that is exposure and endorsement, he's recruited a fellow 49er still set on breaking records of his own.
Forward Progress
Rice knew Trey Lance was going to be a San Francisco 49er before Roger Goodell called his name.
"I knew Trey was going to be special from the first day I talked to him," Rice said. "I told him right before the draft, 'You're going to be a San Francisco 49er.' Not only is he a great athlete, but he's going to inspire everyone around him to be great."
Lance, then a student-athlete at North Dakota State, was flattered but not sure what Rice was talking about.
"I had won the Jerry Rice Award in college and that's when we got introduced," Lance told Boardroom. "He made a video and called me before the draft."
Sure enough, Rice was right as the Bay Area ball club picked Lance third overall in the 2019 NFL Draft. Despite playing at a small school, the kid with the big arm was already a favorite for the retired receiver. The two talents quickly developed a mentor-mentee relationship, with the younger half instantly impressed by the older man's endless energy.
"The type of person he is and the energy he has every day? It's hard not to get inspired," Lance said.
While Lance learned that much of that energy and lust for life was innate, some of it was scientific. Rice's research regarding Himalayan goats and Cordyceps mushrooms inspired his entrepreneurial venture of G.O.A.T. Fuel, fusing the benefits of natural caffeine, electrolytes, 10 essential vitamins, and green tea into a crisp energy drink smooth enough to sip over ice at a pool party in Las Vegas.
Rice relies on G.O.A.T. Fuel to spark his spirit as a businessman, while also aiding his early morning Peloton rides set to Dr. Dre and Snoop Dogg. Quickly it became clear to Rice that G.O.A.T. Fuel would be an asset for Lance as an athlete and an investor. Lance was willing to listen to Rice not just due to his acclaimed GOAT status as a player, but his historic status as an all-time nutrition nut.
"It's my job, it's my life, it's my whole career," Lance said about his health. "From a nutrition standpoint, I take care of it. It's my No. 1 priority."
Sign up for our newsletter
When the two connected at the 49ers practice facility, the young quarterback threw passes to the Hall of Fame vet, exchanging tight spirals for timeless advice. While Rice's mind is on mentoring the future of the 49ers, his body is still built to entertain.
"Did you see that route running today?" Rice asked, already knowing the answer. "I haven't run routes in a long time. That's G.O.A.T. Fuel, man!"
True to his word, Rice hadn't run slants, stops, or fly routes in ages. However, that doesn't mean he's not finding ways to gain ground in his new professional path.
The Go Route
In his prime — one that saw Pro Bowl nods in three separate decades — Rice was able to take it to the house at any given moment when thrown a fly. As an entrepreneur and co-founder, the man with Hall of Fame footwork is now perfecting new routes.
"I go to Target, Safeway, anywhere I have to go to sell G.O.A.T. Fuel," Rice said. "I let people know it's a healthier energy drink that's good for you."
From in-store appearances to ground-level research, Rice is racing coast-to-coast to make sure G.O.A.T. Fuel is an investment that sees its full potential and helps others. Aside from big-box retailers like Lucky and Publix, G.O.A.T. Fuel is stocked and celebrated at 24 Hour Fitness locations across the country.
However, it's not just gyms and stores signing up for Rice's recipe — it's truly stadium status. Last year, G.O.A.T. Fuel was named the official energy drink of the Los Angeles Lakers. This year, the hoop crossover continues as red-hot Heat guard Tyler Herro has also signed on as an ambassador.
All the while, football and the 49ers provide the foundation.
This season, Lance is embarking on the same journey Rice began almost 40 years ago. In addition, he's helping Rice on his current path of promotion. By investing in the company and in himself, the second-year quarterback has made G.O.A.T. Fuel part of his growing portfolio and daily health routine.
"I have a 25-minute ride every morning," Lance said. "I put a G.O.A.T. Fuel in the car and it's a clean way to wake myself and get my brain going. It's got all the vitamins and it doesn't leave me jittery. I'm not really an energy drinker or coffee drinker, but I can drink G.O.A.T. Fuel on an empty stomach. For me, it's perfect because it's healthy and it tastes good."
While Rice would've loved to have a can of Peach Pineapple prior to partaking in practice or a sprint up 'The Hill,' it's not all about athletic edge for Lance. Rather, it's the cognitive perks of G.O.A.T. Fuel that drive the young quarterback as he looks to lead the famed franchise back to the promised land.
"It gives me mental clarity and wakes my brain up, which is the biggest thing for me," Lance said. "Just having a clear path of what my day is going to look like."
For an athlete responsible for remembering a playbook and dissecting film with coaches and teammates from early in the morning to late into the night, the beverage brings him an all-day boost.
"It's not always in the morning, it could be in the afternoon when I have a meeting," he added. "When I want to wake my brain up? It's great for me."
Through G.O.A.T. Fuel, both literally and figuratively, Lance looks to build his brain and business mind in ways that will matter long after he hangs up his helmet.
How the West Was Won
While Trey has plenty of passes ahead of him, he's not looking to let life and learning pass him by during his early days on-field.
Thankfully, Rice serves as a mentor and inspiration for Lance with G.O.A.T. Fuel firming up the foundation.
"You don't know how long your career is going to last so it's all about how you invest," Rice said. "You have to have someone you really trust and I'm very fortunate that I had that supporting cast."
While the two talk in the 49ers' offices in Santa Clara, Lance's mind is present but his aspirations are already somewhere else.
"Silicon Valley?" started the quarterback, who just turned 22. "Having the opportunity to meet people, meet Jerry, and connect circles with such a wide reach on the world and technology is just another step towards increasing everything. As Jerry said, it doesn't last forever. Going into my second year, it feels like it's going to last forever, but it doesn't. For me, it's finding the right people and the right investments. Being out here, it's all about connections."
Lance's mentor knows this firsthand. Playing the majority of his career in San Fran, Rice relished the opportunity to network as an active athlete, paving the way for a smooth transition into entrepreneurship.
"When business people get to meet athletes they think it's amazing, but it's the same thing with us," Rice said. "Because we know eventually you need to know both. Different companies want to know about teamwork and it's all about commitment. Being cohesive where players are willing to come to work every day and just put everything on the line."
Rice's commitment to the team was once the fuel for the wideout who ran 'The Hill' as a means to thrive in the fourth quarter. Today, he's already moving mountains in business by having help from the friends he's met along the way.
"Relationships help you with funding when it's time to do those things," Rice said. "It was a learning process for me, so I'd say to the younger players to start preparing from day one. Those relationships that you build can help you down the road."
With Rice and Lance on parallel paths — no different from the rising receiver and the Himalayan goats years prior — the two possess the same fuel to get to the top. Whether investing in relationships or in their health, Rice aims to be the best in business while Lance looks to conquer challenges on-field and beyond.
It's an uphill climb, but perhaps G.O.A.T. Fuel can help.
Sign up for our newsletter